HR insider tips for securing the nursing career of your dreams
---
Posted on August 28, 2020 by Jamie Walden
Jamie Walden
---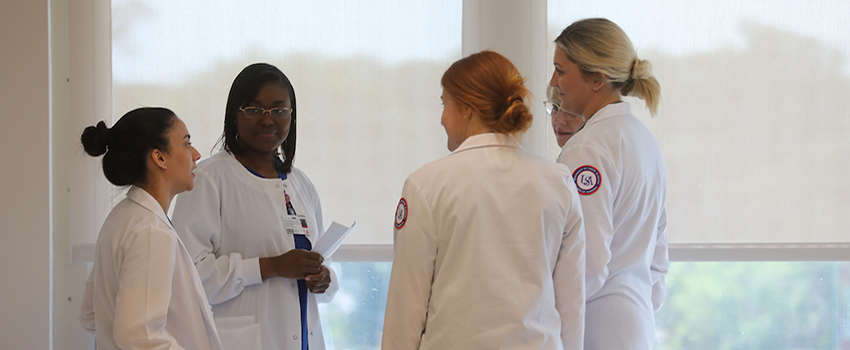 ---
Right now, nurses are certainly having a moment. Lauded as the healthcare heroes on the frontlines of the coronavirus battle (and rightly so!), we are reminded of the critical importance nurses serve in the health and well-being of our communities. Currently in the United States, there is an acute shortage of nurses, too—meaning if you have a desire to fulfill this essential role, there's no time like the present to pursue your passion.
Even though our country is in dire need of nurses, not just any applicant will do. According to University of South Alabama Health System Human Resources professionals Anita Shirah and Kelsey Gates, the right fit for this career requires hard work, dedication, and attention to detail.
Here's a bit of insider information from these Human Resources professionals so you know just what to do—and what not to do—in order to clinch the nursing job of your choice.
Be meticulous
When it comes to the field of nursing, you'll be taking temps, recording stats, and making important notes to convey a patient's condition to other healthcare professionals. "Attention to detail is key," says Gates. "We can get a sense of that from someone's resume pretty quickly."
Shirah adds, "Avoid carelessness—even on your resume. We don't want to see misspellings or an entire resume in lowercase letters. Even though those seem like little things, they can be indicative of an applicant's attention to detail (or lack thereof)."
Double-check your resume for grammatical and spelling errors, and make sure all dates of employment/experience are accurate.
Share all of your experience on your resume
While many applicants are tempted to only show the work experience that seems relative to the position they're going after, Shirah stresses the importance of showcasing all of your work experience—not just of the nursing variety. "A lot of people's volunteer experience or non-healthcare work experience can be parlayed into really important skill sets that will make them excellent nurses. We want to see all of your experience, and we want to see where your professional and personal strengths are in relation to that experience."
Consider how a BSN can create a competitive advantage for a variety of career paths, inside and outside of the hospital setting.
As with any job interview process, it's important to find a way to differentiate yourself from the pack. One way to do this is to come to the interview table with an advanced nursing degree. At the University of South Alabama, it's easier than ever to pull ahead of the pack with the RN to BSN program, an online degree that puts nurses on the fast track to having a Bachelor's in their chosen field.
"We love to see nurses who hold their BSN or MSN because it shows that they've invested in their future. These advanced degrees demonstrate that the individual intends to keep moving up, which is typically a sign that they're willing to work hard and move upward in their careers," says Shirah.
In addition, holding an advanced nursing degree can open up a variety of careers that go beyond a hospital's doors. From pharmaceutical sales to careers in health insurance, research and development, and healthcare policy, having a Bachelor's (and beyond!) in nursing ensures a variety of career path options while demonstrating that you're invested and serious about your knowledge and skillset.
Let your best self shine through during the interview
Both Shirah and Gates stress that during the interview process, nurse hopefuls should show their personality. "We want to see you for who you are. Share your warmth if that's how you are—after all, that's exactly what will come through once you're working," explains Gates.
Being open and authentic during the interview is key to communicating who you are and what you're about professionally. "The interview is often when we're really able to determine which applicants are effective communicators. That goes a long way when it comes to the job itself as you spend every shift communicating in a variety of ways with various people—patients, their families, and other healthcare professionals," says Shirah. "Don't be afraid to let your passion come through in the interview. Nursing is a really unique profession that requires drive and dedication, so we definitely want to see that in those who are pursuing roles within this field."
For more information about how you can take your nursing career to the next level with USA School of Nursing's RN to BSN program, please click here.
NEW YEAR, NEW START GIVEAWAY - ENTER TO WIN A $150 GIFT CARD
Take the next step! Enter your email address to be contacted by USA College of Nursing for more information about our online RN to BSN program. Those who provide their email address will be entered to win a $150 Gift card! Click here for details.
---
---