Nursing Graduate Testimonials for the Online RN to BSN Degree Program
---
Posted on November 16, 2021 by College of Nursing
College of Nursing
---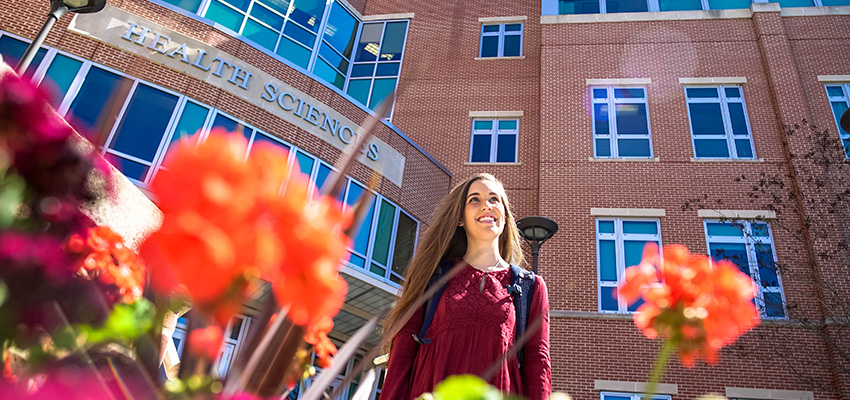 ---
Graduates of USA College of Nursing's RN to BSN online degree program are enthusiastic about the quality and convenience of the program, the support they receive from professors and advisors, and the opportunities it affords them to pursue their passion in nursing. Here are two testimonials from a current student and recent graduate.
Jodie Smith '21 – USA College of Nursing Leadership Award Recipient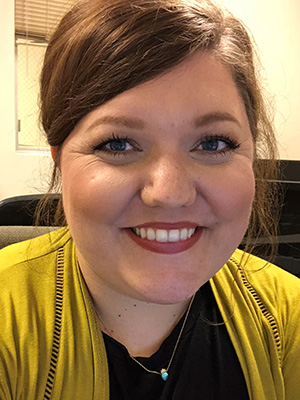 I have always wanted to have a career where I could help people. What better way than through nursing? I'm currently a nurse at Ashfield Healthcare. I received my associate degree nine years ago and practiced as a nurse for eight years before starting the RN to BSN online degree program at USA College of Nursing.
The RN to BSN program was perfect for where I was in my life because of its convenience. Since the program is completely online, I was able to go to school year-round and still hold a full-time job, have a family, and even go on vacation while completing my coursework. I really appreciated the flexibility of the program. You didn't have to sit in class anywhere and could listen to the lectures online—even at the beach!
My teachers were amazing and my advisor in the program walked me through everything, even when I emailed her at all hours of the night. With the online format, we could still have discussions with our classmates and bounce ideas off each other. It was eye-opening to learn about different areas of nursing through the firsthand experiences of other nurses.
The RN to BSN program broadens your horizons and opens up a wealth of opportunities in the nursing field, including management, administration, teaching, and research. I would recommend it 100% to anyone seeking to earn a BSN.
Emily Fields – Current Student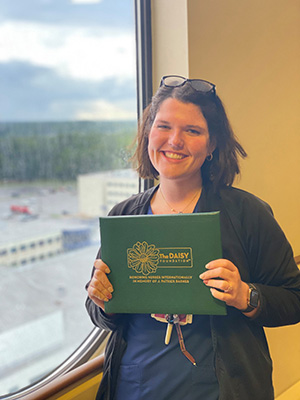 I have loved taking care of people ever since I acted as a caretaker for my grandfather when I was only eight years old. My long-term goal is to become a mental health nurse practitioner and spend my career tackling the urgent issues in mental health that our world faces.
The RN to BSN program at USA College of Nursing has brought me one step closer to my goal. It's a degree from a nursing program that's widely recognized as one of the best in the South, and it's incredibly flexible for nurses who are working while completing the degree.
Nursing programs are challenging even when you're not working full-time. For those in the RN to BSN program, the instructors and advisors go above and beyond to support and accommodate you. They understand the 12-hour shifts that come part and parcel with nursing—and they also understand that life happens. With this program, it has always been "let us know what you need" and "let us know what you're struggling with." The program has worked with my schedule to help me succeed.
The RN to BSN program has instilled in me leadership skills and inspired me with mentors. I've been able to learn about how to be a nurse manager and hone my management capabilities. The BSN degree will make you a more well-rounded nurse and open the doors to a variety of opportunities in the field, including leadership positions.
Next Steps for Taking Your Career to the Next Level
The benefits of attaining a BSN in nursing from USA College of Nursing include everything from achieving a leadership position to advanced earning potential. In fact, according to U.S. Bureau of Labor Statistics, having your BSN in nursing can land you with a career earning up to $75,330 per year! The USA College of Nursing RN to BSN program not only fast-tracks your path to success while working with your current schedule, it allows you to command a higher salary in a variety of exciting healthcare roles. As the nursing field becomes increasingly more competitive, it's critical to give yourself a degree distinction that shows you're a cut above the rest. Learn more about the RN to BSN program by contacting:
Dr. Pam Johnson - Program Coordinator
Email: conrn2bsn@southalabama.edu
Leigh Holland - RN-BSN Academic Advisor
Email: conrn2bsn@southalabama.edu
Kristyn Seawell – RN-BSN Academic Advisor
Email: conrn2bsn@southalabama.edu
---
---