College of Nursing Establishes Widespread Community Health Interprofessional Virtual Education
---
Posted on May 12, 2023 by College of Nursing
College of Nursing
---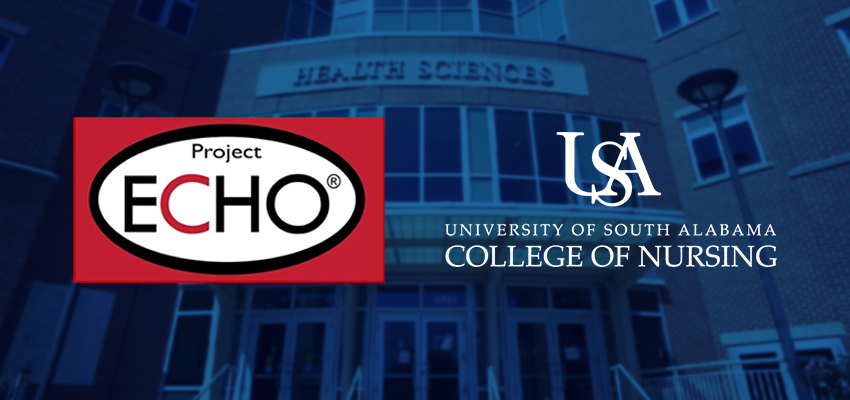 ---
The University of South Alabama College of Nursing has established widespread virtual professional education to community healthcare providers. Initiated by the College of Nursing, USA entered into a partner agreement with the University of New Mexico's Project ECHO® (Extension for Community Healthcare Outcomes) to use and implement the pioneering ECHO® model of telementoring and case-based learning by subject matter experts on a variety of health topics.
Through the College of Nursing's competitive achievement of HRSA grant funding, this innovative learning strategy was proposed to improve patient care and serve as a primer for exponential growth of the workforce in community underserved and disparate areas.
Principal investigators of four current and one former multiple year grants, Kimberly Williams, DNS, RN, ANP-BC, PMHNP-BC, PHNA-BC; Carolyn Dolan, JD, MSN, FNP-BC, PPCNP-BC, SANE-A, SANE-P; and Emily Bentley, DNP, FNP-C, AGACNP-BC included designated ECHO® programs to address topics of integrated behavioral health including substance use disorder and team-based trauma informed care, medical forensic nursing care and sexual assault nurse examiner training, and nurse-led mobile health unit care and enhanced curriculum related to social determinants of health and health equity concepts.
The University of New Mexico Project ECHO® was established as a virtual community of practice 20 years ago and provides free training and support to partner organizations who use their model. The ECHO® model encourages healthcare providers globally to democratize evidence-based knowledge. With over 3,000 ECHO® programs established in the focus areas of health, education and civics, this model is the subject of research and evidence-based literature reporting on its efficacy and sustainability.
The goal of the USA College of Nursing ECHO® programs is to create centers of excellence dedicated to increasing knowledge and awareness of healthcare treatment in primary care. The College of Nursing ECHO® programs are provided free and offer certificates of attendance. Using Zoom technology, participants need only a computer or phone to connect to the ECHO® virtually. The College of Nursing ECHO® programs are a series of nurse-led sessions that are offered monthly during peak academic months, 90 minutes in duration, and designed as active-learning experiences for the healthcare provider.
More information about the USA College of Nursing ECHO®programs and registration can be found online.
---
---