RN to BSN: Choose USA College of Nursing to Advance your Career
---
Posted on April 16, 2020 by Jamie Walden
Jamie Walden
---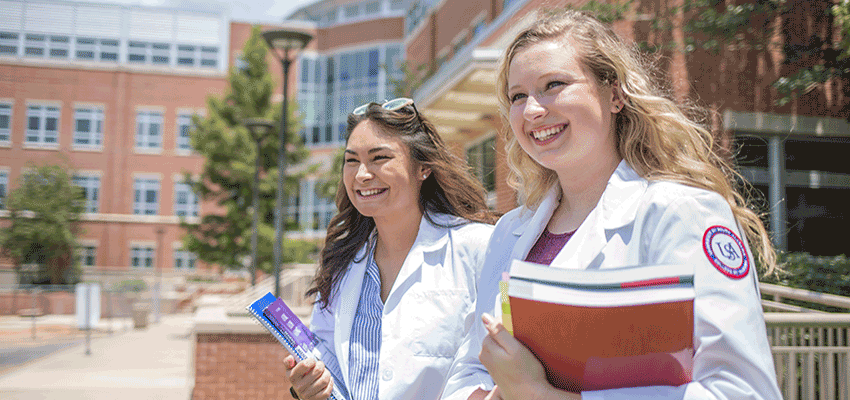 ---
Nurses are pivotal players at the heart of the healthcare system. The rising demand for nurses with more sophisticated skills have led to significant opportunities for professional growth and leadership roles in nursing. In addition to providing better outcomes for patients, nurses who have attained a bachelor's degree typically enjoy higher pay and better benefits. For RNs who want to take their careers to the next level, a BSN degree can be the key.
The University of South Alabama's College of Nursing offers a unique RN to BSN program positioning graduates for leadership roles in their institution. Students in the program will master BSN level coursework and gain hands-on clinical experience invaluable to their career advancement, whether it is a future role as Chief Executive Officer, Quality Improvement Officer, or Manager. The RN to BSN program at USA College of Nursing offers state-of-the-art instruction and convenience—all at an affordable price.
State-of-the-Art Instruction
Through all programs at USA College of Nursing, students receive first-class training that's challenging, innovative, and rewarding. One of the key components of the course of study is a state-of-the-art simulation program housed within a new facility next to the College of Nursing housed within the Health Sciences building. Students will have full access to any simulated learning experience, designed to improve technical skills, clinical judgment, decision-making, communication, and teamwork. In addition, students are placed in clinical sites within their own community or clinical requirements may be completed at USA Health Children's & Women's Hospital, USA Health University Hospital, or USA Health Mitchell Cancer Institute.
Convenience
Students can complete the RN to BSN program while working full-time since the coursework is offered fully online. Students may fulfill the required clinical hours at their place of employment if that is the most convenient option for them. The program has arranged admissions and coursework to be easily accessible: students are admitted each semester rather than just once a year, and all courses are taught every semester so that nursing students can easily fulfill their requirements in the two semesters it takes to obtain the degree. USA College of Nursing also offers an RN to BSN/MSN option, allowing students to finish a BSN and move directly into the MSN program at USA. There are multiple advanced practice specialty tracks and sub-specialties offered at USA College of Nursing.
Learn More About the Program
The USA College of Nursing's RN to BSN program provides a unique, convenient way to up the ante on your nursing career. This opportunity is both flexible enough to fit your life and more affordable than many other programs. Recently, the program has decreased tuition by 30% to just $328 per credit hour for all students (in-state and out-of-state).
If you're a nurse who is thinking about getting a BSN degree to advance your career, reach out to us to learn more about the program at USA College of Nursing. Everyone on the team is more than happy to speak with potential students. Academic advisors may be reached via email at conrn2bsn@southalabama.edu or students may call the college to speak with an advisor or dean at (251) 445-9400.
We look forward to hearing from you!
NEW YEAR, NEW START GIVEAWAY - ENTER TO WIN A $150 GIFT CARD
Take the next step! Enter your email address to be contacted by USA College of Nursing for more information about our online RN to BSN program. Those who provide their email address will be entered to win a $150 Gift card! Click here for details.
---
---