Advancing your health care career when the world needs you most: Fast-track your impact with the RN to BSN program
---
Posted on May 21, 2020 by Jamie Walden
Jamie Walden
---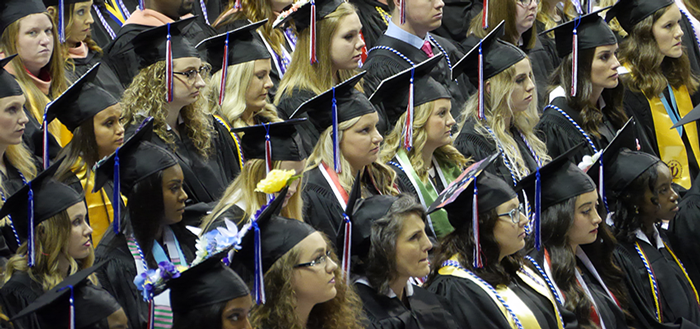 ---
Are you a registered nurse looking to advance toward a BSN or MSN? The University of South Alabama (USA) has you covered with a fully online RN to BSN/MSN degree program. With the current health crisis of COVID-19 in full swing, now more than ever, it's essential to have trained and knowledgeable nurses advancing in their fields of specialty. However, we also recognize that going back to school is a costly and time-consuming effort. That's why we've developed a program and resources designed specifically for the working nurse. So you don't have to decide between your job and advancing your education—you can hold the line against the world pandemic AND work toward your degree at the same time.
Affordable and Flexible
Our program is entirely online which gives you the full freedom and flexibility to complete your degree on your time in your own way. You can come to campus to meet with faculty, administrators and academic advisors if you would like to. Some students find the in-person experience rewarding, but you don't have to come to campus if you don't want to. Our course work is designed for the working student, which takes into account your current skill and knowledge base. This is a perfect route for the full-time nurse who wants to advance within their current employment.
With a recent 30% decrease in tuition costs—down to $328 per credit hour—it's now more affordable than ever to pursue your RN to BSN degree. Additionally, you can complete all of your direct and indirect clinical hours at your current place of employment.
Learning for Leadership
A unique aspect of our program is that we offer an RN to BSN/MSN route. Once you complete your BSN coursework you're automatically admitted and can make a seamless transition to our MSN program. We offer 14 MSN concentrations with several subspecialties.
This program prepares you to take on leadership roles within your career setting to help you move beyond bedside care to higher levels such as: Chief Nursing Officer, Floor Manager, Quality Improvement Officer, and more. Universities are producing greater numbers of qualified RNs every day, but the health care field needs RNs to quickly and proficiently advance their skill, knowledge, and position to better take care of the community and ensure hospitals and health care providers have the staff they need to maintain peak quality and efficiency.
State-of-the-Art Training
Coursework for the BSN program can be completed in a little as two semesters. USA admits students every semester so you can start your program at any time during the year. Additionally, all classes are offered each semester to keep you on track to graduate without the delay of waiting for certain course offerings. This ensures you can take the classes you need, when you need them.
At USA, our hospital supports a regional burn unit and a rapidly expanding Level 1 Trauma Center along with the only Level III neonatal ICU in the surrounding Mobile and Baldwin County areas. Our students also have the opportunity to gain clinical hours at USA Heath Children's and Women's hospital, USA Health University Hospital, or USA Health Mitchell Cancer Institute.
One of the most unique experiences of studying with USA is the fact that our students have full and unrestricted access to a state-of-the-art simulation program housed in a brand new 39,000-sq.-ft. facility. The College of Nursing works in collaboration with the simulation to offer realistic clinical learning experiences. A vast number of simulations are available to our student body which allow our trainees to practice and advance their knowledge in a safe, stable environment to better prepare students for the ever-changing world of health care.
Today, nurses hold the front line of COVID-19 at bay. Tomorrow, who knows what challenges or sicknesses we'll face. But no matter what, the University of South Alabama is committed to making sure students have access to affordable, efficient education with state-of-the-art resources. We'll put you on track to advance your degree, career, and the field of health care. To get started on your new educational track, visit the University of South Alabama's online admission application. Join the USA family and let us help connect you with practical, real world education. Your next step is with us.
NEW YEAR, NEW START GIVEAWAY - ENTER TO WIN A $150 GIFT CARD
Take the next step! Enter your email address to be contacted by USA College of Nursing for more information about our online RN to BSN program. Those who provide their email address will be entered to win a $150 Gift card! Click here for details.
---
---