RN to BSN Spotlight: Nicole Everett
---
Posted on August 10, 2022 by College of Nursing
College of Nursing
---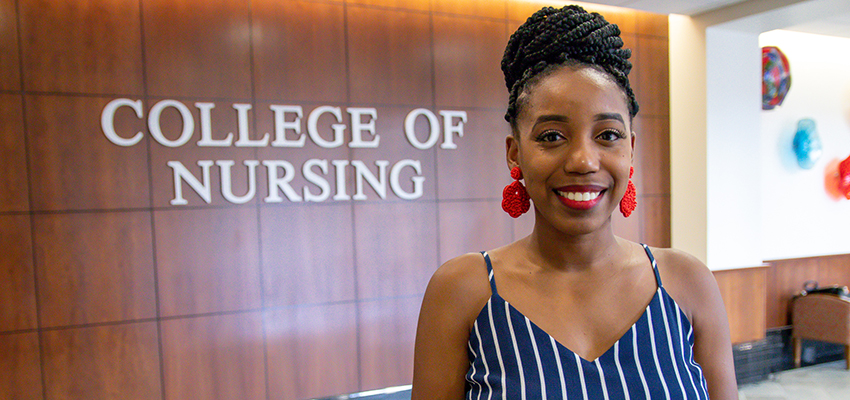 ---
At a time when nothing felt normal due to the COVID-19 pandemic, registered nurse Nicole Everett found an opportunity to return to school to complete her bachelor's degree in nursing. She completed her associate degree in 2011 and spent the next nine years working as a nurse in the Mobile area and as a travel nurse in Texas and California. It was during her time in California that she realized she could use her many hours spent sheltered in place to her advantage and pursue a bachelor's degree online through South's RN to BSN Pathway.
The program's flexibility and fully online courses made her decision easy. Nicole grew up in Semmes, Alabama, and completed her associate degree at Bishop State Community College, so it only made sense that she study close to home, even from more than 2,000 miles away. Plus, she had already spent time here and there completing prerequisite courses at South in preparation for the day she would find time to enter the program.
The opportunity to enter the RN to BSN Pathway presented itself in the fall semester of 2020, and Nicole's husband was there to support her every step of the way. The added support from faculty and her mentor and fellow South alum, Kimberly Tucker, MSN, RN, motivated her to stay on track and complete the program in two years on her own time with no added pressure.
"I would call, text and email all the time. They were so responsive and very approachable. I was able to see what my life was going to be like, so I could adjust my course load based on what I was doing at the time," she said.
Before returning to Mobile permanently in 2022, Nicole remembers the previous two years in California as a time when she was not sure if she would survive. She recalls seeing more patients pass away in a six-month timespan than she saw in the previous nine years of her career. Her love for people is what kept her going throughout her time taking care of patients battling COVID-19, and it continues to motivate her every day.
"As a nurse, you have to care more about people than about yourself," she said.
The challenges she encountered while working as a nurse during a global pandemic and studying to advance her career at the same time did not keep Nicole from achieving the goal she set for herself. She graduated from the RN to BSN Pathway in May 2022 and has since continued her work as a registered nurse at a local Mobile hospital. She is looking forward to the opportunities her new degree will bring her to advance beyond bedside care when the time is right, and if one day she decides to pursue a master's degree in nursing, she is certain that she will return to South.
The RN to BSN Pathway at the University of South Alabama is specifically designed to meet the needs of registered nurses with a current RN license seeking a Bachelor of Science in Nursing degree. This program is taught entirely online and is a flexible option for working students who are managing work and family responsibilities as well as educational assignments. Graduates will have the skills to provide enhanced patient care, critique and apply research to clinical practice. To learn more about the RN to BSN Pathway, contact the College of Nursing at conRN2bsn@southalabama.edu.
What do you like to do in your free time?
"I like to spend time with my nieces and nephews, and we love to travel. I also enjoy cooking and doing volunteer ministry work."
What is your best advice for students starting the RN to BSN program?
"Whatever your reservation is, talk to your advisor in detail ahead of time to better understand the requirements of the class."
What mantra/motto inspires you each day?
"Right now, my favorite is, 'Never let anyone or yourself keep you under a ceiling.' Sometimes we let others or ourselves get in the way of doing something better for ourselves."
What is a fun fact about you?
"I always say, 'I'm sweet as pie, but I'm always down for a fight,' because I am always willing to fight for myself."
Do you have any hidden talents or skills?
"I feel like I'm a pretty awesome baker. I make a good pound cake."
---
---