The Holistic Role of Survivorship Nurses
---
Posted on October 21, 2020 by Jamie Walden
Jamie Walden
---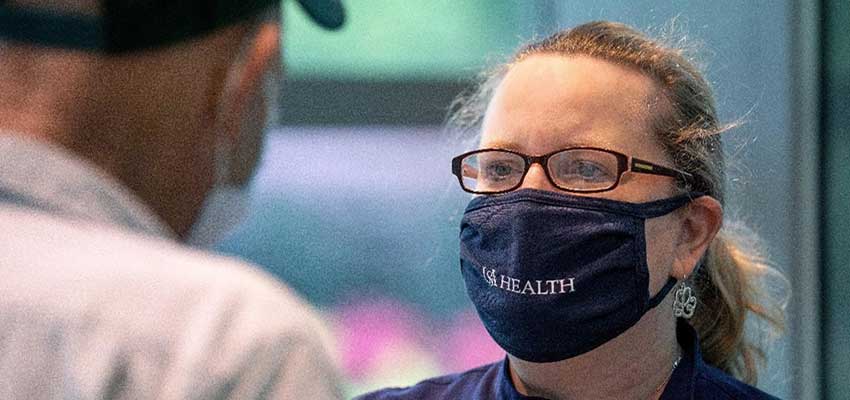 ---
The medical term for living with and beyond a cancer diagnosis is known as the survivorship phase. For many patients, survivorship discussions and future planning begins as early as day one of diagnosis. Oncology nurses are at the forefront of patient-centered cancer care and work to ensure that patients with all prognoses are able to plan for their future accordingly—whatever that future may hold.
According to Dr. Leigh Minchew, Assistant Dean for Academic Affairs and Associate Professor at USA College of Nursing and a Gynecologic Oncology Nurse Practitioner at the Mitchell Cancer Institute, the role of the nurse in cancer survivorship is a holistic one. "It's important to note that survivorship begins at the diagnosis—from there, as nurses we're involved in so many different aspects of the patient's life. Psychological, spiritual, physical, emotional—cancer impacts so many areas that as nurses, we have to work to promote the realization of health in all regards," says Dr. Minchew
Addressing patients' quality of life, health promotion, and long-term care doesn't begin after they've completed their treatment cycle. Managing the issues associated with survivorship can start even before the first treatment appointment and certainly extend to months and even years beyond when a patient is able to ring the bell that signifies their last treatment has been completed. And the role of nurses goes far beyond technical skills. They must advocate for their patients on many levels.
"When it comes to survivorship, one of the biggest roles of the nurse is to realize and identify gaps in patient access to health maintenance activities. For instance, if a patient has an issue feeling connected to their environment or is having trouble with securing proper transportation to and from treatment, that's where we step in to facilitate bridging that gap," she explains. "It's so important for survivorship nurses to pay close attention to what's going on in the patient's environment outside of the health care arena to truly meet the needs of the patient."
Dr. Minchew notes that there can be a variety of challenges that occur for individuals as after-effects of cancer care. From strains on personal relationships to physical issues like neuropathy, a variety of complications can arise that nurses must be willing to assist in mitigating. "It's not always an issue in need of a medication solution," she says. "Sometimes, it's just being able to recommend the right shoes to help with neuropathy or understanding how the patient is adjusting to life beyond cancer."
A considerable aspect of survivorship is the way a cancer diagnosis—even one with a positive prognosis—severely alters the course of the individual's life. "Cancer changes everything for patients and their families. There can be a lot of grief over the fact that plans have to change and paths must often shift. This is where nurses come in—I've seen so many of our team members step up to help patients adjust their perspective or offer support for what the individual is going through."
Another noteworthy aspect of this career path is its viability. "Aside from the emotional and psychological benefits of being a survivorship nurse, we've seen that there will always be a need for this position. People will always need the delivery of care, which is primarily what we do as nurses."
The role of a survivorship nurse is a critical one, but it's more of a calling than simply a career path. Dr. Minchew notes that the rewards associated with ushering patients through their survivorship journey far outweigh the challenges. "It truly is the most rewarding career. Of course, there are good days and not-so-good days, and it can be very emotional for the nurse as well. However, being able to facilitate personal growth and helping our patients feel connected to whatever they need to feel their personal best is an incredible blessing," she says.
Nurses are so much more than frontline healthcare workers—they are stewards of hope. If you'reinterested in pursuing a rewarding career as a nurse, please click here today.
NEW YEAR, NEW START GIVEAWAY - ENTER TO WIN A $150 GIFT CARD
Take the next step! Enter your email address to be contacted by USA College of Nursing for more information about our online RN to BSN program. Those who provide their email address will be entered to win a $150 Gift card! Click here for details.
---
---