Traditional BSN Spotlight: Katrina Horvath
---
Posted on June 8, 2022 by College of Nursing
College of Nursing
---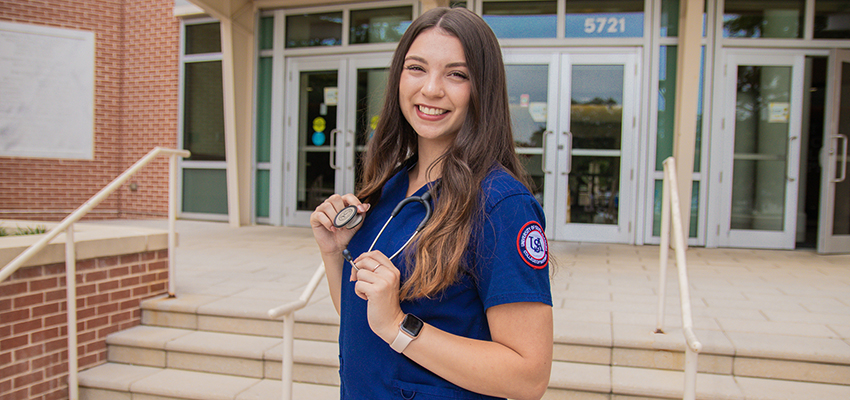 ---
In elementary school, nursing student Katrina Horvath had an up close and personal view of what it takes to be a nurse. Her grandfather was diagnosed with cancer during her second grade year, a battle he fought for nearly eight years. She remembers visiting him often and building a bond with the nurses caring for him. The nurses' willingness to take time out of their day to help her understand what was going on and how they were helping her grandfather inspired her. Now with two semesters of nursing school under her belt, Katrina hopes to be able to provide that same comfort and support to families in the future as a registered nurse.
Growing up in the cold and rainy region of Camas, Washington, led to dreams of warmer weather and fun in the sun for Katrina. Then one day her dad John Horvath, a South graduate from the Class of 1991, received a copy of South Magazine that included a special feature about the Student Recreation Center on campus. One look and she was hooked. Her dreams were becoming a reality. She said, "It may seem silly, but it was the pool!" After that, the more she learned about South and the College of Nursing, the more she knew it was the place for her.
For Katrina, the College of Nursing's early acceptance program and close proximity to a variety of clinical locations made choosing South over other nursing programs an easy decision. She even credits the USA Simulation Program for many of her successes, like conquering her first IV on the first try. The College's hands-on learning opportunities and supportive faculty and clinical instructors provide a layer of confidence for Katrina that she is not sure she would have found anywhere else.
She shared, "I've been really lucky with all of my instructors. I'm a very hands-on learner, so them talking through stuff, showing how it's done and then allowing me to do it in a clinical setting helps me so much to understand and process what is going on."
Before searching for a nursing program, Katrina heard a lot about the University of South Alabama as a child thanks to her father's time at South competing on the men's soccer team and studying business. John completed his bachelor's degree in business and marketing in 1991 and has since shared many memories with his family about his time on the pitch and what it was like living in Delta Dorms.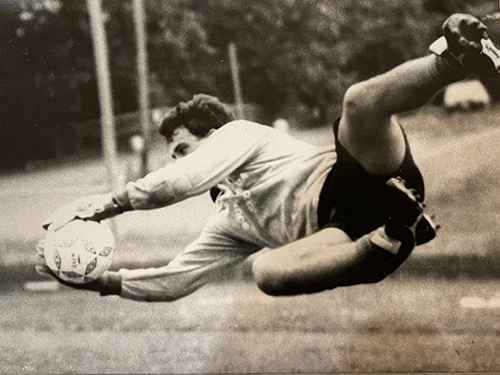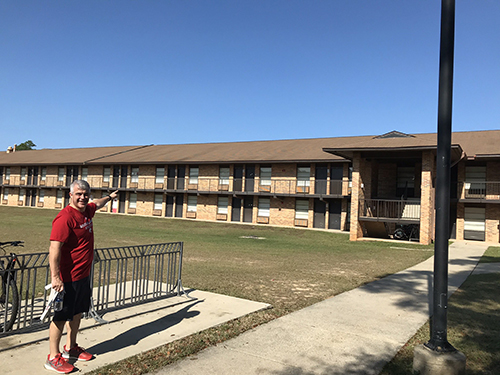 Nearly 2,580 miles separate Katrina and her family, but she stays connected with them virtually as often as possible. She does get to see her parents a few times a year when they make the trip to Mobile, and occasionally, they make a stop to visit a local family her father befriended when he was in school. When asked if her parents were surprised that she chose to move across the country for college, she said, "Not really. They really thought I'd move even further away." She boasts about being just a few more miles further from home than her sister who studied marketing in Hawaii.
To Katrina, kindness is key, both in life and the nursing profession. From making new friends in the dorms her freshman year with a simple door sign that read "Come say hello," to now building community in clinical groups, she is spreading kindness everywhere she goes. "As a nurse, if you're not kind, patients won't open up to you about everything that's going on, and you need them to trust you," she shared.
On track to graduate with her bachelor's degree in nursing in May 2023, Katrina isn't quite sure where she will go next. "I might stay here, but I want to go see other places. I'm not one scared to travel," she said. From Mobile, Alabama, to Camas, Washington, and every city in between, Katrina is ready to take on anything that comes her way.
The University of South Alabama's traditional Bachelor of Science in Nursing program is a four-year program designed for students with a high school diploma. Traditionally, the first two years are spent in meeting general university requirements with courses in science, math, arts and humanities, while the last two years are focused on the professional preparation in nursing. The BSN program provides the skills necessary for a rewarding career as a registered nurse. To learn more about the Traditional BSN Pathway, contact the College of Nursing at conbsn@southalabama.edu.
---
---