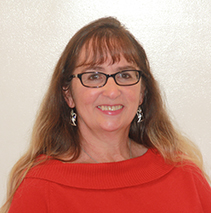 Yvette Q. Getch, Ph.D., CRC
Professor, Department of Counseling and Instructional Sciences; Coordinator, Graduate Counseling Programs (Clinical Mental Health & School)

---
Education
B.S., Social Work, Florida State University, 1986
M.Ed., Rehabilitation Counseling, University of Arkansas, 1990
Ph.D., Rehabilitation Education and Research, University of Arkansas, 1996
---
Teaching Philosophy
The very core of my teaching philosophy is the desire to inspire, encourage, and support the development of all students. My experiences as a student, scholar, and instructor have helped me infuse a) my beliefs about equity, access, and non-discrimination; b) theories of human development; and c) my desire to support every student pursuing their educational, career, and life goals.
My teaching philosophy is based on the following beliefs:
Safe environments facilitate learning
Ownership of learning is essential
Teaching and learning are reciprocal
Challenge and supports should be balanced
Experience enhances learning.
---
Research
I engage in qualitative, quantitative, single subject, and mixed methods research. I firmly believe that research is paramount in excellent teaching and service provision. My research interests are foundationally rooted in advocacy, empowerment, access, accommodations, and improving services/interventions. Much of my research focuses on childhood chronic illness in schools, accommodations, and the impact of chronic illness on families. I am interested in youth with dual diagnosis (mental health and disabilities), children with disabilities in foster care, trauma-informed care for youth at risk, and the relationship between foster care, disability, and juvenile justice. At the very heart of all I do in the area of research is identify physical, systemic, attitudinal, and policy barriers faced by individuals with disabilities or individuals from traditionally marginalized populations and evaluate strategies to eliminate or reduce the impact of these barriers.
---
Outreach
I volunteer at Camps for Children with disabilities, chronic illnesses, and life challenges. I am a founding board member for the HIVE (Habilitation, Information, Vocation, and Education) which provides transition opportunities and supports for young adults with significant disabilities. I am also involved in the MAGIC Foundation (Major Aspects of Growth in Children) where I provide consultation to families, schools, and organizations regarding accommodations, legislation, resources, and supports for children with growth disorders, disabilities, and mental health issues. I also spend a lot of time helping families impacted by chronic illness/disabilities navigate medical, educational, and social systems.
---
Biography
I grew up in a rural farming community in NW Florida. I lived in FL and GA most of my life but also spent time in AR and KY. I was a faculty member at the University of Georgia for 17 years before taking an administrative job in Kentucky for several years. Moving to AL several years ago was like coming back home for me as it is not too far from my home town in FL. I have been married for 35 years, have 5 adult children, 2 dogs and 2 cats. I enjoy camping, biking, and creative activities. Right behind my love for coffee is my love of high school and college football. I play 5 different instruments, some better than others. I enjoy reading and yes, I read research articles for fun. When I am not spending time with my family or working, you can find me doing home repairs/remodeling (yes, I can lay a tile floor) or writing poetry.
---
Courses
CED 572 - Principles and Theories of Counseling
CED 579 - Social and Psychological Aspects of Disability
CED 586 - Counseling Skills and Process
CED 588 - Career Development, Assessment, and Intervention
CED 590 - Motivational Interviewing
IDE 510 - Educational Research and Evaluation
EPY 521 - Human Growth and Development