Celebrating the Contributions of Catholic Sisters in Academics
---
Posted on January 26, 2021 by Lance Crawford
Lance Crawford
---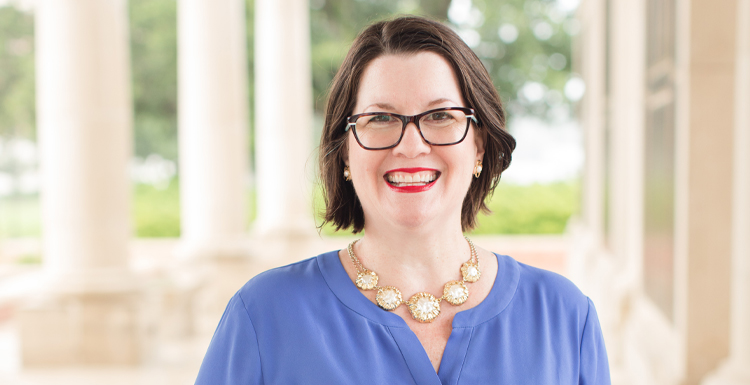 Dr. Peggy Delmas, an assistant professor in educational leadership spent two years researching the contributions of Catholic sisters in the field of academics, including science.
---
Catholic sisters are not often seen as holding administrative positions at public universities or contributing to research advancements in science, but Dr. Peggy Delmas, an assistant professor of educational leadership at the University of South Alabama, wants to change that.
Her interest in the subject was born out of her curiosity about college and university women leaders and her desire to gain a deeper understanding of the religion. Delmas, grew up as a Southern Baptist before converting to Catholicism in 1998.
While pursuing her Ph.D. Delmas talked about her interests to a faculty member who was helping her chose a topic for her dissertation.
"She mentioned that she was aware of a Catholic sister who was also on the faculty of a public university, and that perhaps she might be of interest to me," Delmas said.
Eventually her research explored the academic experiences of three Catholic sisters who were members of the faculty at public rather than religious universities in the South.
In the years that followed Delmas continued to learn of other sisters who had similar backgrounds.
"The numbers convinced me that theirs was a rich story to be told, one that had not yet been widely shared," she said.
In 2018 Delmas traveled across the country, interviewing 29 sisters in person and visiting several congregational archives to research material for 47 deceased sisters.
In September her study titled, "Foremothers in STEM: Celebrating the work of Catholic sister scientists" was published in the International Journal of Gender, Science and Technology
One of those featured in her paper was Sr. Mary Kenneth Keller, a member of the Sisters of Charity of the Blessed Virgin Mary in Dubuque, Iowa, who is recognized as having been the co-developer of the BASIC computer language. She was also the first woman in the U.S. to obtain a Ph.D. in the field of computer science in 1965.
Then there was Sr. Suzanne Fleming, a member of the Sisters, Servants of the Immaculate Heart of Mary, who had a Ph.D. in chemistry, and a 30-year career in higher education. She held roles of assistant vice president for academic affairs and acting associate vice president of academic affairs at Eastern Michigan University, provost and academic vice president at Western Illinois University, and vice chancellor at the University of Wisconsin-Eau Claire.
Yet despite their significant contributions, the sisters rarely received much attention or credit.
"Sisters are typically very humble and do not do self-promotion, they just get on with the work." Delmas said. "This is not a criticism, but one of the primary reasons why the outstanding academic accomplishments of sisters is not more widely known."
The average age of Catholic sisters is in the 70s and their numbers are dwindling. In 2005 there were approximately 70,000 sisters in the U.S. and by 2014 that number had shrunk to 50,000.
These statistics have motivated Delmas to continue her work highlighting the sister's achievements and she is now planning to write a book on the subject.
"It's crucial that their experiences and stories are recorded so that the history of their contributions, particularly the little-known history of their contributions to public higher education, is preserved," she said.
Delmas has been invited to hold a Zoom presentation of her research during Catholics Sisters week. She will speak Thursday, March 11, 2021. The public is invited.
---
---