South Graduate Leads Mobile Innovation Team
---
Posted on February 1, 2021 by Thomas Becnel
Thomas Becnel
---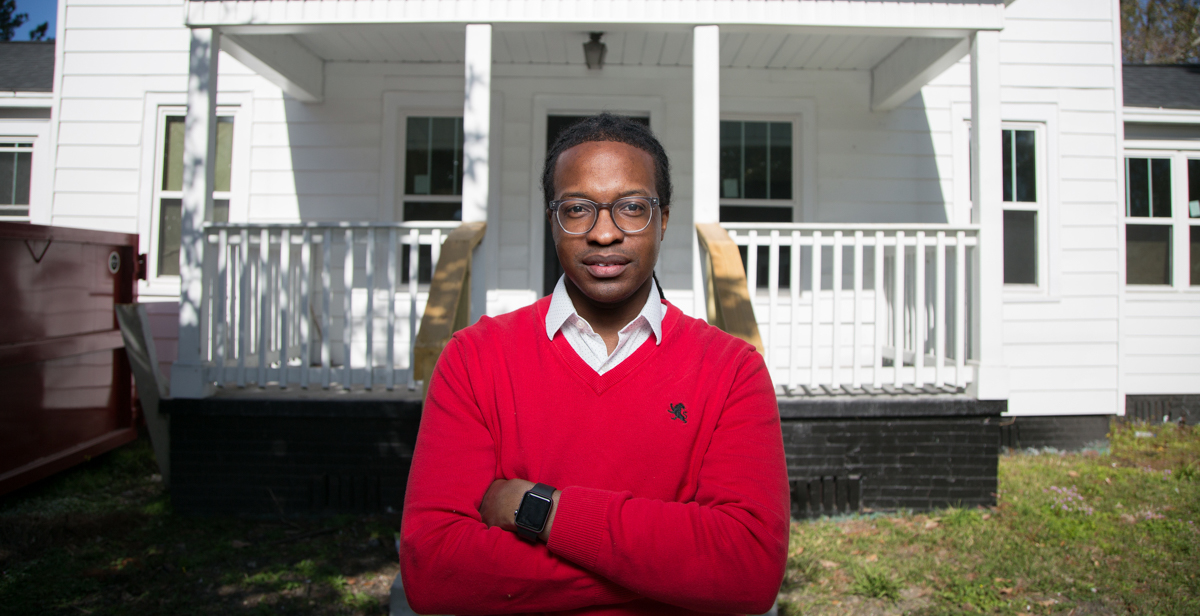 Terrance Smith stands in front of a house on Virginia Street that's being renovated through the work of the Mobile Innovation Team, led by Smith. The home at one point was used by Mobile's Pollman family as a kitchen for their bakery before opening the nearby Pollman's Bake Shop, said Smith, a two time University of South Alabama graduate.
---
At the City of Mobile, Terrance Smith leads an Innovation Team that has drawn local praise and national attention.
Bloomberg CityLab named him one of "Six Innovators to Watch." He appeared on the cover of Mobile Bay Magazine's "Forty Under 40" issue. He was appointed to the Leadership Alabama Commission on Race and Equity.
Building that kind of reputation – and resume – leads to career opportunities. Last year, he was contacted about a government position in California.
"It sounded amazing, but I don't know how things work in California," he said. "I do know how things operate in Mobile. And whatever I do here would have a tenfold impact, because of all the challenges we face.
"You know, when my friends were going off to college, or different jobs, they all wanted to end up in Atlanta or Dallas. As a housing project kid from Prichard, I wanted to go to Mobile. I wanted to have an impact in Mobile."
Growing up in the Bessemer housing development gives Smith a different perspective from the mayor's suite on the 10th floor of City Hall in downtown Mobile. His government experience and state work has supporters asking when he might run for public office.
Smith has little political experience, but has developed a broad support group of friends and colleagues. The 37-year-old says his brand is networking and problem solving. He has a repertoire of autobiographical stories that mix life lessons with self-deprecating humor.
He and his mother, who became a nurse, started out in Prichard. She made sure he had opportunities and made the most of them. He became a student musician who got to perform with an Adams Middle School orchestra on a trip to New York City's famous Carnegie Hall.
"I didn't even know that was a big deal," he said. "My wife was the one who told me. I'm like, 'Carnegie Hall – I played there.' She said, 'No, you didn't.' I said, 'Yes, I did,' and I had to get down the book to show her. She was like, 'That's amazing.'"
At the University of South Alabama, Smith studied everything from accounting to sociology, then learned he could save time with a degree in interdisciplinary studies. "I jumped into that program and, there you have it, I was a graduate of South." Two years later, he earned a master's degree in instructional design and development.
Smith worked full-time while going to college, so he didn't have many extracurricular activities. He enjoys telling the tale of his first job at a pet store. One of his duties, several times a day, was carrying bags of dog hair from the grooming station to the dumpster. None of the managers taking smoke breaks ever offered to help him.
"I vowed then that I would never do that when I became a leader," he said. "To this day, with every team I've ever led, I've always made myself accessible, and never asked anyone to do anything I wouldn't do myself."
After college, Smith worked for the Mobile Area Education Foundation, then did a pop-up project downtown, which led to his job with the city. The Innovation Team, originally funded by Bloomberg Philanthropies, tackles complex problems such as housing blight. After three years of collaborating with municipal departments, business interests and community groups, Smith was named director.
On the Bloomberg team, he traded ideas with groups from cities across the country and around the world. He found himself along the cutting edge of civic innovation. It didn't take long.
"Within my second week, we went to a Bloomberg Philanthropies Global Convention in Memphis, and I realized there were teams from Toronto and Jerusalem," he said. "I'm thinking, Oh, my gosh, these are the best of young government thinkers. This is a big deal. This is not just a Mobile deal."
Closer to home, the Leadership Alabama program has introduced him to people and programs across the state. Each week, he tries to meet someone new, especially if they're not from his circle of business and politics.
After his mother died five years ago, Smith felt down during the holidays. He and his wife began a November tradition of having people over to share a pre-holiday dinner. The meal started with just six friends, but the guest list grew to 30, 60 and then more than 100 people.
He calls it Smithsgiving.
Smithsgiving?
"Smithsgiving," he said, laughing. "Like Thanksgiving."
Advisers and Mentors
Stimpson, who first hired Smith for the Innovation Team, remains ones of his biggest supporters.
"The City of Mobile is very fortunate to have someone with Terrance's talents and drive," said the two-term Mobile mayor. "He has a lot of interpersonal skills. He's comfortable in every situation. He's compatible with people from all walks of life. It doesn't matter if he's talking to a homeless person on the street or someone in a corporate boardroom."
Smith earned a reputation as a stickler for quality systems and orderly processes. He could listen to people, understand their motivations and respect their opinions. He could identify problems and suggest solutions that different groups of people found acceptable.
Stimpson hopes Smith will remain in Alabama and continue working for the people of Mobile.
"If Terrance wants a future as an elected official, it's there for him, and he would do an excellent job," he said. "Timing has a lot to do with those decisions, but he has that opportunity, or he could have the opportunity to run nonprofits. He is successful and he will continue to be successful."
Dr. Joel Billingsley, an associate professor of Instructional Design at South, met Smith when he was in graduate school. She volunteered to become his advisor. She encouraged him to apply for an internship with Mobile County Commissioner Merceria Ludgood – another important mentor.
"I knew community engagement was important to him," she said. "So I've been overjoyed and delighted at what he's been able to accomplish and how he's been able to help improve our community."
Billingsley believes Smith's roots in Prichard are important. He's humble and respectful. He enjoys listening to people and wants all voices to be heard.
"People recognize authenticity and genuineness," she said. "He has this relatability to people, a willingness to share, and really be courageous in saying things that others might not be comfortable in saying. In meetings about education, he would always advocate for students to be part of the conversation. In the community, he would always advocate for residents to be part of a conversation.
"He's a genuine problem solver who has a heart for people. I'm grateful to know him and be part of his journey. There's no telling where he's going to have the greatest impact, but I know his work will continue."
Porch Views and Beach Dreams
Smith's wife, Johnnice Edwards Smith, is director of human resources for a Baldwin County nursing home. They live in Magnolia Grove along the Robert Trent Jones Golf Trail. His son Ty'Terious just started college.
He describes his mother, Cynthia Smith, as a single parent who set him on a path for success.
"She believed in me more than anyone else," he said. "Her parenting style was very liberal, very open. She allowed you to make your own mistakes, go at your own pace, and have a full range of emotional experiences."
Smith grew up next to Interstate 65 in Prichard. It was a close-knit community of families who all knew one another. He still thinks about the second-grade teacher who taught him so much. He remembers the band director who insisted he learn the xylophone and other percussion instruments before picking up a snare drum.
Even as a boy, he was curious, willing to approach people and ask questions.
Smith remembers a nursing friend of his mom's inviting them to a beach house in Gulf Shores. He got to talking with the owner, who explained that he had one house in Mobile and a second home along the shore. This was another world.
"So I asked him, 'You think I could buy a house on the beach one day?'" Smith said. "And he said, 'Yeah, I'm going to tell you how: Do your homework every day.' I'm thinking to myself this guy's lying to me, he's hiding secrets, but I'll tell you what, that's the one thing I remembered. I went back to that housing project and I did my homework on the porch every day.
"You can imagine the scene, this porch next to the interstate, and I would do my homework wondering all the time, those people going up and down the highway, are they smart, are they rich, are they doctors or lawyers, and were they thinking about me the same way I'm thinking about them? These were all the things that went through my mind from about 9 to 17 years old.
"What I realized later on was that it was never really about the beach house. It was about relentless preparation. Doing my homework every day was how I ended up getting a scholarship to go to college in the first place. I was able to avoid all the negative stuff going on around me. I was able to surround myself with people to help me accomplish my goals."
---
---