Robots, Drones and Green Slime
---
Posted on March 22, 2022 by Thomas Becnel
Thomas Becnel
---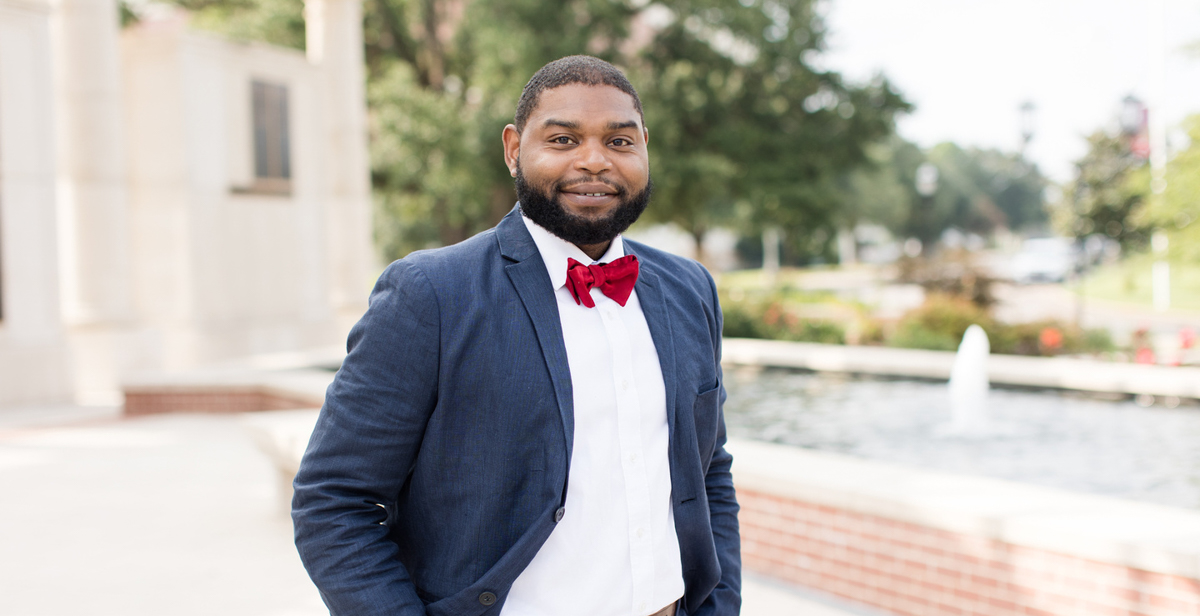 Timothy Johnson, who earned an education degree from the University of South Alabama in 2010 before working as a teacher in Mobile County public schools, is an Alabama Technology in Motion specialist at South. His position serves students and teachers in 10 school districts.
---
The University of South Alabama is running a series beginning Martin Luther King Jr. Day that focuses on South students, employees and alumni who are advancing Dr. King's vision in six areas – poverty, jobs and wages, housing, education, justice and peace. Today's story, the last in the series, is on education.
Timothy Johnson enjoyed his first "aha" teaching moment even before he began studying education at the University of South Alabama.
As a freshman, he planned to study psychology, but took a student job as a reading tutor at Fonde Elementary School.
"I was helping struggling readers and the kids started to improve, started to enjoy reading," he said. "I realized it was about finding interest. There was this third-grade boy who liked race cars, sports, anything with action. So I'd take him to the library and we'd get one book the teacher wanted him to read and one book that he could choose. I realized that if I could find interest with students, we could make progress. That was the moment where I said, 'OK, let's try education.'"
Johnson attended South on a track and field scholarship and earned a degree in elementary education. He began teaching STEM subjects – Science, Technology, Engineering and Mathematics – at Mobile elementary schools.
Finding student interest in science meant hands-on learning. Toys and technology. Projects and experiments. Using everything from robots and flying drones to 3D printers and Nickelodeon's Green Slime.
"I'm competing against computers and video games – how could I engage them?" Johnson asked. "I thought, I need to be an innovator for these students."
Johnson became a laboratory instructor at E.R. Dickson Elementary School. He presented papers at STEM conferences. He attended a NASA camp in Huntsville and the ExxonMobil Teacher Academy in Philadelphia.
Last year, Johnson, 34, became an Alabama Technology in Motion specialist at South, serving students and teachers in 10 school districts. He also began appearing in a program called "Alabama STEM Explorers" on Alabama Public Television.
"I still get chills when I see myself on television," he said. "I went to Saraland Elementary one time and this kid said, 'I know you! Aren't you on that TV show on Saturday?'"
Mentors and Colleagues
One of Johnson's mentors was Dr. Carl Cunningham Jr., the former head of Multicultural Student Affairs at South, who is now director of student support services at Coastal Alabama Community College. Through a Mobile Kappa League program, he began advising Johnson as a high school sophomore.
"He's never been a boisterous guy, but he was always a detail guy, and he has great follow-through," Cunningham said. "At South Alabama, he continued with that. My advice for him was to stay the course."
He was thrilled when Johnson turned to education – especially elementary education and science education.
"He saw the need to have more black men in that space," Cunningham said. "He saw how successful he could be, particular with boys."
Last year, Johnson began work for Technology in Motion, a STEM program in Alabama public schools, providing support and training for educators in five counties.
Johnson works with Nikkesha Hooks, program director of Technology in Motion. She appreciates his experience in STEM, project-based learning and instructional technology.
"Timothy has been working with local schools to support technology integration, digital literacy and computer science," Hooks said. "Timothy is a successful educator who is hard working and dedicated, but most of all enjoys what he does."
Sprinting to South
Johnson grew up in Prichard, just north of Mobile, where his father was a parole officer and his mother was a bookkeeper. His grandmother was a 6th-grade social studies teacher. He was in her class one year.
"That was a different experience," he said, laughing. "She'd say, 'Don't worry, I'll just tell your daddy.'"
When he wasn't at school, he and his friends rode bikes and played sports. Anything to stay outside.
At LeFlore Magnet High School, Johnson competed in track and field. He ran the 100 meters, 200 meters and the 400-meter relays. He trained for years.
"It's something you have to work on," he said. "It's technique, technique, technique."
Johnson won a track scholarship to South, where his coach was Lee Evans, an Olympic gold medalist famous for giving a Black Power salute at the Mexico City Olympic Games in 1968. The physical training was difficult. He also learned from weekly counseling and relaxation sessions.
"It helped us with school, also, just managing stress and the expectations of others," he said. "When I first started teaching, it was like 'You need to do this' and 'You need to do that,' and I was able to walk inside my classroom and do what I needed to do for my students."
One of Johnson's sisters is a nurse. The other is a teacher and mathematics coach. His older brother is a principal in Birmingham.
"When something new comes out in education, we'll talk about how things might be implemented at our schools," he said. "My brother, he'll be asking us what questions teachers might have."
In 2010, Johnson earned his bachelor's degree at South in the College of Education and Professional Studies. While teaching, he earned a master's degree. In 2019, while at Dickson Elementary School, Johnson was named Outstanding Alabama Elementary School Science Teacher.
He used to keep a journal, about what he was doing and what he needed to do better. He remains a stickler for lesson plans and lab prep.
"I plan everything out and set up everything up for the next day," he said. "So I can I just walk in and start teaching, which makes the job a lot easier."
Each summer, he makes time for camps, seminars and professional development courses.
"When you're pouring out information in all class all year, you need to refill your tank in the summer," he said. "It keeps you on your toes, especially in science education."
In December, Johnson married Celeste Napier, an adjunct chemistry lab professor at South. They met on campus as undergraduates. Now they're colleagues.
On one of his jackets, Johnson wears souvenir pins from NASA and different science camps. A different kind of pin represents Secret Scientist, a clothing brand started by a friend of his.
In his spare time, he enjoys reading science fiction and anime. His relaxes by fishing with his cell phone turned off.
In Mobile, Johnson sees former students of his all the time. Some of them are high school kids ready to become adults. He's never been tempted to teach older students.
"It's easier to talk to kids," he said. "And I'd rather start with children than work with them at the end stage of their education. I feel like the greatest impact I can have is at the elementary level."
---
---