Healthcare CEO Learned Flexibility at South
---
Posted on March 26, 2021 by Thomas Becnel
Thomas Becnel
---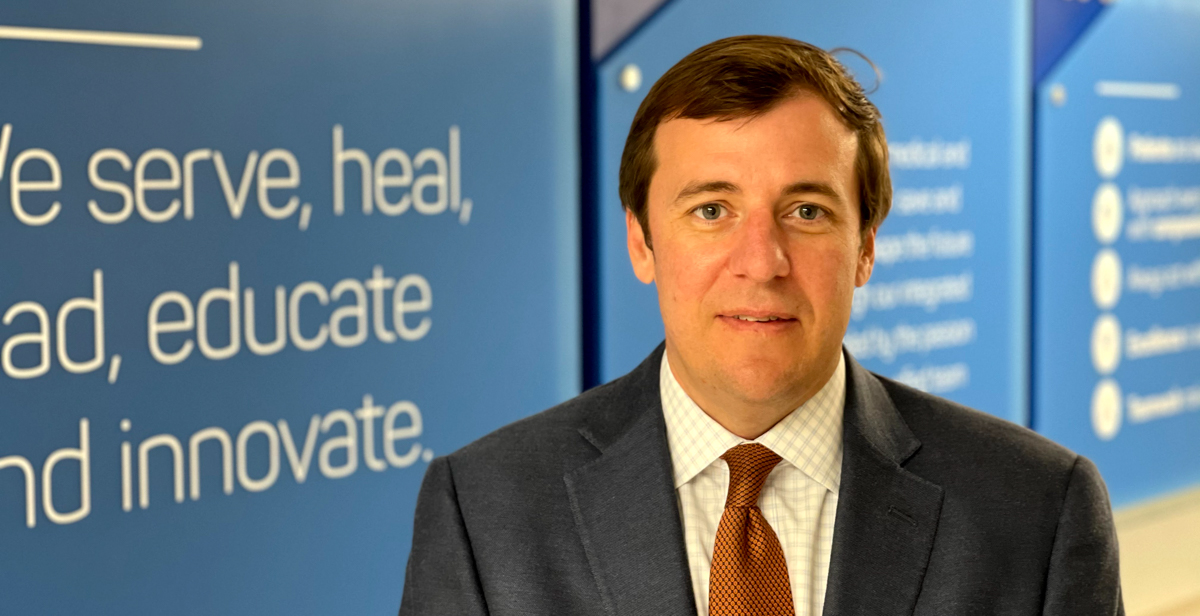 Wilson Thomas studied management and political science at the University of South Alabama for a degree in interdisciplinary studies. His career in hospital administration now includes managing coronavirus care and administering vaccines.
---
As a well-traveled hospital executive with Community Health Systems, Wilson Thomas worked everywhere from Cedar Park, Texas, to Fort Smith, Arkansas, and Crestview, Florida, with stops in Emporia, Virginia and Franklin, Tennessee.
Now the Mobile native is closer to home as CEO of the Ochsner Medical Center – Hancock in Bay St. Louis.
"It's 99 miles, door-to-door," Thomas said. "When you work for hospital companies, you go where they need you."
Mississippi properties of Ochsner, a nonprofit based in New Orleans, include a 102-bed hospital, along with affiliated health centers on the Gulf Coast.
Thomas grew up in west Mobile and attended St. Paul's Episcopal School before starting his college career at the University of South Alabama. He left school to work in marine construction, then returned to earn a degree in interdisciplinary studies.
The freedom and flexibility of that program suited his needs. Designing his own curriculum became career planning.
"The adviser who helped me write my plan, I'll never forget how helpful she was," he said. "She said the goal was not to graduate as soon as possible. The goal was to get the degree you needed."
Thomas, 38, studied management and political science at South. After graduation in 2008, he started working for Community Health Systems. The company sent him to six hospitals in 11 years.
"The first three moves were just me and the dog," he said. "It's a whole lot easier when you're by yourself."
Now he has a family. He's married to Anne Wright Thomas, a nurse anesthetist who is also a native of Mobile. They have two children.
Thomas started out in facilities management before moving into hospital administration. Along the way, he earned a master's degree in business administration.
At his most recent job in Tennessee, and his new one in Mississippi, Thomas' responsibilities include managing the extraordinary demands of the coronavirus pandemic. The latest challenge is helping to administer vaccines to thousands of people.
John Herman, CEO for Ochsner Health-Northshore Region, said Thomas's background will benefit the healthcare company. "Wilson's leadership, management and hospital experience will be invaluable to Hancock patients and staff as we work to expand our operations and specialty healthcare options."
That experience began at South. Thomas still utilizes skills he learned while earning his degree in interdisciplinary studies.
"Primarily, the ability to pivot from one thing to the next," he said. "With that kind of program, it's not mapped out for you, right? The hospital business is like that. You never know what happened overnight when you come in in the morning."
---
---