---
Posted on July 20, 2020 by Lance Crawford
Lance Crawford
---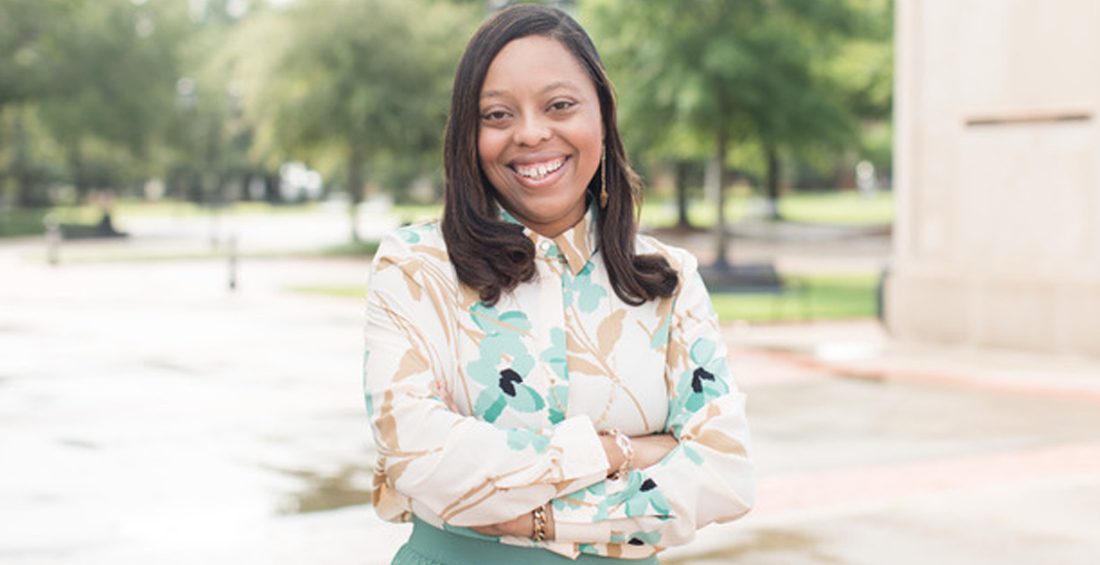 April Berry, a 4th-year doctoral student in the combined clinical and counseling psychology Ph.D. program, hopes to become a professor and use that platform to help her students achieve success in their lives.
---
Growing up in tiny Newton, Miss., April Berry knew where she was headed long before she ever got there.
"I knew for certain I was going to college before I even started kindergarten," she said. "Both my parents (Douglas and Mattie Berry) and my grandmother (Bernice Robinson) told me early on that education was the key to success, so they made sure that I knew that in childhood."
A bold assumption, considering no one in her family had ever attended college, but Berry defied the odds. She was valedictorian of her high school, becoming a first-generation college student and earning a presidential scholarship that funded her undergraduate education.
So being first is nothing new for the 4th-year doctoral candidate in the combined clinical and counseling psychology Ph.D. program. Two years ago, she became the first USA student awarded the Southern Regional Educational Board fellowship which includes a $20,000 per year stipend for three years, but Berry says, the money is just part of the program. "SREB is dedicated to increasing minority faculty members on college campuses, given that only 5% of faculty are African American. The fellowship also hosts a yearly training institute that allows the fellows to come together to network, attend workshops to increase knowledge of academia and meet with recruiters for faculty positions."
This summer, another South student, Jennifer Barinas also was named a Southern Regional Educational Board fellow. "We are immensely grateful and proud of the many contributions of April and Jen to our program," said Dr. Joseph Currier, associate professor of psychology and director of clinical training. "Looking ahead, April and Jen are setting the high standards that we hope all of our students will seek to attain in years to come."
The good news does not stop there; Berry was recently awarded a Graduate Student Activities Enhancement Program grant and will use the funds to continue work on her dissertation. "My dissertation is going to be a mixed-method investigation — both qualitative and quantitative data will be collected — of racial socialization and racial identity experiences on perceptions of femininity for African American women. This study was inspired by my own personal journey of becoming the person I am today," Berry said.
"She's going to be big. She really has cutting edge research ideas. I believe she is really going to be a person who is a leader in her field, I'm positive of that," said Dr. Ryon McDermott, associate professor of counseling and director of clinical training.
McDermott, who also serves as Berry's mentor has seen her personal growth since entering the doctoral program. "She's just driven, incredibly so," he said. She's probably my most reliable and professional student."
Besides working on her doctorate, she serves as a graduate assistant in the University Testing and Counseling center. "Dr. John Friend has allowed me to expand my research and clinical interests regarding diversity and race-related concerns by ensuring I had the ability to meet with various administrators, such as Dr. Paul Frazier, chief diversity and inclusion officer," Berry said. "Making connections such as this, with his assistance, has allowed me to enhance my knowledge and skills more as it relates to diversity on college campuses, particularly USA."
Ultimately, Berry's goal is to become a college professor and use that platform, as well as her own life experiences to help others. "I want to be able to be in an academic position that will allow me to be an asset to students to help them achieve and succeed in their lives," she said. "I want people to know that things may not always be easy, but with hard work and determination, you can make a difference in your life. We all have a purpose and destiny, and we should always look for ways to reach it. Therefore, I want to be able to help others reach their purpose in life."
---
---