Mid-Career Change Takes Teacher to Middle School
---
Posted on August 4, 2020 by Thomas Becnel
Thomas Becnel
---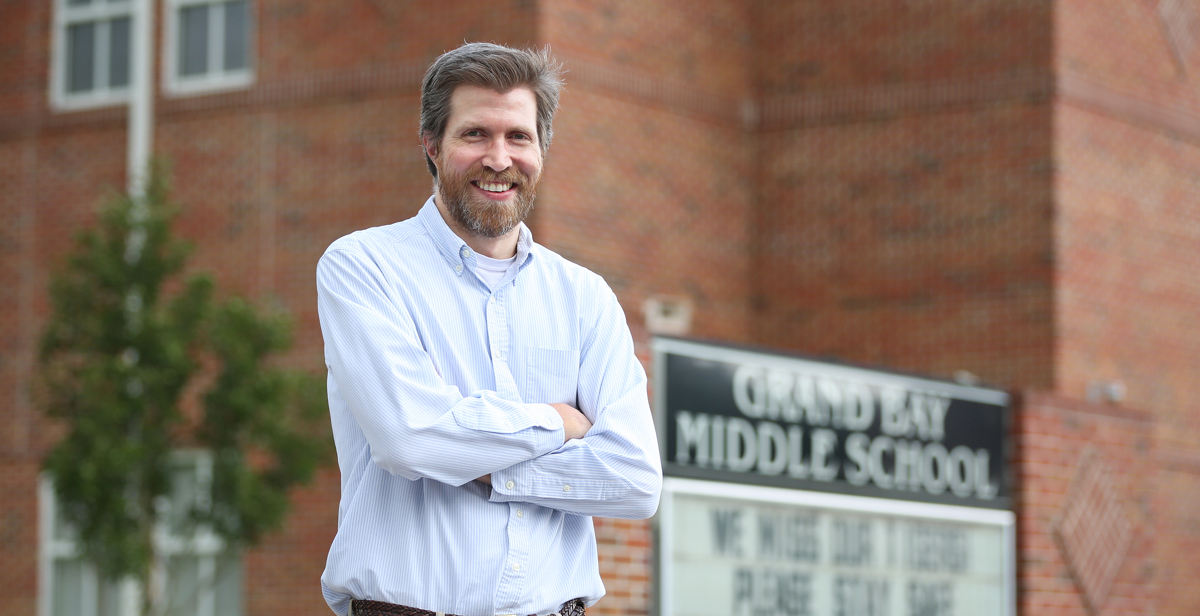 William DeMouy called the principal at Grand Bay Middle School the day he saw the job opening for a teacher. He interviewed the next morning. "I was thrilled. I was like, 'Let's do it. Let's go for it.'"
---
#MyFirstJob is a series focused on University of South Alabama Class of 2020 graduates who are beginning their careers.
In Room 211 at Grand Bay Middle School, William DeMouy tries to make himself at home.
Classes will not begin until Sept. 1, and even then initially they will be online, but he brought in a fresh set of maps celebrating the bicentennial of Alabama, 1819-2019. The new teacher will be teaching 7th-grade civics and geography.
"Just getting my toes wet here," said DeMouy, a spring 2020 graduate of the University of South Alabama. "It's starting to feel real."
When he heard about the job opening at Grand Bay in May, he called the principal that same day. His job interview was the next morning. That afternoon he learned that he would be recommended for the position.
"It blew my mind – all in the same day," he said. "I was thrilled. I was like, 'Let's do it. Let's go for it.'"
DeMouy, a 35-year-old Mobile native, has all the enthusiasm of a mid-career professional who decided to change careers and start a new chapter in life.
Back in 2009, he earned a degree in business administration from South. He took a sales job in Mobile and worked at a beverage distributorship for eight years.
"It got to the point where I'd had enough," he said. "It wasn't what I wanted out of life. Eventually, I decided teaching was the right fit. I remembered people telling me I should have been a teacher. Maybe they saw something in me."
DeMouy went back to South and studied education for two years. He observed local classrooms and became a student teacher. He earned a second bachelor's degree.
"I was scared to death, going from full-time work to something new," he said. "There's a significant difference when you're 33 and in class with young college students. I could feel a clear disconnect."
While at South, DeMouy worked in catering at the Mitchell Center and other venues. Everything from small parties to big banquets. He went to University events and learned his way around campus.
He already had strong ties to Mobile.
The first DeMouy was a French tax collector who arrived in 1703, the year after the city was founded. Several generations of the family remained in Mobile. In Midtown, there is a Demouy Avenue near where he grew up and still lives a block from his parents.
He graduated from UMS-Wright Preparatory School and spent two years away before returning home to earn his business degree at South.
During his student teaching, he learned that working with students comes naturally to him. He enjoys talking about history and has a deep, resonant voice. He also stands 6-foot-6.
"It's great," he said, laughing. "I can immediately establish a pretty significant presence."
Middle school students literally look up to him. Many ask how tall he is.
Some kids struggle with the French pronunciation of his name. It's "de-MOO-ie." When all else fails, he says they can call him Mr. D.
DeMouy enjoyed his time student teaching in Mobile. Public school was new to him. There was much to learn.
For him, doing lesson plans is more difficult than the time teaching students. He's tech-savvy, so working online and dealing with technology isn't so difficult. Already, he's thinking about earning a master's degree and getting into school administration.
At Grand Bay, a new colleague recommended that he start school planning with rules and guidelines for his classroom. He considered some of the basic lessons he wanted to share with his students. He thought about what was most important.
"Be respectful to yourself and to others," DeMouy said. "Show discipline by doing the work you're supposed to be doing. Show integrity by doing the right thing, even when nobody's looking. And have a good time."
---
---