Clinical and Counseling Psychology Ph.D. Program Earns Reaccreditation
---
Posted on August 30, 2023 by Amber Day
Amber Day
---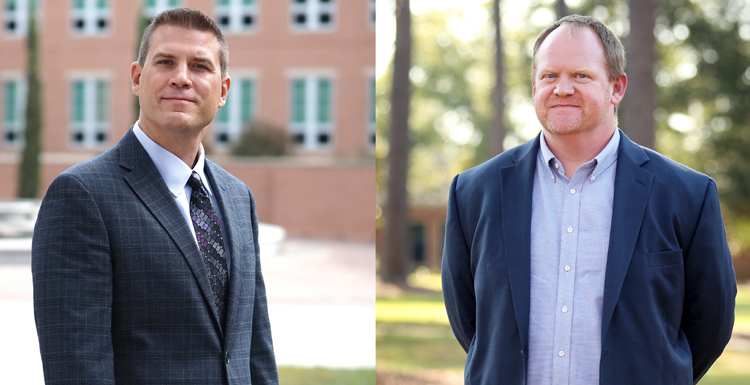 Dr. Joseph Currier (left) and Dr. Phil Smith, both professors of psychology, led efforts for 10-year reaccreditation of the University of South Alabama's Clinical and Counseling Psychology Ph.D. program.
---
The University of South Alabama's Clinical and Counseling Psychology Ph.D. program recently earned a 10-year reaccreditation from the American Psychological Association. This is the maximum possible time period for reaccreditation and represents a significant validation of the program's training model and student outcomes.
"The reaccreditation process began during Dr. Joe Currier's period serving as director of clinical training," said Dr. Tres Stefurak, associate dean for the College of Education and Professional Studies, professor of counseling psychology and a founding faculty member of the doctoral program. "Dr. Currier provided enormous effort to craft the voluminous initial self-study document. The program transitioned to Dr. Phil Smith as director, and he also contributed enormous effort to editing the self-study and managing the site visit process, alongside help from the associate director, Dr. Ryon McDermott, and other program faculty and administrators."
The Clinical and Counseling Psychology Ph.D. program, housed in the College of Arts and Sciences and College of Education and Professional Studies, is a rarity in the United States. The program integrates the two traditions in health service psychology (clinical and counseling psychology) and is among only a handful of such programs nationwide.
"This integration involves combining the emphasis on biomedical perspectives and evidence-based practice from the clinical psychology tradition with the emphasis on wellness, humanistic and culturally relevant mental health services, and systemic advocacy from the counseling psychology tradition," Stefurak said.
The doctoral program was initially accredited in 2014, and since that time, students have been successfully placed in pre-doctoral internships and post-doctoral fellowship positions across the nation. Alumni move on to work in health service psychologist roles, including many who continue to serve the Mobile community and Gulf Coast region.
Dr. Kaitlyn Schuler, a recent USA Clinical and Counseling Psychology Ph.D. program graduate, grew up in Lake Worth, Florida. After four years in residence at South, Schuler spent her fifth year at Canandaigua Veterans Affairs Medical Center in Ontario County, New York. She began her postdoctoral fellowship at the University of South Florida in August of 2023.
"I learned from VA psychologists how to effectively treat veterans living with posttraumatic stress, suicidality, neurocognitive disorders and serious mental illness," Schuler said.
During her time at South, Schuler worked with Dr. Phil Smith, a professor of psychology, focusing on the interpersonal-psychological theory of suicide and, increasingly, upstream, socioecological approaches to suicide prevention. Her dissertation analyzed 10 years of research on area-level, ecological factors associated with suicide. She hopes to extend this work by using advanced analytics to identify how local contexts and aspects of communities may serve to enhance or reduce risk for suicide.
"Kaitlyn's research represents a fundamental shift in how we think about suicide prevention," Smith said. "For more than 50 years, we've focused almost exclusively on trying identify individuals who were on the verge of dying by suicide and to stop them. Kaitlyn's work challenges us to ask, 'How can we prevent them from ever getting to that point?' That, in my view, is what suicide prevention must be about."
Schuler worked as a graduate assistant at South with Student Academic Success and provided curriculum development and academic counseling in their student retention programs. She also worked with the Suicide Prevention Lab providing grant writing to support suicide prevention efforts in on South's campus and in Mobile. She provided clinical services at Eastpointe Psychiatric Hospital, program evaluation for the Mobile Police Department and consultation for community-based policing programs. Schuler also worked at Veterans Recovery Resources as a clinical extern providing evidence-based interventions for veterans, first responders and their families and other members of the Mobile community.
"Kaitlyn is just one example of how the work being done by clinical and counseling psychology students is impacting the field of psychology, but also shows how our program seeks to improve the lives of those living in the local community," Smith said.
Schuler published 14 peer-viewed articles during her five years at South. She also earned $2,000 of internal funding for a project on the theory and measurement of suicidal communications. As a postdoctoral fellow, Schuler will begin working on the development and testing of technology and smartphone applications to promote mental health, wellness and reduce risk for suicide.
"The clinical and counseling psychology program faculty train graduate students by example to think broadly about the potential impact we can make as clinical-counseling psychologists," Schuler said. "As we learn how to help therapy clients effectively, we also work to improve their contexts through research, advocacy and community engagement. This positions clinical and counseling psychology graduates from South well to meet the full potential of health service psychology."
---
---