Getting a Head Start on Their Teaching Careers
---
Posted on September 9, 2021 by Lance Crawford
Lance Crawford
---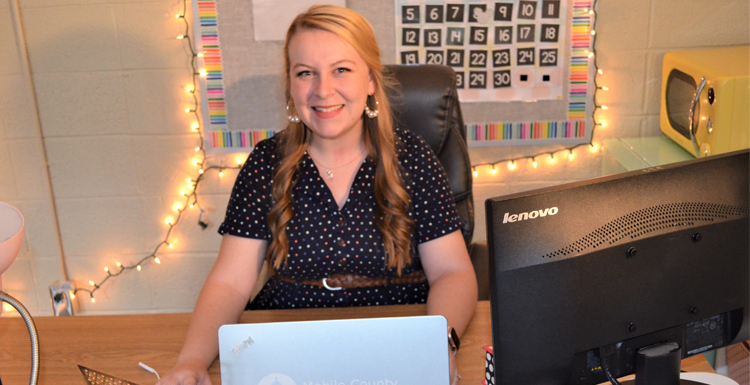 Emma Stetzinger is part of the "Transitioning to Teaching" program which allows students to teach full-time in the Mobile County School System's Academy of Virtual Learning during their final semester at the University of South Alabama.
---
The University of South Alabama and Mobile County Public Schools have established an initiative that allows student-teachers in their final semester to get an early start on their careers.
"The program came about from a desire of the district and the college to begin to address the teacher shortage that so many districts are experiencing these days," said Dr. Andre Green, professor and associate vice president of academic affairs.
Student-teachers typically work in a classroom alongside a certified teacher referred to as the cooperating teacher. A University supervisor also visits the classroom several times a month to provide support and observe lessons.
In the new "Transitioning to Teaching" program, student-teachers are working in the MCPSS Academy of Virtual Learning. A team of supervisors, who are retired teachers, serve as both the cooperating teacher and University supervisor. They help with planning and providing support as needed. There are also other certified teachers onsite to provide additional help.
The student-teachers receive a monthly stipend, and the program pays their fall tuition. A goal is for each to be offered a full-time position with Mobile County Public Schools after graduation and certification.
"I was intrigued at the possibility of getting paid during my internship," said Emma Stetzinger, a student-teacher in the program.
She is one of 14 South students participating in the program, which includes kindergarten through 5th grade. Stetzinger, who teaches 2nd grade, admitted that she was initially hesitant about online learning.
"When people decide to become teachers, it typically comes from a place of love for students. The thought of my first job being one that I did not get to physically have kids in my classroom seemed disappointing," she said.
However, her opinion has changed upon seeing the impact she can have on children whose families have chosen virtual school over in-person learning due to the COVID-19 pandemic.
"My colleagues and I have been given an incredible opportunity to provide not only a service to our community, but peace of mind to the parents having to make the tough choices about what's best for their child and their family," Stetzinger said.
In addition to being taught successful teaching methods in the college classroom, South's student-teachers also have experience in elementary school classrooms.
"I think it is important to note that these student-teachers have had extensive field experiences over the past two semesters. Their program requires over 200 hours in local schools each semester in the two semesters prior to internship," said Jennifer Simpson, senior instructor and director of field services in College of Education and Professional Studies.
COVID-19 has disrupted school systems nationwide, but new ideas and strategies have also emerged as a result of the pandemic.
"The program is able to assist the district with meeting a need and the district is able to assist the college in providing this opportunity for our students," Green said. "It is a win for USA as we sincerely hope that in a little as seven years some of these elementary students will become Jaguars."
---
---