South Professor Shares Legacy of Strength, Perseverance in Africatown Documentary
---
Posted on September 9, 2020 by Jeb Schrenk
Jeb Schrenk
---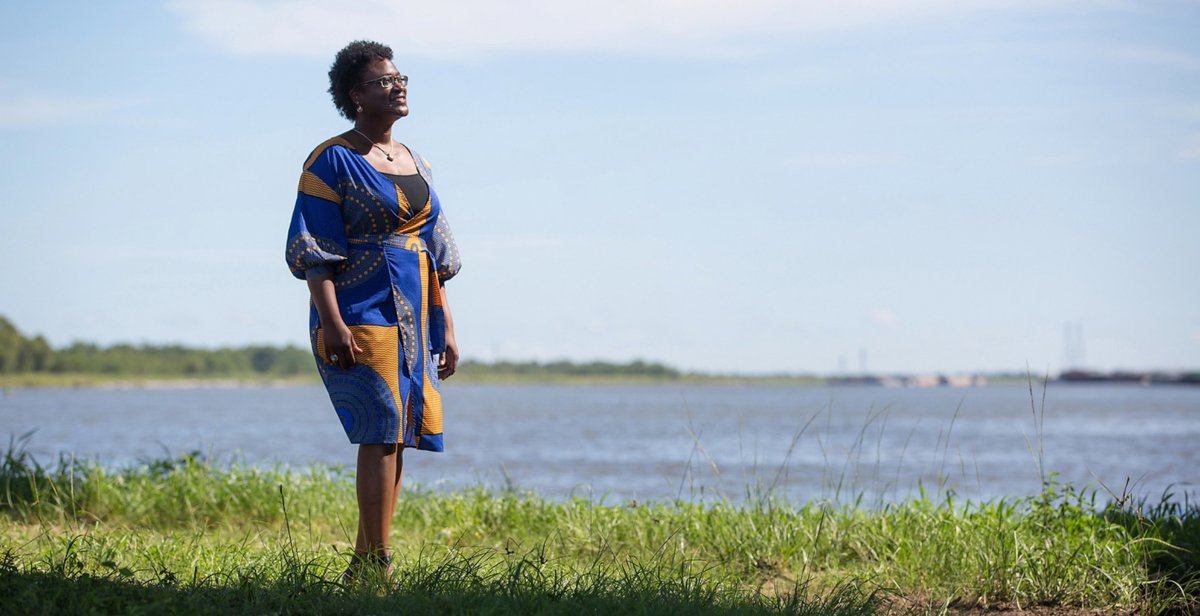 Dr. Joél Lewis Billingsley, associate professor in the University of South Alabama College of Education and Professional Studies, works collaboratively with the community to share the life and legacy of the 110 enslaved West Africans who were brought illegally to America on the Clotilda. She stands along the Mobile River in Africatown, which is the community the enslaved founded.
---
Dr. Joél Lewis Billingsley, according to oral history, is a sixth-generation descendant of Cudjo Lewis, one of the last survivors of the slave ship Clotilda. Lewis Billingsley grew up listening to stories about the former enslaved Africans who started a community called Africatown.
This was not the history she learned in school.
These were more like inspirational accounts of heroic people who survived incredible hardship, then found a way to preserve their West African identity along Mobile Bay.
"When I look back, I think about how much that shaped who I am," said Lewis Billingsley, an associate professor in the College of Education and Professional Studies. "I was learning about who these people were, how strong they were, how they survived being captured by another tribe, and the journey all the way over to America. I was taught about their strength, their perseverance, their ability to function in a community with white people, and what it meant to be African, to look different and speak different, and still be able to build a community of their own."
Three years ago, she began work on a documentary, "110: The Last Enslaved Africans Brought to America," with director Ryan Noble, a professor at Spring Hill College. The project is funded by the Alabama Humanities Foundation, Mobile County Commissioner Merceria Ludgood and many other generous donors.
The Clotilda, which landed at Mobile in 1860, was the last known slave ship to illegally transport Africans to the United States. Lewis, who died in 1935, was a founder of the Africatown community north of downtown Mobile on the Mobile River.
What began as a historical documentary became more of a personal journey for Lewis Billingsley, a native of Mobile. The documentary led her to trace her ancestry and consider how she would like to serve the efforts of the community and descendants. Recalling the uplifting stories she heard as a child meant confronting the horrific realities of slavery. It was difficult work during a difficult time.
"It's important to see this through the right lens of ever present history," she said. "It's hard to see a reflection of who you are being mistreated. For me, it is traumatic. Watching the news is traumatic. Being on social media sometimes is traumatic."
Dr. Angelia Bendolph, a friend and former colleague at South, worked with Lewis Billingsley on a school curriculum to go along with the documentary. They share an interest in the power of language used to describe Africans who were kidnapped and transported to America.
For example, they avoid referring to people as "slaves." They prefer "enslaved persons," which describes their experience, what happened to them, rather than reducing them to objects or property.
"It's important for her to capture the humanity of her ancestors," Bendolph said. "This is not history from a clinical background. When you're talking about people from your family, it's different. It does something to you. It takes on a different meaning."
Reluctant historian
Noble met Lewis Billingsley just after she had done a film series of race dialogues called "Mobile in Black and White." As soon as he learned she was a descendant of Cudjo Lewis, he wanted to make a film with her about Africatown history. She said no. He knew the importance of the story and continued to ask. She finally agreed to help produce a documentary.
"She told me later that at first she wasn't ready to go there," Noble said in June. "She wasn't ready for the pain and trauma that she would have to put herself through to research the story, reinterpret the story, tell the story. I think she struggled with it a lot. We had a big interview with her just two weeks ago."
Getting her to appear on camera in the documentary required more convincing. Again, she was adamantly against the idea. Again, she relented.
The experience of Lewis Billingsley offers a contemporary filter for the historical life of Cudjo Lewis. "Being able to tell his experience through her experience," Noble said. "It became super-obvious that this was the story."
The director still marvels at the remarkable life and times of Cudjo Lewis. He is reminded of the Kunta Kinte character from "Roots," the famous Alex Haley novel and television miniseries, but with a lifespan that is even more all-encompassing.
"He went through the entire experience," Noble said. "Being captured, being sold, coming across the Atlantic, being a slave in the United States, being emancipated, and then going through Reconstruction, going through Jim Crow. He went through basically every aspect of the African-American experience as one single human being, from being in Africa to dying in 1935, which is kind of close to modern America."
There are plenty of historical photographs of Lewis, along with a 15-second snippet of film of him in Africatown. He was a leader of an unusual community where former enslaved persons shared property, language and customs. People were curious about him.
In 1914, a Mobile writer named Emma Langdon Roche wrote about Lewis in her book, "Sketches of the South." In 1927, Lewis was interviewed by Zora Neale Hurston, the African American novelist and folklorist. She wrote a book about him, "Barracoon: The Story of the Last 'Black Cargo,' that was only published in 2018.
Noble and Lewis Billingsley hope a new film will spark interest and lead to more research about Cudjo Lewis and Africatown. Post-production work on the 90-minute documentary, now known as "Project 110," includes editing, fundraising and negotiations with distributors such as public television.
"We have this ongoing joke about when this film is going to be done," Noble said, laughing. "It's shifted so many times."
Family history in Mobile
Lewis Billingsley grew up in Mobile near Dauphin Island Parkway. After her family moved to West Mobile, she graduated from Davidson High School in 1993. As a little girl, she visited Africatown for annual festivals.
"It was like a different world, a different experience," she said. "The women were always outside on the front porch, cooking or doing crafts. I was like, 'Who are these people? What's happening? These are our cousins?'"
At birthdays and family gatherings, she went to her grandparents' house. "All the children would sit on the floor in a circle," she said. "Together we would make music with wooden sticks, draw African art and listen to Uncle Israel tell stories about Cudjo Lewis."
Her education continued at the University of South Alabama, where Lewis Billingsley earned a bachelor's degree in human resources management in 1997. She received an associate degree from Bishop State Community College in culinary arts in 2000. In 2002, she returned to South to earn a master's degree and Ph.D. in instructional design and development. In 2006, she began teaching at South.
Along the way, she earned a Bukstein Foundation Scholarship for Developing Faculty in Education and won a Top Professor Award from the National College Senior Honor Society. She participated in the Leadership Alabama program and was featured in Mobile Bay Magazine's 40 Under 40 issue. She was a fellow at the Gulf Coast Center for Law & Policy and has been named a Young Professionals Alabama Social Justice Champion of Mobile.
Her community outreach efforts on race in Mobile with "Mobile in Black and White," were revisited this summer through a panel series. This work has included partnerships with Mobile United and the City of Mobile.
The recent history of racial injustice in America pivoted in May with the death of George Floyd after a Minneapolis policeman kneeled on his neck for nearly nine minutes. Protests spread across the nation and around the world.
Lewis Billingsley, like so many others, saw public opinion shift. Confederate monuments came down and racial awareness went up. The political mood changed.
"We only get these opportunities every now and then," she said. "I've been doing race work, diversity work, for some time. It's become part of who I am. And this has become an opportunity for us to engage in ways we haven't been able to before, and had to really fight for. I'm hopeful that this door stays open."
Two years ago, when "Barracoon," was finally published, she welcomed the attention for Cudjo Lewis and Africatown. Then, last year, it was confirmed that the wreckage of the slave ship Clotilda had been discovered in the Mobile Tensaw Delta. For Lewis Billingsley, this piece of news was both a confirmation of history and an emotional trigger.
"When they found the ship, I had mixed feelings," she said. "On one hand, it was like, wow, this is real. On the other hand, it was like this really is real, meaning that the story was true and these horrific things did happen to people. That was a stark realization at the time."
Years of work on "Project 110" has given her a different perspective. Reckoning with history, especially the history of slavery, can be a painful process. She prays about forgiveness to continue doing her work.
"I think I've grown," Lewis Billingsley said. "I've learned a lot more about vicarious, secondary trauma, when you experience something through the lives of other people. I had no idea what that was, so I'm excited to be on the other side of it, or at least knowing how to move through it. I had no idea about the impact of learning history when it's horrible. If nothing else, I've learned the importance of thinking of others as they are learning."
---
This story originally appeared in Pillars, a publication of the USA College of Education and Professional Studies. Dr. Joél Lewis Billingsley and the Africatown community will be featured Oct. 5 on EPIX in the fourth episode of the docuseries "Enslaved: The Slave Trade Told From the Ocean Floor" led by Hollywood actor and human rights activist Samuel L. Jackson.
To give to Project 110, contact College of Education and Professional Studies Development Officer Aimee Meyers at ameyers@southalabama.edu or visit giving.southalabama.edu/project110.
---
---