---
Posted on September 25, 2020 by Lance Crawford
Lance Crawford
---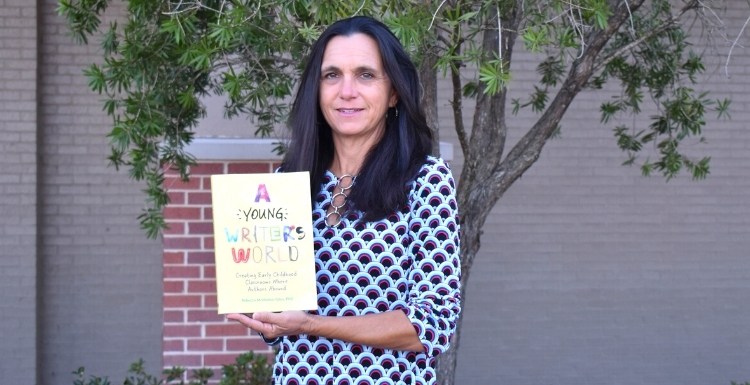 Dr. Rebecca Giles authors a book on teaching Pre-K students to become successful writers.
---
Dr. Rebecca Giles, a professor in the USA College of Education and Professional Studies has authored a new book about writing for young children she hopes is not only a resource but also motivational and inspiring for teachers.
"A Young Writer's World: Creating Classrooms Where Authors Abound" has just been published by Dimensions Education Foundation. It is Giles' first sole authorship, she also co-authored another book, "Write Now: Publishing with Young Authors" in 2007.
"The inspiration for this book came from years of working with young children and witnessing the true joy they experience when being heard and understood," Giles explains. "Writing gives authors of all ages a powerful and permanent voice."
With a deep knowledge and respect for the teaching and learning environment, and attention to the details that engage and inspire children, she guides educators through the joyful, fascinating process of helping children acquire and enjoy language.
"This book is for preschool and kindergarten teachers interested in nurturing young children's abilities to share their thoughts and ideas in print on a continual basis, rather than in rare moments," she said.
Giles also points out that culturally, we have done a great job in reading aloud to children at a very young age but haven't done the same with writing.
"The importance of reading aloud to and with children from infancy has become a very acceptable and accessible practice, but many adults — including parents and teachers — are either unaware of or uncomfortable with their need to support young children's writing development just as early and earnestly by making it a part of their daily experiences," she said.
Testimonials:
"An excellent resource or textbook for early childhood educators and families who are developing young authors and building literacy one rewrite at a time. A book about writing that is a 'must read.'"

— Alicia Moore, Cargill Endowed Professor of Education, Southwestern University, Georgetown TX
"A Young Writer's World gives early childhood teachers the 'why and how' to create a print-rich environment with literacy related experiences that provide the necessary foundation for reading and writing. Each chapter includes full-color photos of children engaged in literacy play and useful Teacher Tips. To top it off, six ready-to-implement appendices will have teachers ready to put all the ideas into immediate action!"

— Karyn W. Tunks, Ph.D., author of Creating Effective Learning Environments
---
---