---
Posted on October 10, 2023 by Thomas Becnel
Thomas Becnel
---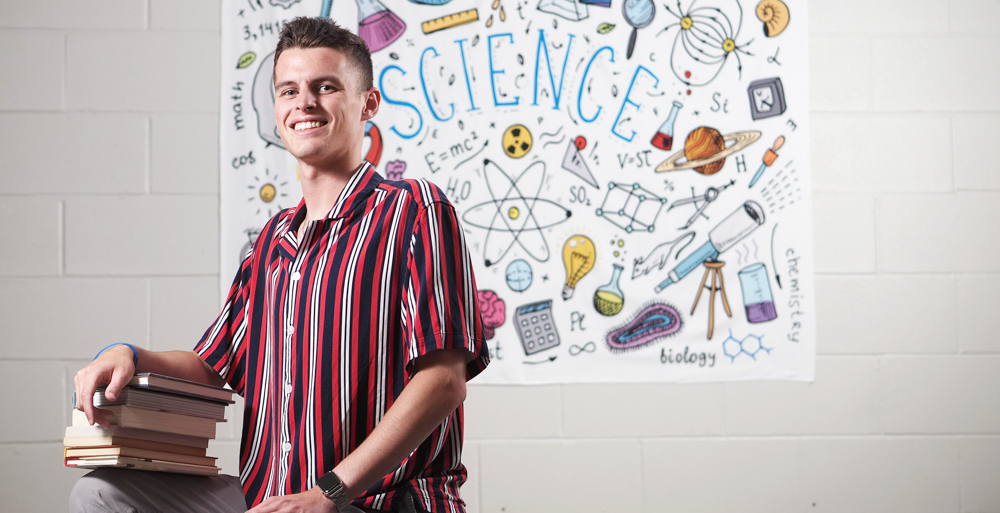 Chaz McGhee, a member of the Poarch Band of Creek Indians, earned an education degree this spring and began teaching at Daphne East Elementary School.
---
At the end of his second day at Daphne East Elementary School, coming off duty at the bus stop, Chaz McGhee shared a fist bump with a passing student.
"Hey, hey," said the new teacher, still full of enthusiasm. "See you tomorrow."
McGhee read academic studies about the overstimulation of elementary students, so he decorated his first classroom in muted shades of black, white and gray. Then he added a blue rug and green sofa, along with lamps and a string of outdoor lights.
"The lights were on sale for $10," McGhee said. "I jumped on that right quick."
At the University of South Alabama, where he graduated this spring, McGhee learned about TBL – Team-Based Learning – so he arranged the desks of his fifth-grade student in groups of six. Instead of fighting human nature, he wants to harness it for learning.
"They're going to be talking, anyway, so why not do it for our benefit?" he asked. "Let 'em talk, but talk about science and social studies."
The smart board in his classroom wasn't working during his first week, so McGhee had to sync lesson plans with his laptop computer. No problem. On Canva, a graphic design platform, McGhee created a slide show introduction.
Pages are labeled "Mr. McGhee's Room" and "What do I do?" A photograph introduces "My brother and sister." Another says, "I am a Native American."
McGhee is from Atmore, Alabama, and is a member of the Poarch Band of Creek Indians. For his Commencement at South, he wore a tribal sash over his graduation gown. He plans to show students a ribbon shirt and deer-hide moccasins that he made himself.
"We're going to learn a lot about Native Americans in two weeks," he said. "We're learning about First Nations and I'm also going to take some time to talk about the Native American tribes of Alabama."
At the J.U. Blacksher School in nearby Uriah, Alabama, McGhee led the percussion section of the marching band. He also worked at the Poarch Band of Creek Indians Museum, where he taught children about tribal culture and history. And he volunteered with youth groups at the Atmore First Assembly of God Church.
So McGhee had a great deal of teaching experience even before he began studying education at South. He started off in secondary science education, but discovered he didn't like mathematics nearly as much as he thought he did. He switched to elementary education and won a South award as outstanding student teacher.
Dr. Kelly Byrd, assistant professor in the College of Education and Professional Studies, taught McGhee and watched him become an intern and now a full-time teacher. He was always passionate about education. He always wanted to reach students.
"Chaz was a leader from the second I met him," Byrd said. "When I observed him doing a robotics lesson, you could tell he had a rapport with students. I'm a little sad because he's not teaching math and science, which is my area, but he'll be an asset no matter what he does. He's the kind of teacher you want your kids to have."
A Puppet Named Sandy
McGhee's father is assistant fire chief for the Poarch Band of Creek Indians. His mother is a nurse practitioner.
Naming him Chaz was her idea.
"I have no idea why," he said, laughing. "I think she just wanted me to have a unique name."
In the youth program at Assembly of God, McGhee helped produce educational skits and dance numbers set to Christian music. He learned American Sign Language. And he did stage acts featuring a puppet named Sandy.
"He's kind of aimed at kindergarten to third graders," he said. "I created him for a program called 'Shipwreck Island.' He's the captain's right-hand man, but he makes mistakes and learns from them. He talks, but I'm not a ventriloquist. I tried. Not for me."
On Sunday nights, McGhee returns to Atmore for work with youth ministries. He grew up in the church program. It remains a big part of his life.
"Love it," he said. "Still love it. Every minute of it. Every time is different and the kids get to express themselves."
McGhee did his student teaching at Dawes Intermediate School, where he had social studies students write a bill to become law in a mock government. The students chose a referendum to get taquitos added to the menu of the school cafeteria. It passed.
Inspiration comes to McGhee from different sources. Classes at South and colleagues at school. Also pop culture and anything else that might grab the attention of 10-year-olds.
"I get a lot of teaching stuff on social media," he said. "Honestly, TikTok has some good ideas."
McGhee has learned that he prefers teaching older elementary students. He enjoys watching his fifth-graders progress.
"I've always liked having conversations with them," McGhee said. "I'm not teaching them how to read and write. I'm teaching them how to think, how to use the tools they've learned in the real world."
McGhee moved from Mobile to Daphne before the school year began. He has an apartment near a coffee shop where he buys iced espresso. He dresses casually at Daphne East Elementary and often has a pair of Ray-Ban sunglasses perched atop his head.
While teaching full-time, McGhee has started online courses at South in pursuit of a master's degree in elementary education. The Educator Excellence Scholarship helps qualifying students earn the advanced degree. As a student and a professional, McGhee is re-learning the importance of work-life balance and the discipline of getting things done in a limited time.
Seven weeks into his job at Daphne East, McGhee also is still learning there. The experience has taught him the importance of soft skills such as building relationships and earning trust with his fifth-grade students. Lesson plans are important, but better attitudes lead to better results.
"I'm realizing how valuable it is to build a rapport with your students," he said. "If you set expectations high, once you have that relationship, they'll try to meet them."
---
---