South Awarded NSF Grant to Increase K-12 Science Teachers in Local Schools
---
Posted on October 14, 2022 by Joy Washington
Joy Washington
---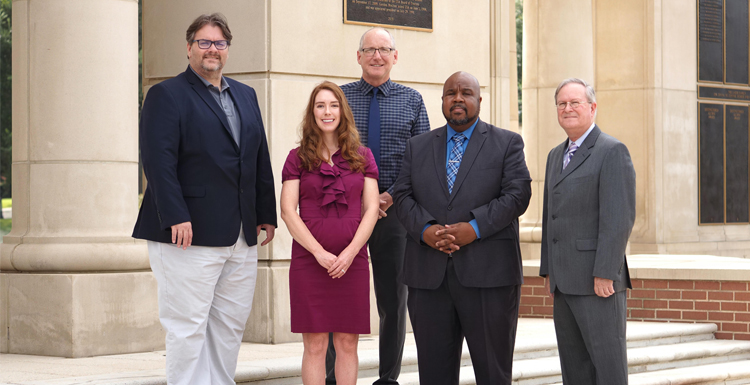 ---
The University of South Alabama College of Education and Professional Studies was awarded a $1.2 million grant from the National Science Foundation Robert Noyce Teacher Scholarship Program. This grant will help address the shortage of certified, highly qualified science teachers for grades six through 12 in rural and urban areas of Mobile County.
The new project, Investigating Science Teacher Research, Education and Methods Used to Prepare Pre-Service Science Teachers, will be known as STREAM. The grant seeks to help students in low-performing schools. It also focuses on increasing racial and ethnic diversity among science teachers.
STREAM will recruit potential science teacher candidates each spring during the final semester of their bachelor's degree studies in a STEM field (science, technology, engineering, mathematics). A 10-week pre-residency experience, including classroom experience, will begin in the following fall semester.
Each yearly cohort will have four students. The $40,000 per student scholarship will pay for tuition, books, fees and a housing stipend. The project has a goal of producing 16 new science teachers over the five-year duration of the grant.
The principal investigator for the NSF grant is Dr. Katie Guffey McCorrison, assistant professor of science education in the College of Education and Professional Studies Department of Leadership and Teacher Education. She was a Noyce Scholar. After completing her master's degree, she taught earth science to ninth graders.
"As a white female teacher, I got to see the challenges and barriers that many children of color face while in an inner-city school," Guffey McCorrison said. "I faced many challenges as a first-year teacher. I was not equipped to teach students in my classroom. But that first-year experience inspired me to want to pursue my Ph.D. and use what I learned as a Noyce Scholar to look at the structural boundaries so that I could train other teachers to better serve all students."
Co-principal investigators are Dr. David Forbes, professor of chemistry; Dr. Andre Green, professor of science education and associate vice president of Academic Affairs; Dr. Justin Sanders, associate professor and department chair of physics; and Dr. Tres Stefurak, associate dean in the College of Education and Professional Studies and professor of counseling psychology. Dr. James Van Haneghan, professor of professional studies, will manage the evaluation of the program.
The grant project will also create partnerships with Mobile County Public Schools, Bishop State Community College, the Alabama State Department of Education's Alabama Science in Motion initiative, and the Alabama Math, Science and Technology Initiative.
"As we continue to be one of the leading institutions of higher education on the Gulf Coast, we are very proud to receive this new grant," Guffey McCorrison said. "I am also grateful for all the work that Dr. Green has done to make sure our teachers are prepared no matter what child they provide classroom instruction to. I was able to use Dr. Green's model when writing this new grant. I value his expertise and his success with students from urban areas."
---
---