AMSTI-USA Donates Supplies to USA Health to Support Employees
---
Posted on March 31, 2020 by Amber Day
Amber Day
---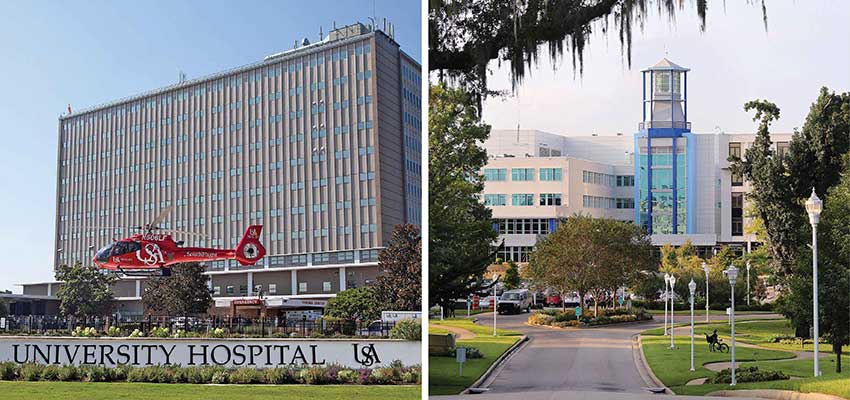 AMSTI-USA is a grant project of the College of Education and Professional Studies funded by the Alabama State Department of Education.
---
The Alabama Math, Science, and Technology Initiative at the University of South Alabama, AMSTI-USA, recently donated 40,000 food handler's gloves; 21,000 nitrile gloves; and 15,200 face masks to USA Health to support employees at both University Hospital and Children's & Women's Hospital doctors and nurses during the coronavirus pandemic.
"I am extremely proud to be associated with the Alabama State Department of Education through AMSTI-USA, and I am thankful they allowed us to make this substantial donation," said Dr. Andi Kent, dean of the USA College of Education and Professional Studies. "It's nice to know that we are all truly in this fight together."
AMSTI-USA is a grant project of the College of Education and Professional Studies funded by the Alabama State Department of Education.
"The Alabama State Department of Education recently granted permission to all of its AMSTI sites across the state to assist with the pandemic," said principal investigator of the project Dr. André M. Green, who serves as associate vice president for academic affairs. "When I received this message, I quickly contacted USA Health to see what items would be useful in the fight against COVID-19."
After speaking with Dr. Green, Rachel Broadhead, director of AMSTI-USA, her staff quickly jumped into action by going through the program inventory to identify materials and supplies that could be donated to USA Health.
"I am glad AMSTI could be of service, and I am hopeful the materials can help protect our health care workers in the fight against this virus," Broadhead said.
USA Health picked up the supplies from the University's warehouse last week.
"The frontline workers throughout USA Health are grateful to all the organizations and individuals who continue to demonstrate their generosity during this time of need," said Margaret Sullivan, USA vice president for development. "The ability of entities within the University to provide for each other is especially gratifying."
AMSTI is the Alabama State Department of Education's initiative to improve math and science teaching statewide. The initiative provides three basic services: professional development, equipment and materials, and on-site support. AMSTI-USA supports schools within Region 10, including Baldwin County Schools, Chickasaw City Schools, Clarke County Schools, Gulf Shores City Schools, Mobile County Schools, Monroe County Schools, Saraland City Schools, Satsuma City Schools, Thomasville City Schools, and Washington County Schools.
"AMSTI is proud to be a partner in providing resources to our health care providers during this unprecedented crisis in our communities," said Dr. Sandy Ledwell, state director of AMSTI. "Our priority is always the students in our schools. We hope these supplies will help our medical professionals take care of our students and their families."
The USA Health System is in need of PPE supplies, including N95 masks and other personal protective equipment (PPE).
Any University of South Alabama unit, including departments, studios and laboratories, is welcome to donate supplies and other needed resources to the USA Health System. These donations may be reimbursable through National Institutes of Health or Stimulus.
The University has launched USA Responds to raise vital resources for South students. The fund will also support USA Health and provide critical needs in response to the COVID-19 crisis. Give today at southalabama.edu/usaresponds.
---
---