---
Posted on June 25, 2021 by Julie Jackson
Julie Jackson
---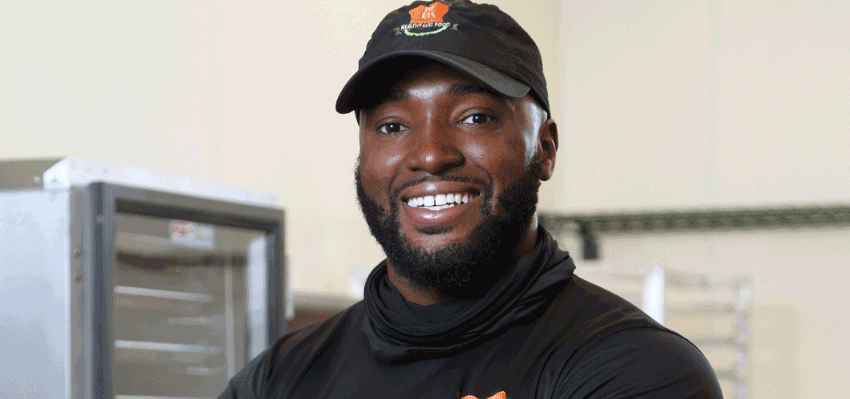 Lorenzo Ferguson '15, Owner, FitKit Food Trucks and FitKit Build Outs, Jacksonville, Fla. and Mobile, Ala.
---
When he was a teenager, Lorenzo Ferguson lost his grandfather to hypertension and an uncle to Type II diabetes.
He says he didn't realize it at the time, but that's when the seed for his business was planted.
"I told myself I never wanted to see anyone else die from those diseases," Ferguson said.
Football to food truck
Ferguson played on the Jaguar football team as a student-athlete. He says being part of that team helped him with discipline and learning to be persistent.
"All of it transferred over to my business," said Ferguson. "Now I'm the head coach, and I'm able to delegate to my team."
And his team is in the business of making healthy, flavorful food.
After graduating from South in 2015 with a bachelor's degree in exercise science with a health and fitness concentration, Ferguson launched his first FitKit Food Truck in Mobile.
"We make healthy food fun, and it tastes good," Ferguson said. "Part of my purpose is to help people live longer."
Locked in and focused
Ferguson didn't study business at South, but he's always had an entrepreneurial spirit. In high school, he and two friends started a lawn care business. He always knew he wanted to be his own boss.
"When I came to college, I was locked in on my vision and purpose," Ferguson said. "I got my degree here, which is great because it ties into the health and fitness aspects, but it's also the place where I got my feet wet with cooking for others and learning to be innovative."
He says it's important for students to enjoy their college experiences. But his advice for budding entrepreneurs is reminiscent of that of a coach.
"Enjoy college," said Ferguson. "But really lock in and focus. See it as a business trip."
Watch Ferguson's interview here.
---
---