---
Posted on January 10, 2023 by CEPS Marketing and Communications
CEPS Marketing and Communications
---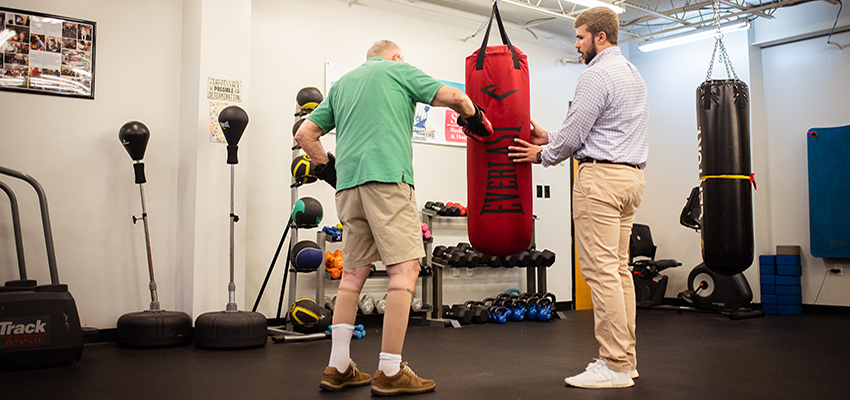 Dylan Thomas, right, an exercise science major, works with patients battling Parkinson's disease at Saad Healthcare's Rock Steady Boxing program in Mobile.
---
The University of South Alabama College of Education and Professional Studies prides itself on providing students with opportunities for hands-on experience in their disciplines. That creates long-lasting relationships between students and the college's industry partners. Field experience lets students apply classroom-learned skills to real-world problems. Those connections give students an advantage over future job competitors.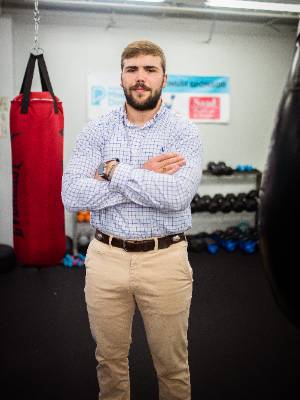 Dylan Thomas will earn a bachelor's degree in exercise science in spring 2023. He chose this discipline because of his passion for fitness and family. Through his mentor, Dr. Shelly Holden, a professor in the Department of Health, Kinesiology, and Sport, Thomas has learned how to help people develop a better sense of wellness. As an intern with a home healthcare clinic, Saad Healthcare in Mobile, he helps guide and motivate patients in Saad's Rock Steady Boxing program for individuals with Parkinson's disease. He's eager to show his patients that no task is too big. Thomas' favorite part of the internship has been connecting with each individual, making an impact on their lives and "seeing a smile on their faces after a workout, knowing they're improving." After graduation, Thomas hopes for a job that inspires him to wake up each morning looking forward to assisting people with their overall wellness.


Katie Wilson recently earned a master's degree in higher education administration at South. She also earned a bachelor's degree in art with a concentration in studio art from the University. Wilson was eager to understand the dynamics of higher education. She also wanted to apply the creative skills from her undergraduate program. Courses about law and regulations gave her a new perspective on the field. Dr. Peggy Delmas, assistant professor in the Department of Leadership and Teacher Education, arranged an internship for Wilson at the University of North Florida in Jacksonville. Wilson worked for the housing and residence life department as well as the department administering compliance with Title IX, the federal law that prohibits sex-based discrimination. She learned the dynamics of the campus, grew connections and explored the operations of different departments. Wilson would like to pursue a doctorate in education and work in a university's student services department.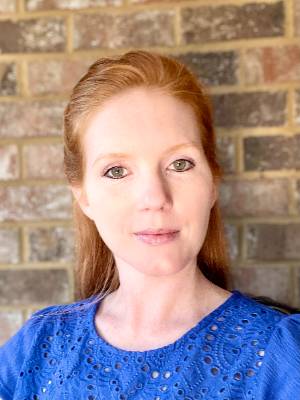 Laura Thomas earned a bachelor's and a master's degree in elementary education at South. She needed library media certification to accept an opportunity for her dream job as a library media specialist. So she enrolled in the fully online Master of Education in Educational Media program at South, which leads to library media certification. She said she enjoyed South's "family feel" and credited much of her success in the program to advisor and Assistant Professor Dr. Pamela Moore. Thomas will earn a master's in educational media in May 2023. She interned with the Fairhope Public Library in Baldwin County, Alabama, and learned the importance of collaborating with local libraries. That hands-on experience enabled her to form long-lasting relationships with the staff, who continue to support and mentor Thomas to this day. She now serves as the library media specialist at Fairhope Middle School.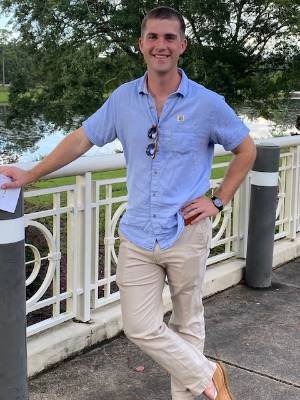 Samuel Richardson will graduate in fall 2022 with a bachelor's degree in interdisciplinary studies and a concentration in applied sciences. In summer 2020, Richardson earned an Emergency Medical Technician certification, which helped establish his passion for a career in the health field. He pursued an interdisciplinary studies degree at South because the program accepted previously earned credits and offered new credits needed for physician assistant school. He loves the variety and flexibility of the program courses. Richardson interned with Victory Health Partners in Mobile, where he gained experience working with patients who lack health insurance. The internship showed him how what he had learned in each of his disciplines in school applied in real life. It also helped him improve at balancing life, work and school. After graduation, Richardson plans to move abroad to practice medicine in a low-income community.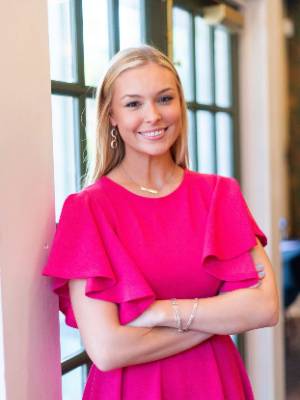 Kristi Kadel will earn a bachelor's degree in hospitality and tourism management in spring 2023. "The program combines a variety of subject matters in order to create the perfect range of skill sets needed to enter the workforce," Kadel said. Her mentor, Assistant Professor Amanda Donaldson, helped her connect with her current supervisor at the Fort Condé Inn and its restaurant, Bistro St. Emanuel, in Mobile, where she still works after starting as an intern. Working in a hotel setting has given Kadel a variety of skills needed for a career in hospitality and tourism management. "The bond at both Fort Condé Inn and Bistro St. Emanuel is like no other," Kadel said. The job has shown her how classroom information applies in the professional world. After graduation, Kadel hopes to work in management and possibly explore different sectors of hospitality.
---
---