A Story of Love and Passion for Giving
---
Posted on October 15, 2020 by Amber Day
Amber Day
---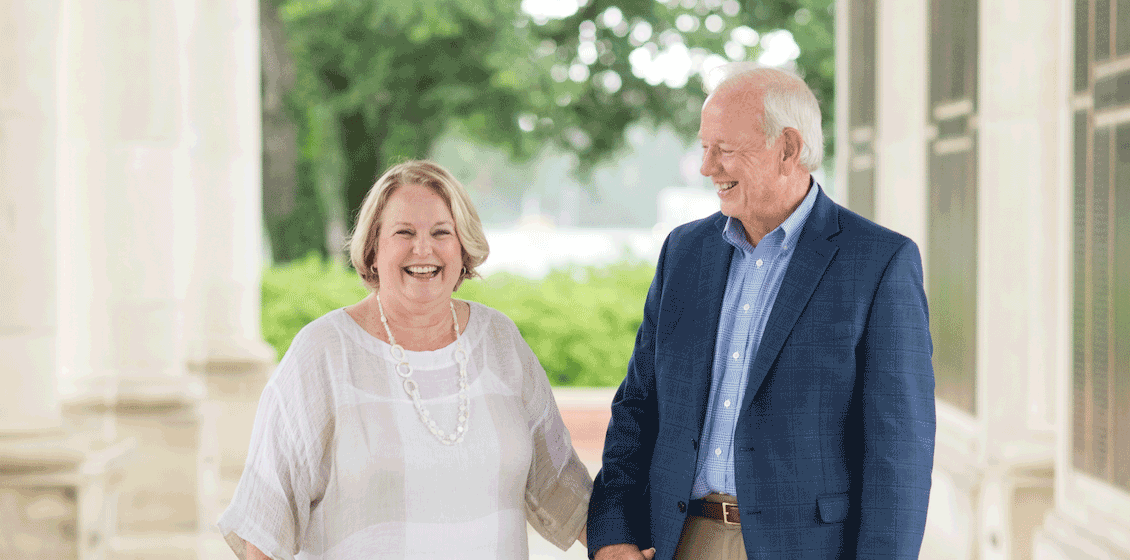 ---
Pam Patterson has worked in public education for more than 45 years. She graduated from high school in Birmingham and always knew she wanted to be a teacher. She attended the University of Alabama at Birmingham for her undergraduate degree, the University of Alabama for graduate school and earned additional certifications in education at the University of South Alabama. She has worked in the USA College of Education and Professional Studies for the past 14 years.
"We moved to Mobile about 30 years ago, and we had two boys," Patterson said. "We had season tickets to South basketball games while they were growing up, and we've immersed ourselves in the community ever since."
The Pattersons have been married for more than 45 years
"We kind of hit it off on a Friday night, had a little Fourth of July at the lake on the following Monday and began dating," said Eric Patterson, Pam's husband. "Pam was in a hurry to get married and get through school. She finished high school at Briarwood, earned her degree from UAB, and at the age of 19, she was back at Briarwood teaching."
"I figured I better hurry so I could grab him," Pam said.
The Patterson family has a true passion for giving back to their community, wherever they may be. Eric worked for Alabama Power Company in Birmingham for four years, transferred to northwest Alabama, then moved to Tuscaloosa and lived there for a number of years before moving to Mobile in 1989.
"I have been blessed by a great company," said Eric, who served as a division manager. "Alabama Power is involved in the community, period. It's been a blessing that I've had a company that encouraged us to be engaged and involved in the community. And as I say, it's because of Alabama Power that we do and get engaged in so many ways."
Pam's career was not dependent on staying in one particular place, and she was able to move to continue her passion for teaching, while supporting her husband's career.
"I tell my students, 'I was made to be a kindergarten teacher,'" Pam said. "I feel just as strongly as people are called to the ministry that I was called to teaching. And that path just worked because I could move with Eric very easily when he moved and fall back into teaching."
When the Pattersons moved to Mobile, Pam started working at Morningside Elementary, which served a very diverse population of students, as most of her career has been in diverse schools.
"I taught there for 15 years, and during that time of teaching, I also was on various committees," Pam said. "I worked with our school in developing our Title I project and did training for Mobile County school teachers. I retired in 2004 and started working with the New Teacher Academy with Mobile County Public Schools. In 2006, I accepted a position at South supervising student teachers, and in 2012, I started working in the Office of Field Services."
Eric has served on the USA College of Education and Professional Studies Advisory Council since 2016 and currently serves as the advisory chair. In 2018, he made a donation to South to create the "Pamela Lynne Patterson Endowed Scholarship in Education."
"Being part of the advisory council has deepened that appreciation and love for giving," Eric said. "Everything we're talking about right now starts with Mr. Abe Mitchell and his willingness to help match giving toward undergraduate scholarships for the University. Everything that we're talking about centers around Mr. Mitchell, and I just can't say enough to thank him for what he's done to make things like we were able to do possible because of his generosity."
Eric surprised his wife with the creation of the scholarship. He hopes the scholarship will honor Pam's work and dedication to the field of education.
"Pam knew nothing about it, and I didn't want her to be involved in it at all," Eric said. "I wanted to find some way to honor this lady. I mean, as I said before, she could have made millions of dollars doing other things. She's absolutely brilliant. She was valedictorian at Briarwood High School."
"When I told her about it, the first thing she did was start crying and crying. That was reward enough right then and there to know that it meant a lot to her, and it did because of all that she's invested in her life. It was a way to honor her and honor all the things she's done. As I say, if she could have, she would have been extremely successful in anything else in the world and made a whole lot more money. But, this is something that she loved and it was important to her."
The Pattersons know how difficult it is financially for undergraduate education students in their last semester of college. While completing student teaching in schools, it's difficult for students to work.
"And we do have a number of back-to-school students and a lot of them need to work because they have families, so I wanted our scholarship to be able to help students with tuition in their last semester," Pam said. "I'm just so thrilled that someone can benefit from this, because I was on an academic scholarship in college and I know. We were married while I was in college, and it was a godsend for us. I'm just thrilled that we can do that for someone else. Again, paying it forward."
Eric's involvement in education has not only stemmed from his wife's involvement with education, but also his time with Alabama Power. While working with the company in Mobile, Eric also worked with the Mobile Area Education Foundation.
"We have supported schools throughout my career in various places throughout the state," Patterson said. "So, as I've moved around, I have been involved with school systems because of Alabama Power's encouragement and our personal belief in being involved with schools."
The Pattersons have also supported Distinguished Young Women. Eric served as president of the board for two years and Pam served as executive director of the organization for three years.
"The primary focus of Distinguished Young Women is to provide scholarships for young women to attend colleges and universities across the country," Pam said. "Distinguished Young Women is such a beneficiary of University of South Alabama scholarships. More than 25 young women from various states have attended South on scholarships received through this program."
"We've been very heavily involved with that organization and just again, another one of those benefits of education and another of those things that I love about South Alabama, because Eric and I love Distinguished Young Women. South's involvement has just been a model for many universities in the state."
Eric is still involved in fundraising for Distinguished Young Women and serves as the chairman of the scholarship foundation. The two are very active members at their church, and Eric coached and served on the board for Cottage Hill Little League. He also helped with the establishment of the first senior center in Mobile, previously named Mary Abbie Berg Senior Center, with Arlene Mitchell in 1990.
"Our boys and their children have learned some things also about passing it on," Eric said. "And everything about me is centered around my faith and the Lord has blessed me way beyond anything I could have ever imagined with family and everything else. And so here's another way to try to help somebody else along the way, to pass along some of the good things that we've been blessed with."
The Patterson family has truly embraced the University of South Alabama during their time in Mobile.
"The University has been good to us," Eric said. "We enjoy the time we spend with folks from the University and, you know, we're just very grateful for what the University means to Alabama as well as the Mobile area. And, I can't wait for football season!"
---
---