Maulding Green's Leadership Book Makes Selective Reading List in the School Administrator
---
Posted on October 12, 2021 by Micaela Pickering
Micaela Pickering
---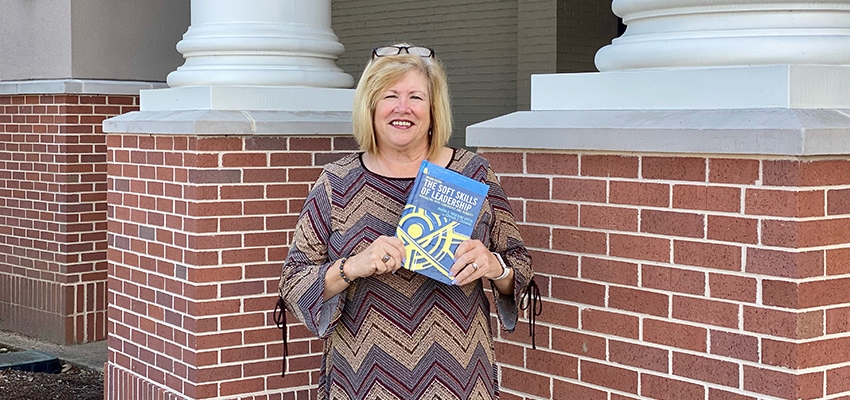 ---
Dr. Wanda Maulding Green's co-authored second edition of the book titled "The Soft Skills of Leadership - Navigating with Confidence and Humility" (2019) made the highly selective reading list in the September 2021 edition of the School Administrator. Maulding Green serves as an associate professor of educational leadership at the University of South Alabama College of Educational and Professional Studies.
The book is listed as a recommended reading in the premier journal for The Superintendents Association (AASA), which "provides big-picture perspectives and collegial advice on a broad range of topics specific to K-12 education and the leadership of public school districts." Maulding Green and her colleague Dr. Edward Leonard, who currently serves at William Carey University, published the first edition of the book in 2016.
"The second edition of 'The Soft Skills of Leadership - Navigating with Confidence and Humility' is a leadership book beginning with the age-old question 'are leaders born or made,'" Maulding Green said.
The authors contend that some people are born leaders who have a genetic predisposition toward leadership, while others are made.
"Those who are made do so through a process known as imprinting, and as such, a person can 'learn' to lead,'" Maulding Green said.
These concepts are developed in the early chapters of the book. The leader imperatives, including credibility, competence, vision, the ability to inspire and emotional intelligence, which are collectively referred to by Maulding Green and Leonard as 'leader acumen,' are described chapter-by-chapter with supporting research in the field.
"Each of these imperatives is related in terms of the requisite soft skills a leader should exhibit using real-life examples and analogies," Maulding Green said. "Data-based research findings are also included in this second edition of the book."
After beginning her career in higher education, Maulding Green decided to write primarily in the area of emotional intelligence, which led her to the notion of leader acumen. Her goal in writing this book was to help administrators find greater success as a leader. Maulding Green and Leonard were inspired to write this book because they believe that with the evolution of technology, soft skills, which highly impact leadership, appear to be on the decline.
"This is attributed to the fact that face-to-face interactions are less common in today's world," Maulding Green said. "Since emails, social media, online classes, Zoom and the like have caused soft skills to become increasingly rare, we decided to put together our research and thoughts on the topic in a collection of books, some informational and others more scenario-oriented, to use for leader training activities."
Maulding Green has worked at the University of South Alabama for more than 10 years. She currently teaches "Mentoring Leaders," "Human Relations," and "Advanced Leadership" courses in the educational leadership doctoral program in the Department of Leadership and Teacher Education. She also enjoys the opportunity to work with doctoral students on their dissertation studies.
Maulding Green's favorite part about teaching at South is the opportunity she gets to work with leadership students.
"It is very humbling and inspirational," Maulding Green said. "Being graduate students, most of them work full-time while earning their degrees; yet they are devoted, inquisitive, and enthusiastic about improving their leadership skillset."
Maulding Green earned her bachelor's in education at Millsaps College, master's in educational leadership at Mississippi College and Ed.D. in Educational Leadership at the University of North Texas.
---
---