---
Posted on October 3, 2022 by Thomas Becnel
Thomas Becnel
---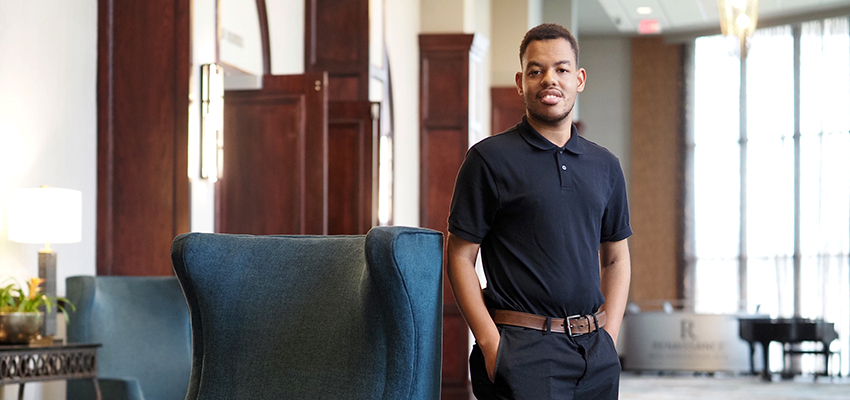 ---
After 20 years of living with his parents, Enrique Lynch left home for the University of South Alabama's PASSAGE USA program, a two- and four-year non-degree certificate program that focuses on life, social, employment and self-determination skills for students with intellectual disabilities. This was Lynch's chance for a more independent life.
Now he stays in an apartment just off campus and rides a city bus downtown to his job as a banquet server and houseman at the Renaissance Mobile Riverview Plaza Hotel.
Lynch, who's 22, has a thin moustache and wispy beard to go along with a broad smile. When he started going to classes at South, he wasn't so confident. He didn't smile so much.
"I was, like, shy," he said, emphasizing the word. "I was the shy kid on campus. I didn't know who my teachers were; I didn't know anybody. It took a long time to get to my happy place."
Now Lynch knows all sorts of people at South. He rattles off the names of students and professors in PASSAGE USA, which stands for Preparing All Students Socially and Academically for Gainful Employment. This is his community.
Lynch shares a two-bedroom apartment with a PASSAGE USA student from Mississippi. He isn't much of a cook, but he can make sandwiches and heat up turkey burgers. He does laundry on weekends.
When he's not cheering for Jaguar sports teams, he's watching movies or playing video games.
His parents, Catrina and Enrique Lynch, are proud their son can do so much on his own. PASSAGE USA training helps him navigate daily life.
He often spends holiday weekends back home in Opelika, Alabama. It's only a three-hour drive from Mobile.
"I was very nervous when he started school, but he really took to it," said Catrina. "He never said, 'Come and get me.' He never said, 'I'm ready to come home.'"
"He did call a lot — I will say that," his father said, laughing. "That was his homesickness."
Enrique has an Android phone that he uses to call and text friends and family. It's good to have for emergencies and backup plans too.
"If I miss the bus, I can take an Uber," he said. "I've been doing that for a while now."
Last year, Lynch and another PASSAGE USA student worked with an ESPN+ broadcasting crew for South football games. In the press box at Hancock Whitney Stadium, one of their jobs was updating first downs and yardage on the huge scoreboard.
In the spring, Lynch stayed on to work basketball, baseball and softball games too.
"Really good kid," said Pat Greenwood, multimedia director for the South athletic department. "We had a good time with him. He was always early and never missed anything. And he seemed genuinely happy to be here."
Even when he's not working a ballgame, Lynch likes to wear his South Alabama Athletics press pass around campus.
Most days, he sports a polo shirt and long pants over his Air Jordan sneakers. When he's not working, he stays close to home. His PASSAGE USA classes are at University Commons, near University Boulevard and Old Shell Road.
PASSAGE USA students attend specialized classes that target the skills they need to achieve their goals. They also attend inclusive courses across campus in a variety of subjects.
Lynch enjoys meeting new students each year. They take classes together and hang out at the Student Center. He's looking forward to the fall semester.
"I'll be doing my third and fourth year," he said. "I love being in Mobile. It's quiet and I can get my work done."
In 2020, the USA College of Education and Professional Studies was awarded a $2.3 million U.S. Department of Education grant to expand the program, which draws in faculty and South students from counseling, health and kinesiology, and occupational therapy to enhance the program's curriculum. PASSAGE USA continues to grow and can serve up to 60 students during the current grant funding period.
Next to the Mellow Mushroom pizzeria is Lynch's city bus stop. He catches a No. 4 Wave bus to his downtown job at the Riverview Plaza Hotel. This summer, he worked Mondays through Thursdays for an average of 15 to 20 hours a week.
Lynch sweeps floors sometimes, but spends most of his shifts with a team of co-workers preparing for events. It's a job — a paying job that helps him lead his own life. This is what PASSAGE USA is all about.
David Clarke, CEO of the Visit Mobile tourism and convention organization, is one of many supporters of the program downtown.
"PASSAGE USA is helping our hospitality community, and our hospitality community is helping PASSAGE USA," Clarke said. "It's a great partnership. Great stuff."
---
---