Beck to Retire after 33 Years of Service
---
Posted on August 16, 2021 by Micaela Pickering
Micaela Pickering
---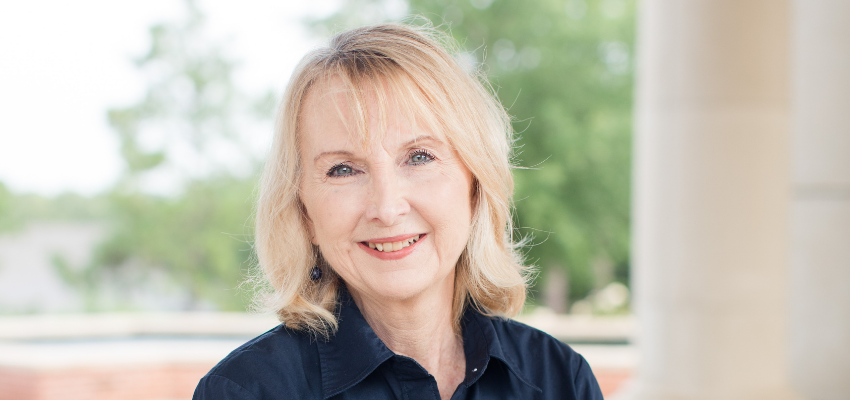 ---
After working at the University of South Alabama for 33 years, Kathy Beck will soon retire. Beck currently serves as the academic records supervisor in the College of Education and Professional Studies. Previously, she worked with Dean Richard Hayes as his administrative assistant and with Dr. Andrea Kent in the Office of Field Services.
Beck explains her 33 year commitment to the University of South Alabama. "Once you have worked at an institution of higher education, it gets in your DNA," Beck said. "Although it is behind the scenes in a record keeping type capacity, I really enjoy interacting with students and being a part of the process as they strive for and reach their graduation goals. Specifically in the College of Education and Professional Studies, as I work closely with students who will become educators, there is a sense of pride knowing what an impact our programs make in our local school districts and our community at large. "
Beck's favorite part of her job has been to organize and create processes to verify student records and certification requirements to ensure a positive outcome as graduation approaches. "Anyone who knows me knows I love to organize," Beck said. "So the organization and record keeping aspect of this position made it a perfect fit for my skill set. I also love a variety of tasks, and this position is multi-layered. A win-win. An extra bonus, in addition to working with the students, has been working alongside great colleagues outside and inside the college."
Beck played a huge role when the University's student audit system transitioned into Degree Works. It was her responsibility to make sure all the programs within the CEPS were built into the system with all the correct requirements. She gladly took on the challenge and learned so much from it.
Many colleagues and students have said great things about Beck. Because of her vast knowledge and experience, she is an important resource for faculty, staff and students.
"I am so fortunate to have worked alongside her these past 8 years," said Stephanie Darst who serves as an academic records specialist. "Kathy has been not just my supervisor, but a mentor and a friend. I deeply appreciate her support and encouragement over the years. I have learned so much from Kathy. The excellent training and advice I have received from her will be an asset to me for many years to come. There will never be another Kathy Beck, but I will do my best to continue her legacy in Student Services. Farewell Kathy. Peace and best wishes on this next journey in life."
Another staff member, Jennifer Fillingim, who serves as a credentials and degree analyst, will deeply miss Beck. She described Beck as passionate, knowledgeable and dedicated.
"She has been a true inspiration to me," Fillingim said. "She has been a wonderful supervisor and co-worker, but more importantly, a wonderful friend, a lifelong friend.
Sangela Bell King, associate registrar in the Office of the University Registrar, says Beck has always been the type of person to help everyone no matter how much time she spends assisting them.
"She has a heart of gold, the patience of a snail and the speed of a rabbit," King said. "Congratulations to Kathy on her retirement, she will be missed."
Dr. Andi Kent, interim provost and senior vice president of Academic Affairs, said Beck is one of the most hard-working, dedicated professionals in the college.
"Whether she was in the Office of Field Services, Dean's Office, or Student Services, her ultimate commitment was to student success, "Kent said. "Mrs. Beck was a bright light in the college and will certainly be missed. We wish her well in her new journey of retirement."
Beck will miss these lifelong friends that she has developed over the years at South. After retiring, Beck plans to spend time with family and travel.
---
---