Waffle House Provides Transformational Career for Hospitality and Tourism Management Alumna
---
Posted on March 11, 2021 by Amber Day
Amber Day
---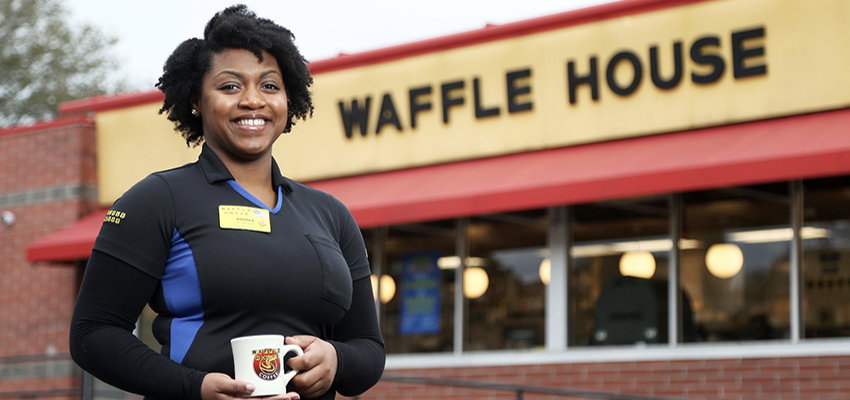 ---
Andrea Kemp started at South as an accounting major and switched to hospitality and tourism management. She always dreamed of starting a restaurant and initially wanted to go to culinary school.
"I chose accounting because I still wanted to run a restaurant as a business, but once I found out that hospitality and tourism management was coming to the University of South Alabama, I decided to change majors during my junior year," Kemp said.
Born in Memphis, Tenn., Kemp moved to Pensacola and lived there most of her life. She attended Booker T. Washington High School and lived on campus during her time at South. A big sports fanatic, Kemp remembers attending many events with her friends and supporting the Jags.
"I loved sitting in the student section at basketball, softball and baseball games, cheering on the teams," Kemp said. "I played intramural softball sophomore and junior year, and spent a lot of time with friends on campus."
Once a student in the hospitality and tourism management program, Kemp needed an internship in order to graduate.
"I sat down with Dr. Evelyn Green to figure out which route to take, and I told her I wanted to go into the restaurant industry," Kemp said. "She put me in touch with Jared at Waffle House, and the rest is history."
Kemp completed a rigorous training program her junior year to start her internship and has stayed with Waffle House ever since.
"The first four weeks I learned how to cook, next four weeks I learned how to be a sales associate, which is like ordering for tables, and the last four weeks I was expediting, like calling the tickets," Kemp said.
Kemp looked at her internship as a way to get better at cooking for other people, but she ended up enjoying the overall work environment.
"My favorite part of the internship was meeting new people," Kemp said. "The Waffle House that I worked at was in Perdido Key and that's a big vacation spot, so it's different people from all across the country coming in to eat. Just to meet people from different parts of the country was pretty interesting, and I really enjoyed getting to know the people that worked there too."
After her internship was over, Waffle House was willing to offer Kemp a full time management position, but she told them she had to finish school first.
"So when I came back in spring 2017, I was a regular grill operator," Kemp said. "Then, after I graduated in May 2017, I told them I wanted the summer to relax, and after a few weeks into the summer I was ready. I started a management training program in July 2017."
Kemp is thankful for the leaders that influenced her along the way. From the professors at South, to her mentors at Waffle House, Kemp says if it was not for good leaders, she does not think she would have made it this far. Kemp now serves as store manager at the Waffle House in Perdido Key and plans to apply for a district manager position soon.
"I could always go to Dr. Green's office to talk to her, and Dr. Thompson was the one to uplift me and motivate me," Kemp said. " Ms. Donaldson's classes gave me real life experiences. They do a really good job with networking. They will call people for you and set up your internship. They will give you multiple people to talk to so you can pick the best option. You don't get that with many other schools."
Jared Johnson is a recruiting director for Waffle House and serves as a member of the USA Hospitality and Tourism Management Advisory Board. After working in the Mobile and Baldwin County areas for more than six years, Johnson has built a recruiting program and partnership with South.
"Jared was always motivating me along the way and checking in on me when I needed it," Kemp said. "I am thankful for the strong leadership."
Kemp's internship and manager training through Waffle House have transformed her leadership skills, and many have noticed it along the way.
"She was a very soft spoken person, reserved but very attentive," Johnson said. "During her internship, I noticed her soaking everything in. Part of her growth and development was to teach her how to share her knowledge and become a leader. Over the past couple years, I have seen her get into her comfort zone, and her employees love her."
"Research shows that 8 out 10 successful internships will lead to a job offer," said Dr. Robert Thompson, department chair and assistant professor in the College of Education and Professional Studies Department of Hospitality and Tourism Management. "This was the case with Andrea. Throughout her internship, I had the pleasure of watching Andrea grow in the development of her management skills, industry knowledge, and self-confidence. As Andrea excelled, her leadership team began to take notice. All of us in the Department of Hospitality and Tourism Management have enjoyed following her career. Andrea is proof that hard work, a great attitude, strong determination, and a solid educational foundation are the keys to success in today's workplace."
Kemp talked about a stigma that follows Waffle House and that she hopes to share her experience so other students know about the career opportunities.
"Some young people look at Waffle House as a low, minimum wage job," Kemp said. "When I first sat down with Dr. Green, I was like 'ehhh.' She pulled out a pamphlet that showed the pay that managers get. I thought, 'oh, well maybe Waffle House is right for me.' It provides wonderful income."
Johnson shared that he works with a 29-year-old who makes approximately $115,000 a year, and he's only eight years out of college.
"If a student gets hired after graduation and puts a year in, they can apply to become a district manager," Johnson said. "You don't have to work in Mobile. You can travel and work in places like Tulsa, Okla., or Nashville, Tenn."
Johnson shares a recruiting card for Waffle House management titled "We're Hiring" when he attends recruiting events, similar to the card Dr. Evelyn Green, an assistant professor of hospitality and tourism management at South, shared with Kemp a few years ago. The 2020 card states that restaurant managers earn $45,000 to $60,000, district managers earn approximately $67,100 to $98,600, and division managers earn $93,500 to $119,300.
"Students do not see Waffle House as a prolific career," Johnson said. "One thing about Waffle House is that we are stable. We pay people more. We just upped our $45,000 guaranteed for managers to $50,000 a year. If you are ready to make a career somewhere, Waffle House is the place to be. We are looking for people that want to invest their time, stay, and retire, and we will invest in them. You have to come in, learn, and do the work. Three things we are looking for: you must have a good attitude, character and integrity."
When the COVID-19 pandemic started, Waffle House was innovative to create sales.
"When the pandemic hit, my store got closed down," Kemp said. "They moved me to another store and after two weeks I was furloughed. Then, two weeks later, Waffle House decided to do a food trailer and travel to different locations. I was called to help with the food trailer every weekend. Four weeks later, my restaurant was back open. I wasn't really furloughed for say, but maybe I had a two week vacation then was back at it."
For more information about potential internships or job opportunities at Waffle House, contact Jared Johnson at (251) 402-3313 or email jaredjohnson@wafflehouse.com.
---
---