Keshock Provides History of Service Learning Opportunities
---
Posted on October 19, 2020 by Amber Day
Amber Day
---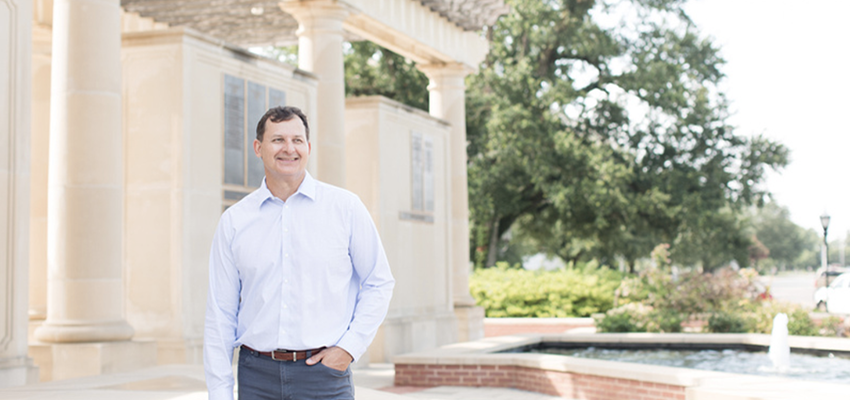 ---
The College of Education and Professional Studies Department of Health, Kinesiology, and Sport's mission is to enhance theory and practice, scholarship and service about, in and through human movement, healthy living, physical activity and sport. Faculty in the department work hard to fulfill this mission by providing students with hands-on experiences through service learning and research opportunities.
Dr. Christopher Keshock is an associate professor of sport management in the Department of Health, Kinesiology, and Sport. Keshock has worked during the past 18 years to place students in more than 200 service learning opportunities at sport and recreation events along the Gulf Coast.
"Every year, we investigate the possibility of adding new opportunities for our students in the community through different sport associations, municipal governing bodies and sport commissions," Keshock said. "We also have a nucleus of local partner organizations we continue to work with on an annual basis."
Keshock started the department's service learning in 2005 when graduate students assisted in the collection of survey data at the Senior Bowl college all-star football game.
"I soon realized the reciprocal benefits of this experience in our classroom discussions, which took place afterwards," Keshock said. "As part of the course learning objectives to recognize different types of research methodologies and understand database management, students working the Senior Bowl game were personally involved in an actual experience where they helped create a game-day questionnaire and administered surveys on-site. This bridged the gap toward and allowed for a more developed and deeper understanding of the way data may be used in real-life situations."
Keshock has worked hard over the last decade to research and form relationships with organizations to place students at an eclectic assortment of professional, amateur and leisure events.
"One year, we had students assist with the timing and scoring of the Air Race Classic, a 4-day cross country female-only airplane race, which ended at the local Brookley Field," Keshock said. "Over the last few years, we have formed recurring placement of students at events such as the NCAA Sand Volleyball Championship, Tri-the-Gulf Triathlon, numerous road races organized by Little Red Hen Production, Mobile Storm Sports Club and of course our University of South Alabama NCAA athletic events."
Keshock gained sport management experiences and corporate business employment both internationally and domestically with IBM, Panalpina World Transportation and Soundcom. He has athletic administration experience from working for the Dutch Baseball and Softball Federation, World Boys Baseball Tournament, various intercollegiate athletic departments and youth sport clubs. Keshock started work in the sport industry playing professional minor league baseball in the Atlanta Braves system and winter baseball in Australia.
"I have always found it necessary to work while attending school and competing in sports to develop the knowledge, skills and abilities to become more marketable when the time came to stop being an athlete," Keshock said. "As a child, my brother and I would tag along with my father, Dr. John D. Keshock, former athletic director at John Carroll University, to assist with the school's many intercollegiate sport event preparations and postevent tasks, which when I look back on it triggered my interest in the field."
During the pandemic, the department hopes to provide students with new exposure to conflict resolution, risk management, operational adjustments and the important practice of event policy making and associated procedures. If students are not permitted to be on-site at events, Keshock has discussed the possibility of event directors participating in Zoom meetings with students and for event directors to assign remote responsibilities such as event registration, sponsorship packaging and other pre-event planning tasks.
"A number of remote opportunities have evolved recently during the COVID-19 restrictions where organizations have accessed our students to complete social-media platform ideas and determine where and when to message both targeted consumers and niche markets beyond the traditional forms of marketing communications," Keshock said.
---
---