Clinical and Counseling Psychology Doctoral Students Match at Internships Sites Across the Country
---
Posted on May 19, 2022 by Branda Walls
Branda Walls
---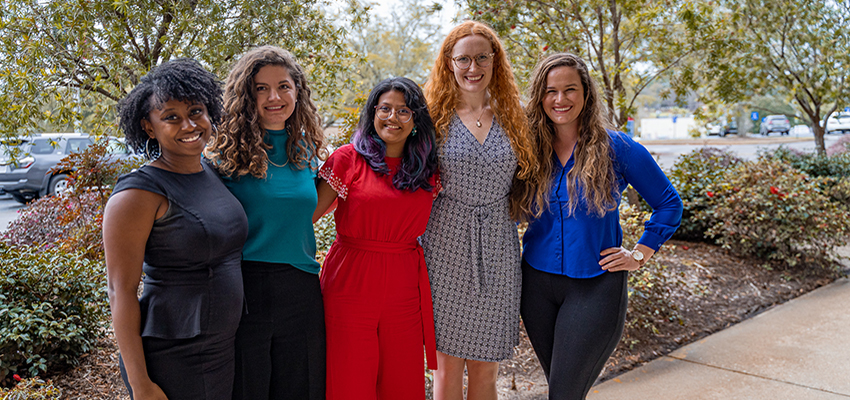 ---
Five students in the University of South Alabama's Clinical and Counseling Psychology doctoral program were matched with training sites for their clinical internships. After spending an average of four years in residence at South, the fifth year is spent at an external clinical placement. Landing an internship typically involves applying to 10-15 sites then going through an intensive application process. Congratulations to the students listed below for matching to high-quality internship sites located across the country.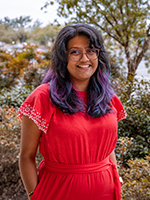 Natasha Basu
University of Alabama at Birmingham VA Medical Center Clinical
Psychology Internship Consortium
Natasha Basu grew up in Mumbai, India, and moved to the states to pursue her bachelor's degree in biology at Drexel University in Philadelphia. During her time there, she discovered her love for research, teaching and community involvement, which inspired Basu to pursue clinical psychology. She completed her master's degree at Teachers College, Columbia University. While completing this program, she realized her passion for research in suicide prevention, which then led to her work with Dr. Phillip Smith, a professor of psychology at the University of South Alabama.
Basu has had a number of clinical and research opportunities at South. Some included completing a two-year externship at Stanton Road Clinic, where she worked as a behavioral health provider on a multidisciplinary team, and conducting group therapy at the Alabama Institute of Deaf and Blind. She also completed a specialized trauma-focused cognitive behavioral therapy practicum and conducted career counseling.
Basu has initiated multiple independent research projects, including a study on the interpersonal relationships on Facebook, an integrative review of nurse suicide and a dissertation project focused on mental illness stigma. Basu received a $2,000 internal grant at South for her dissertation. She will complete her clinical internship with the University of Alabama at Birmingham VA Medical Center Clinical Psychology Internship Consortium.
"I'm very excited for the consortium experience. I will be able to complete multiple major and minor rotations at different clinics. I will also be able to round out my clinical training by gaining inpatient therapy and assessment experience and working with adults with serious mental illnesses. Further, I am excited about the research opportunities offered by UAB."
Basu's goal is to continue working on her existing research projects and build connections and collaborations on additional projects. She is eager to be mentored by women and women of color. She states the variety of roles played by psychologists is what attracted her to this career. Basu sees herself at a university or academic medical center, maintaining a clinical practice, while she conducts research, supervises and mentors students.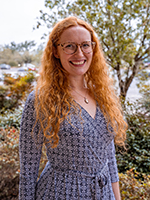 Megan Blanton
University of Oklahoma Health Sciences Center
Megan Blanton was born in Portland, Maine, and received her Bachelor of Arts degree at Chapel Hill in North Carolina. Blanton has had an interest in teaching from a young age and developed an interest in psychology throughout high-school after taking advanced classes and supporting her friends and family with mental illness.
Blanton talks highly about her experiences at South, which have fostered her growth both professionally and personally. She has engaged with the Mobile community in several ways, such as working with teachers and students in public schools, implementing violence prevention programs in after-school programs and giving classes on mental health topics to individuals living in transitional housing communities. She also provided mental health treatment to children, families and adults through her work at the University of South Alabama Psychological Clinic, Strada Patient Care Center and USA Children's and Women's Hospital.
"These opportunities have allowed me to learn cutting-edge research methods and data analysis techniques," Blanton said. "I have researched a range of topics, some including violence prevention, racism-related stress, character development of children and access to mental health services."
Blanton matched with the University of Oklahoma Health Sciences Center and will conduct research related to preventing child maltreatment among high-risk families.
"I am incredibly excited to have matched with this site because of the unique training opportunities they offer in treating children who have experienced abuse and neglect. I will have the opportunity to work at their Latino Outreach Clinic and receive additional training in child assessment."
Following the internship and graduation from the Clinical and Counseling Psychology doctoral program at South, Blanton envisions herself teaching, providing mental health treatment to children and families, and conducting prevention and intervention research.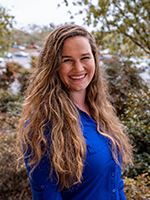 Kathryn McGill
Federal Medical Center, Lexington
U.S. Federal Bureau of Prisons
Kathryn McGill, who is from Gilroy, California, discovered her love for psychology in high school while taking an AP psychology course. She attended St. John's University in New York City, where she earned a bachelor's degree in psychology and master's in criminology and justice. It was there she found her passion for the intersection between the criminal justice system and psychology.
As an undergrad, she had the opportunity to take a course on Rikers Island. The course included students from the university and students who were incarcerated at Rikers Island. Throughout her experience in the course, she narrowed her focus in psychology even further.
"I realized, despite individuals often wanting to stay away from jail and prison, I was eager to continue to come back due to my desire to work with individuals incarcerated in the criminal justice system."
This journey led McGill to apply to the University of South Alabama's Clinical and Counseling Psychology doctoral program. McGill said she was eager to work with Dr. Tres Stefurak, associate dean and professor for the College of Education and Professional Studies, and is thankful for the opportunity to collaborate and work within the juvenile court system in Mobile.
"My time here at South has been integral in my development into the professional that I am today. Through my work at South I had the opportunity to work within the juvenile detention center serving youth who were incarcerated and their families."
In addition, McGill was able to conduct forensic mental health assessments and participate as a member of an interdisciplinary team for incarcerated youth at the Mobile County Juvenile Court and James T. Strickland Youth Detention Center. South also gave her the opportunity to work as a graduate research assistant on multiple federal grants, including Mobile Police Department's Promise Initiative, which consisted of a series of Sexual Assault Kit Initiative grants from the U.S. Department of Justice focused on reducing the backlog of unsubmitted sexual assault kits, and, more recently, the City of Mobile's Justice and Mental Health Collaboration grant that is training mental health professionals and law enforcement to respond in a collaborative fashion to mentally ill citizens in crisis.
"South has prepared me by offering excellent training opportunities and superior guidance through our psychology and counseling department faculty. I've also had the ability to grow as a professional."
McGill matched with the internship at the Federal Medical Center of the Bureau of Prisons in Lexington, Kentucky. She will have the opportunity to work with individuals incarcerated in the federal criminal justice system, including those awaiting trial and inmates who have high medical needs.
"I feel like this internship role will set me up perfectly to become a competent forensic psychologist working either within the facilities in the correctional system or with individuals in close proximity to the criminal justice system. I will forever be grateful for my time here at South to get me where I am today and am excited for this next step in my journey."
Kimberly Pusey
Division of Aging, Adult, and Behavioral Health Services
Arkansas State Psychiatric Hospital
Kimberly Pusey was born in Miami and raised by her parents, who are Jamaican immigrants. Pusey's interest in psychology stemmed from growing up in Miami, where she noticed numerous classmates performing poorly, frequently absent or relegated to alternative schools. She saw some of her peers' lifestyles result in incarceration, homelessness or death. Pusey wanted to gain an intellectual understanding of these situations, and therefore pursued a degree in psychology.
She earned a Bachelor of Arts at the University of South Florida and a Master of Science in Psychology at the University of South Alabama. During her time at South, Pusey has won several awards, including the University of South Alabama's Graduate School's Thesis Contest in the category of Social Sciences, Business, and Education and the Health Resources and Services Administration's Integrated Behavioral Health Services. Her thesis explored sources of racial bias in mock juror situations. She has served the community through work in several clinical positions, including sites such as the University of South Alabama Pediatric Associates healthcare clinic, the Mobile County Juvenile Court and James T. Strickland Juvenile Detention Center, and the Department of Human Resources' Child Protective Services. Pusey also assisted with meaningful research, such as the Sexual Assault Kit Initiative, and she individually managed a program evaluation of the Bridge Inc.'s "Transitions" in-home family therapy program for juvenile offenders. Kim was the recipient of a scholarship this year from the Health Resources and Services Administration grant in the USA College of Nursing.
Pusey matched at an internship within a forensic hospital, the Division of Aging, Adult, and Behavioral Health Services at the Arkansas State Hospital in Little Rock.
"I am excited to provide psychological services to children, adolescents and adults involved in the criminal justice system, collaborate with key stakeholders in the system, such as lawyers, judges, and probation officers, as well as expand my knowledge of program development and evaluation. After graduation, I hope to serve on an interdisciplinary treatment team focused on providing holistic care to those in or at risk of becoming a part of the justice system."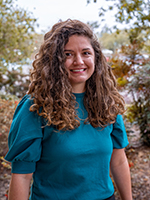 Kaitlyn Schuler
Canandaigua VA Medical Center
Kaitlyn Schuler grew up in Lake Worth, Florida, where she knew early on she wanted an academic and research career. Schuler transitioned to the field of clinical psychology after graduating college at St. John's College in Annapolis, Maryland, where she majored in philosophy and history of science and mathematics, with a minor in comparative literature and classical studies. Initially planning to pursue research opportunities in the epigenetics of mental illness, she decided to change directions and complete a master's degree in psychological science at Catholic University in Washington, D.C.
"I have always felt driven to understand and alleviate psychological suffering and am fascinated by the 'big questions' that have occupied humanity for centuries. I knew I wanted to focus on mental health and was excited to have both a clinical and a research component to my career."
In Schuler's first year of graduate school, she became involved in suicide prevention research focusing on suicide risk assessment and management. After earning her master's degree, she worked in a military suicide prevention lab focused on inpatient treatments for suicidality and training chaplains to intervene with service members at risk. She was admitted to South's Clinical and Counseling Psychology Ph.D. program in 2018 to work with Dr. Phillip Smith focusing on the interpersonal-psychological theory of suicide and, increasingly, upstream, socioecological approaches to suicide prevention. Her research currently focuses on testing suicide theory, interpersonal and ecological factors influencing suicide mortality, and upstream prevention programs.
During her time at South, Schuler worked in many roles, including a position with Student Academic Success, where she provided curriculum development and academic counseling in their student retention programs. She also worked with the Suicide Prevention Lab providing grant writing to support upstream suicide prevention efforts in Mobile. She provided clinical services at Eastpointe Psychiatric Hospital, program evaluation for the Mobile Police Department providing, and consultation for community-based policing programs. Schuler also worked at Veterans Recovery Resources as a clinical extern providing evidence-based interventions for veterans, first responders and their families and other members of the Mobile community.
Schuler has published 10 peer-viewed articles during her four years at South. She has also earned $2,000 of internal funding for a project on the theory and measurement of suicidal communications. Her dissertation is a two-part ecological study focused on the impact of social integration and social capital on suicide mortality using meta-analysis and probabilistic graphical modeling.
Schuler was matched at Canandaigua VA Medical Center in Ontario County, New York.
"I am excited about the program's strong clinical intervention and assessment training in suicide prevention, trauma, personality, and addictions. I will be able to complete a minor research rotation with the Center of Excellence for Suicide Prevention, which focuses on public health approaches to suicide prevention."
Canandaigua is one of two VA's in the country specializing in suicide prevention research. After internship and post-doc, Schuler said that she will pursue an academic career focused on upstream and complexity science approaches to mental health.
---
---