PASSAGE USA student makes most of her South experience
---
Posted on February 7, 2020 by Thomas Becnel
Thomas Becnel
---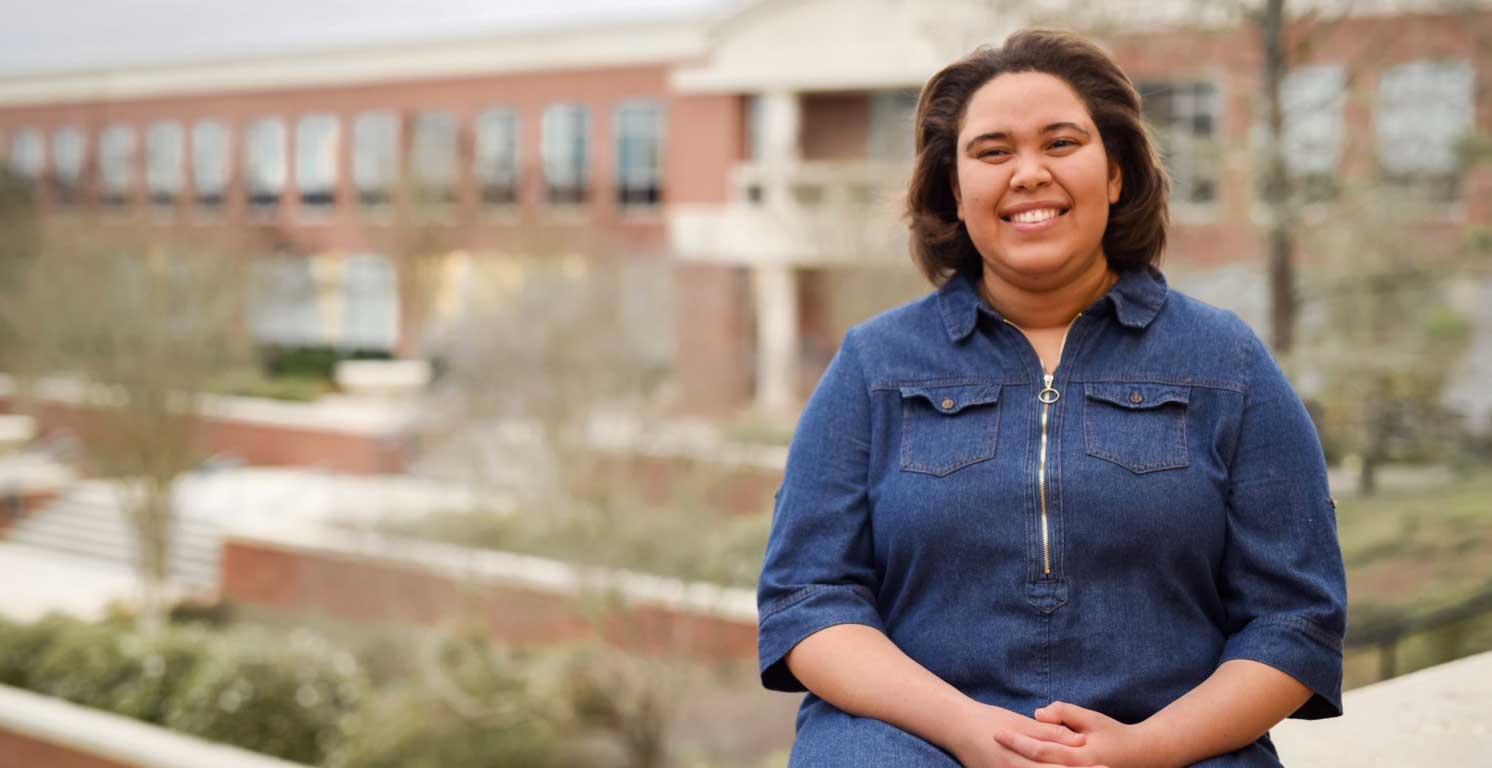 ---
Like so many students at the University of South Alabama, Matysan McClendon balances a full class schedule with part-time jobs and extracurricular activities.
She likes to wear sneakers, tights and an oversized "WE ARE SOUTH" T-shirt. She rides a JagTran bus to and from Zumba class at the Student Rec Center. She texts and calls her friends all day long.
In the morning, McClendon works at the Starbucks on campus. In the evening, she does shifts at the LoDa Bier Garten in West Mobile. For fun, she volunteers as a manager for the women's basketball team.
"I'm a big fan," she says. "Go Jags."
This kind of mainstream college experience is part of the plan at PASSAGE USA, which is short for Preparing All Students Socially and Academically for Gainful Employment at the University of South Alabama. It is a two-year, non-degree program for students with intellectual disabilities.
McClendon, a 20-year-old Mobile native, isn't sure what she'll do when she graduates this spring. Again, like most students. Talking about leaving school reminds her of her first day at South.
"I was a little nervous, walking around campus and going through orientation," she says. "But I met Molly for the first time and Emily, too. We're all still friends."
Independent study
PASSAGE USA, which is part of the College of Education and Professional Studies, is for students between the ages of 18 and 25. There are 10 students this semester, with three scheduled to graduate in May.
All of them possess functional communication, reading and math skills. They take life and work seminars and have access to campus recreation and social programs.
Alexandra Chanto-Wetter, PASSAGE USA assistant director, calls McClendon a model student.
"She's by far the most social of our group," she says. "She has the spunk to introduce herself and talk to people and help herself. That's just how she is."
South has a peer mentoring program that matches PASSAGE USA students with undergraduate volunteers. Many of them come from Alpha Epsilon Delta, an organization of pre-med students.
McClendon attends South through a scholarship with the Treadwell Foundation. The program encourages donations to the Gaillard-Neville Reynolds Scholarship fund created especially for students in PASSAGE USA.
In just two years, a lot can change for students.
"When she came to our program, Matysan was scared to be without her mother for five minutes," says Chanto-Wetter. "Now she's become a self-determined young lady. She's aware of her environment and has goals that she wants to meet."
Family emergency
McClendon grew up in Mobile. She has two older brothers. She started out in a traditional school, but found she couldn't keep up with her classmates.
This was a painful experience, but her description is both matter-of-fact and upbeat.
"Memories went straight across me," she says, waving her arm. "I was like, OK, I need somebody to help me."
Her mother, Tamara McClendon, home-schooled her daughter for several years. Then friends told them about the PASSAGE USA program. Matysan started college.
It was difficult for her at first. Nerves and separation anxiety. She would throw up before going to school.
Gradually, things got better.
"Then she was all right, then she was OK," Tamara says. "She was just blossoming. When she got her first job, I was like, 'A job? A job? She's working? She's smiling. She's getting paid?' Just recently, she told me, 'You know, I can help other people now. I can be a mentor.' That was amazing to me."
August 2019, Matysan had to help her mother through a home emergency.
They were rolling a glass table top through a door when it broke and a sharp piece sliced through Tamara's forearm.
"I was so scared, my whole body was shaking," Matysan says. "Blood was everywhere – everywhere. My mom told me to get a towel and I wrapped it around her arm real tight. Then I had to go get the neighbor and I knocked on the door really hard. Then I called my dad, I called my aunt, I called everybody."
Work-life balance
McClendon's daily schedule at South isn't so dramatic.
She goes to work. She goes to class. She eats lunch – a peanut-butter-and-jelly-sandwich, usually – that she brings from home. Then she returns to class and goes to her other job.
McClendon is looking forward to Mardi Gras, when PASSAGE USA students are supposed to ride on a float in one of Mobile's downtown parades. That will be different. She's always enjoyed parades from the street.
"I love catching beads and candy," she says. "I love Moon Pies."
Her dad, LeBaron McClendon, works as a referee, so she's always enjoyed basketball games, too. She jumped at the chance to volunteer with the women's team at South. The players appreciate her support.
"I bring cookies and cupcakes for them to have after the game," she says. "My mom helps me bake them."
After graduation, she hopes to continue working at the LoDa restaurant not far from campus. When she applied for a job, there was an opening for a dishwasher. After an interview, she was hired as a hostess.
McClendon helps greet customers, wipe down tables and answer the phone.
"Welcome to LoDa Bier Garten," she says, practicing her lines. "This is Matty. Can you please hold?"
For full PASSAGE USA eligibility requirements or to receive an application, contact Alexandra Chanto-Wetter at (251) 460-7558 or chantowetter@southalabama.edu. To contribute to the Gaillard-Neville Reynolds Scholarship fund, click here.
---
---