Medical student launches partnership to help others
---
Posted on February 22, 2021 by Brittany Otis
Brittany Otis
---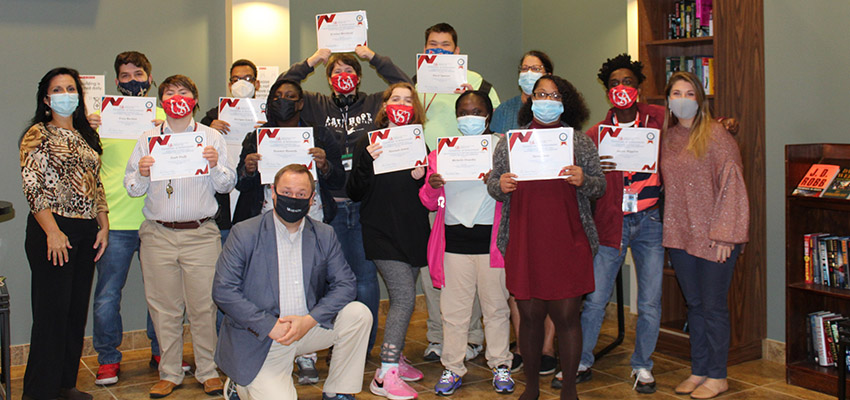 ---
It started as an idea for Jade Kantzler, a second-year medical student at the University of South Alabama College of Medicine, to partner with PASSAGE USA and provide health education to students with intellectual disabilities.
PASSAGE USA, which stands for Preparing All Students Socially and Academically for Gainful Employment, is a two-year certificate program designed to help students gain skills for independent living, employment and self-determination.
"I knew about PASSAGE USA because my sister is a mentor for the program and she always tells me great stories about it," Kantzler said. "I had this idea for a while now that I wanted to teach others some of what I'm learning at USA and that's educating people about preventable diseases and ways to live healthier lives. I knew I could help this group."
One day, Kantzler learned some of the program's students were unaware of their health conditions or how to properly treat themselves. She quickly took action.
"I formulated a plan and presented it to Drs. Roveda and Baxter," she said. "I wanted to hear their input and brainstorm ideas to see if it was possible to start an initiative such as this one."
Kelly Roveda, M.D., associate dean of student affairs, and Abbie Baxter, Ph.D., director of the PASSAGE USA program and a special education professor, thought Kantzler's idea was the perfect way to highlight the students of PASSAGE USA while simultaneously helping students at the USA College of Medicine.
"As an educator, I see the opportunity for all students involved to learn more about health topics and the doctor-patient relationship," Baxter said. "Typically, people in health-related fields report a lack of training in working with people with intellectual disabilities. We also are aware that some people with intellectual disabilities know little about health education. This initiative addresses both of these issues. USA is making a difference."
Roveda and Baxter said interest groups at the USA College of Medicine may want to be involved with this partnership as well.
Kantzler, who is a member of the pediatric and American Women's Medical Association interest groups, was able to onboard other groups from family medicine and public health. The groups will rotate teaching topics such as skin rashes, allergic reactions, nutrition and hygiene.
"We are so excited about this partnership that will explore health topics with our PASSAGE USA students," Roveda said. "They will learn the best ways to care for themselves and hopefully will pass along what they've learned to others. We couldn't be more proud of our students."
Kantzler hopes starting this partnership will decrease misdiagnosis of patients with intellectual disabilities. She said many patients are misdiagnosed because of miscommunication. "We want to encourage participation and get students to talk about their health and find ways that we all can communicate better with each other," she said.
For now, COVID-19 has prevented in-person learning; classes will be conducted via Zoom through March 2021. Although times are different, Kantzler is looking toward the future of the partnership. She hopes to share these lectures with high school and college students to learn more about common medical conditions. She also plans to keep the initiative going with each new class of PASSAGE USA students.
"This partnership will help build confidence for both PASSAGE USA and USA College of Medicine students," Kantzler said. "As we help these students, it will create a positive impact on our community and allow us to contribute our unique talents to the medical field."
For more information, contact Jade Kantzler at ejk1921@jagmail.southalabama.edu.
---
---