Meet This Year's PASSAGE USA Students
---
Posted on March 25, 2021 by Micaela Pickering
Micaela Pickering
---
---
PASSAGE USA (Preparing All Students Socially and Academically for Gainful Employment) is a two-year, non-degree certificate program housed in the College of Education and Professional Studies that focuses on independent living, social, employment, and self-determination skills. Students in the program attend elective classes with other University of South Alabama students as well as specialized classes that target the skills they need to achieve their goals.
PASSAGE USA is thrilled to announce the expansion of the two-year program at the University of South Alabama for individuals with intellectual disabilities (ages 18 – 28). The expansion, beginning in 2021, includes two program length options. Students may now choose to enroll in either the two-year program or four-year program. Each option includes individualized Adult Education Plans including academic, social, independent living, self-determination, self-advocacy, community integration and employment outcomes developed by a person-centered planning approach.
Meet This Year's PASSAGE USA Students.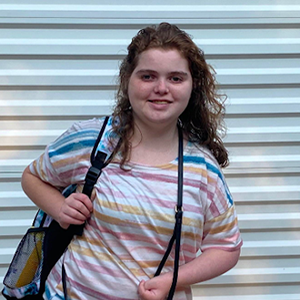 Hannah James
Age: 19
Hometown: Mobile, Ala.
Previous School: Shelton Academy
Why did you want to attend the University of South Alabama/PASSAGE USA? To further my education
What do you enjoy doing most in your free time? Hanging with my friends
Where did you work last semester? Rec Center and Leadership and Teacher Education Office
Where do you want to work in the future? Starbucks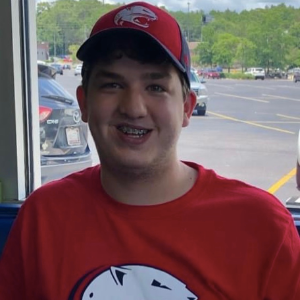 Trice Burkett
Age: 19
Hometown: Mobile, Ala.
Previous School: Baker High School
Why did you want to attend the University of South Alabama? A friend was telling me about it and I wanted to go there. I explored the University and it was cool and fun.
What was your favorite class last semester? I would say Ms. Lea's class and Ms. Alex's class.
Where did you work last semester? I work at the Rec Center and the Veterans Affairs Office.
What do you want to be in the future? Assistant football coach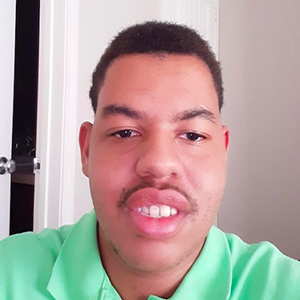 Enrique Lynch
Age: 20
Hometown: Opelika, Ala.
Why did you want to attend the University of South Alabama? I wanted to come to college.
What was your favorite class last semester? Ms. Alex and Ms. Lea's class
Where did you work last semester? Jag Pantry and Career Services
What do you want to be in the future? Work at AT&T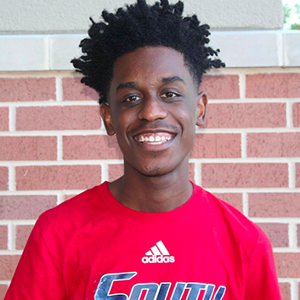 Javon Wiggins
Age: 20
Hometown: Mobile, Ala.
Previous School: Baker High School
Why did you want to attend the University of South Alabama? It's fun and I get to learn
What was your favorite class last semester? Ms. Alex's class.
Where did you work last semester? The Rec Center
What do you want to be in the future? Work at Chick-Fil-A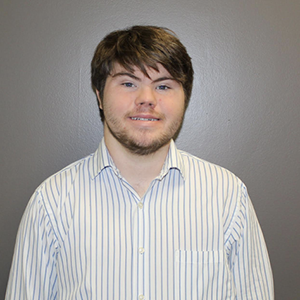 Noah Duffy
Age: 20
Hometown: Gautier, Miss.
What do you enjoy doing most in your free time? Spending time with friends
Why did you want to attend the University of South Alabama? For my PASSAGE USA certificate
What is your favorite part about the University of South Alabama/PASSAGE USA? Going to the student center and spending time with friends
Where did you work last semester? Spiffy Fox Pizza
Where do you want to work in the future? Home, so I can be on time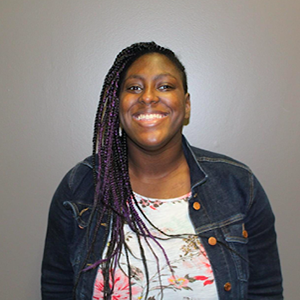 Summer Runnels
Age: 23
Hometown: Brandon, Miss.
Previous School: Brandon High School
Why did you want to attend the University of South Alabama? Because I wanted to take classes and study art
What was your favorite class last semester? Art class
Where did you work last semester? I interned at MCOB
What do you want to be in the future? Maybe work in an office setting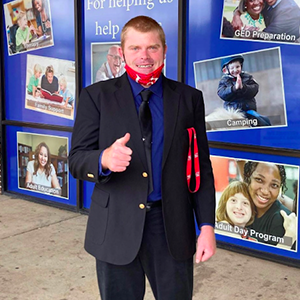 Josh Fillingim
Age: 25
Hometown: Satsuma, Ala.
Previous School: Satsuma High School
Why did you want to attend the University of South Alabama/PASSAGE USA? To meet new people and learn
What do you enjoy doing most in your free time? Eating with friends
What was your favorite class last semester? Ms. Alex's class
Where do you want to work in the future? Satsuma High School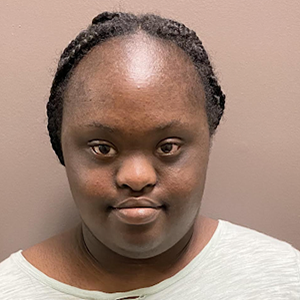 Michelle Oranika
Age: 27
Hometown: Montgomery, Ala.
Previous School: Jefferson Davis High School
What do you enjoy doing most in your free time? Hanging out with my mentor
Why did you want to attend the University of South Alabama? Because of my parents
What is your favorite part about the University of South Alabama/PASSAGE USA? Classes, mentors and friends
What do you want to be in the future? Work in technology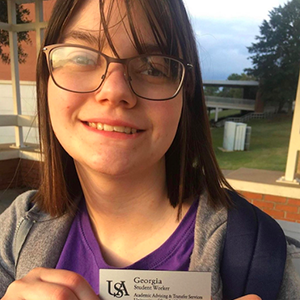 Georgia Davis
Age: 23
Hometown: Fairhope, Ala.
Previous School: Fairhope High School
Why did you want to attend the University of South Alabama/PASSAGE USA? Because it was a great opportunity to take college courses
What do you enjoy doing most in your free time? I like to do CrossFit
What was your favorite class last semester? Wii Fit
Where do you want to work in the future? A flower shop where I can do different flower arrangements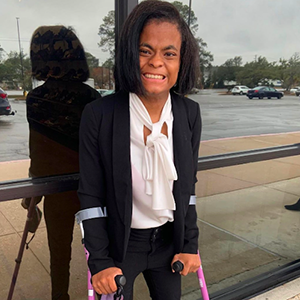 Timberky Beckham
Age: 20
Hometown: Saraland, Ala.
Previous School: Saraland High School
How long have you attended the University of South Alabama? Three semesters
What do you enjoy doing in your free time? Listening to music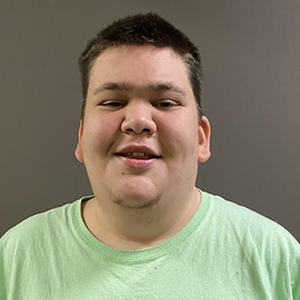 Daryl Spencer III
Age: 23
Hometown: Theodore, Ala.
Previous School: Alma Bryant High School
How long have you attended the University of South Alabama? One semester
Where did you work last semester? USA Police Department and Student Center
What do you enjoy doing most in your free time? Going to USA football and baseball games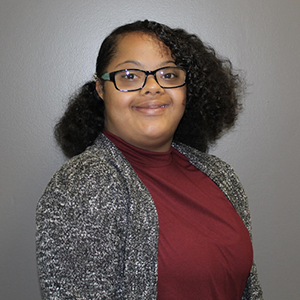 Jakayla Penn
Age: 22
Hometown: Mobile, Ala.
Previous School: Theodore High School
How long have you attended the University of South Alabama? One Semester
Where do you currently work? Student Center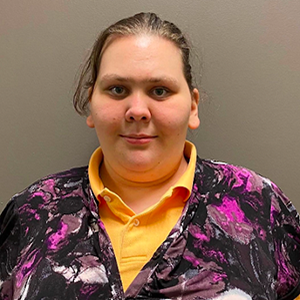 Rebecka Spencer
Age: 21
Hometown: Theodore, Ala.
Previous School: Alma Bryant High School
How long have you attended the University of South Alabama? One semester
Where do you currently work? USA Housing
What do you enjoy doing most in your free time? Making new friends and getting to explore the campus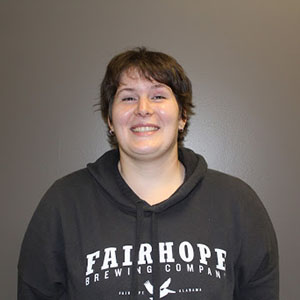 Erreina Morehead
Age: 24
Hometown: Fairhope, Ala.
Previous School: Corbett High School
How long have you attended the University of South Alabama? One semester
Where do you currently work? Office of International Education
What do you enjoy doing most in your free time? Being able to work at the Office of International Education
---
---