Pillars Magazine Recognized by American Advertising Federation of Mobile
---
Posted on February 26, 2021 by Amber Day
Amber Day
---
---
The American Advertising Federation of Mobile recently hosted the 2021 American Advertising Awards Gala. The USA College of Education and Professional Studies Pillars magazine received a Silver Award and a special Mosaic Award for diversity and inclusion.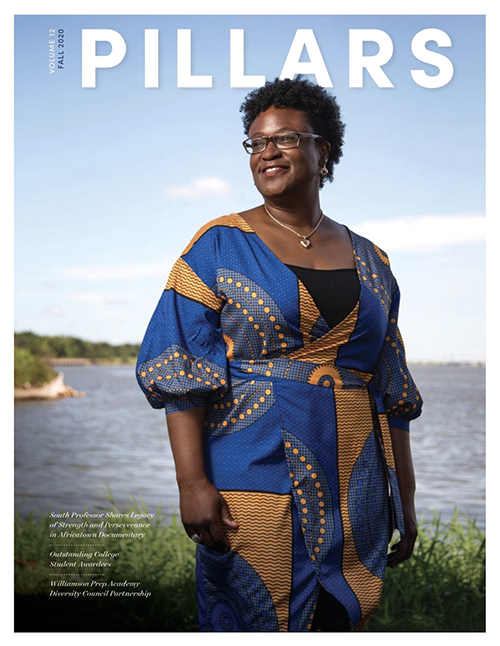 The AAF's Mosaic Awards recognize companies, agencies and individuals whose commitment to diversity and inclusion is evident through their creative work and organization-wide initiatives. This is a true honor for the college to receive this award.
"This award appropriately reflects the dedication of those involved in creating this publication and the wonderful things our students, faculty, staff and alumni are doing to transform education and strengthen society," said Dr. John Kovaleski, interim dean for the College of Education and Professional Studies.
The magazine cover features Dr. Joél Lewis Billingsley, associate professor in the College of Education and Professional Studies, who works collaboratively with the community to share the life and legacy of the 110 enslaved West Africans who were brought illegally to America on the Clotilda. She stands along the Mobile River in Africatown, which is the community the enslaved founded.
The magazine also highlights how the COVID-19 pandemic challenged educators and professionals throughout the world. Many of the articles share the stories of how faculty, staff and alumni worked hard to support students and their communities during this time.
The University is committed to ongoing, permanent, sustainable, and mutually beneficial partnerships with the communities it serves. Through many programs within the College of Education and Professional Studies, which are highlighted in the Pillars magazine, this goal is achieved by not only providing transforming opportunities for students, but also for business, government, non-profit and other organizations directly involved in regional economic, civic, and cultural development.
Congratulations to College of Education and Professional Studies faculty, staff, students, alumni and community partners. The Pillars magazine will now move on to district competition.
To view a digital version of the Pillars magazine, visit southalabama.edu/colleges/ceps/pillars.html.
---
---