Preparing students, transforming lives - PASSAGE USA prepares students for life on campus and beyond
---
Posted on December 15, 2020 by ceps
ceps
---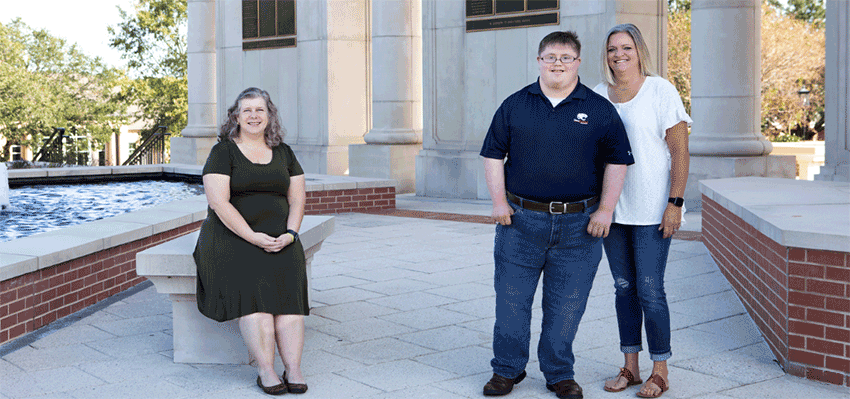 ---
Keith Griffith made a splash at the University of South Alabama even before he first set foot on campus as a student in 2017. The moment that defined his trajectory at South took place months earlier, when he opened his acceptance letter as his mom, Heather, recorded him on video.
In the video, Keith rips open the envelope and pulls out the letter, smiling in anticipation even before he unfolds it. As she films, Heather reads the letter aloud.
"I made it!" Keith exclaims, his smile now twice as broad and lighting up his entire face. He rushes toward Heather and wraps her in a long hug.
That feel-good video has amassed more than 7.5 million views and more than 219,000 reactions in the three years since it was posted on Facebook. It set the stage for Keith's time at South as a student in PASSAGE USA, the University's certificate program for students with intellectual disabilities.
"He started the program at a gallop. He was ready for college," said Abigail Baxter, Ph.D., director of PASSAGE (Preparing All Students Socially and Academically for Gainful Employment) USA. "He really just took this opportunity and ran with it."
The evolution of special education
PASSAGE USA is relatively new on campus; Keith was a member of its first cohort of students. Baxter and her colleagues started the two-year program with a vision to create a next step in the evolution of services for people with intellectual disabilities.
Baxter has witnessed the evolution of special education throughout her lifetime. She's seen kids with special needs – especially kids with intellectual disabilities – go from not being able to attend public school, to having access to support services from infancy all the way through high school.
But after high school, all those services stop, and students often don't have institutional support to help them progress further. Baxter's goal was to unlock access to higher education, particularly so students could work on skills to help them gain jobs and live as independently as possible, just as any college student.
"We are a program where students are challenged, where they are whole members of the University community. We want them to embrace that inclusiveness and to be ready to make the choices and decisions that go along with that," said Baxter. "And at some level, just like parents of any kid going to college, parents have to get ready to let go a little bit. And that's hard when your kid has a disability."
In addition to PASSAGE-specific classes focused on independent living and career skills, students in the program take regular-ed electives based on their interests. They also have work experience every semester, both on and off campus.
Peer mentors
One of the hallmarks of PASSAGE USA is its peer mentorship program, in which South undergraduates support PASSAGE students as they navigate class, work and socializing.
In high school, said Baxter, kids with more significant disabilities tend to be segregated into special-education classes, and their interactions are primarily with adults: the teachers, paraprofessionals and aides who work with them. They have little contact with their peers.
"What we want our students to do is to learn what's appropriate for people their age. At 60, I can't tell them how to be a 20-year-old. Only a 20-year-old can. And that feedback from someone their age that they have a relationship with is probably going to go further than it is from a professor."
Donavon Dahmer became Keith's mentor in Spring 2019, as they both embarked on their last semester before graduation.
"They just kind of hit it off," said Baxter. "And they started doing things like friends do. It wasn't just when Donavon was here to mentor him; it was nights and weekends."
"Before COVID, I would take him to my church," said Dahmer. "He would sing in the choir with me sometimes, and then we'd go out and get tacos."
Despite challenges – they've both graduated, Dahmer is a second-year medical student at South, and COVID has made face-to-face hangouts impossible – they've kept in touch during the pandemic over FaceTime.
"Donavon's one-of-a-kind, let me tell you," said Heather. "He is a sweetheart."
Baxter said it's not just PASSAGE USA students who benefit from the mentorship program; the relationships are a two-way street. "One of our biggest groups of mentors comes from the pre-health professions honors society, so the impact then on future doctors, nurses, physical therapists, occupational therapists, is just incredible, because they've had extended experience with people with intellectual disabilities. And they've seen them as a peer, not as a patient," she said.
"I've heard from several people who are on our medical school admissions committee that when they interview people who have been our peer mentors, often that has been a transformative experience that they reflect on."
Getting to work
In PASSAGE USA, students typically work on campus their first year. In their second year, faculty pinpoint a career area the student likes and coordinate 15 hours of work per week in that setting – preferably in the community, rather than on campus, to better prepare students for life after they leave South.
The story of how Keith landed a job his second year in the program has become something of a legend at PASSAGE USA. That fall, he decided he wanted to work at Mobile Popcorn. When he told the faculty member who worked on job placements, she said she'd work on it the following week.
"Well, he reported back to her the next day that he had called Mobile Popcorn and told them he wanted to apply for a job," said Baxter. He'd already handed over his resume and scheduled an interview.
He got the job and worked there the following semester, washing dishes, folding linens, and sometimes popping popcorn or making cotton candy.
Thanks to that resourcefulness, in addition to the overall progress he made throughout the program, he won the Outstanding PASSAGE USA Student award in Spring 2019.
"That really threw me, when he called and told me he won it," said Heather.
Keith was told he could have a couple of supporters in attendance at the awards ceremony, and in return, he told them he needed 10 to 12 tickets. In the end, his mother and father, aunts and uncles and a family friend were there to cheer him on. "It was a very tearful moment," said Heather.
After graduation
Keith was excited to graduate, but Heather admits that, for her, the ceremony was a sad occasion.
"He was doing so well, and he was enjoying it so much," she said. "It's just a two-year program, but he enjoyed it. It really gave him something to look forward to."
After he left South, Keith reprised the initiative he showed at Mobile Popcorn by going to the YMCA and getting a job on his own. At the Y, he worked the floor, keeping equipment and floors clean and taking out the garbage.
"Think about how powerful that is – it's the second job he talked himself into," said Baxter.
He worked at the Y until the pandemic forced him back home. He's eager to go back, but he must wait until the health crisis subsides.
"That's been an unfortunate thing we've learned from our first cohort and second cohort of graduates," said Baxter. "For the most part, they were among the first to lose their jobs because of COVID. And unfortunately, like lots of other people in the service industry, they haven't been called back."
"I do think when we get this COVID thing figured out, our students will have better options for employment. I think Keith has demonstrated that when it's safe for his health to go, he'll find a job."
---
---