South Student Teachers Get Creative to Complete Preparation Requirements
---
Posted on May 7, 2020 by Amber Day
Amber Day
---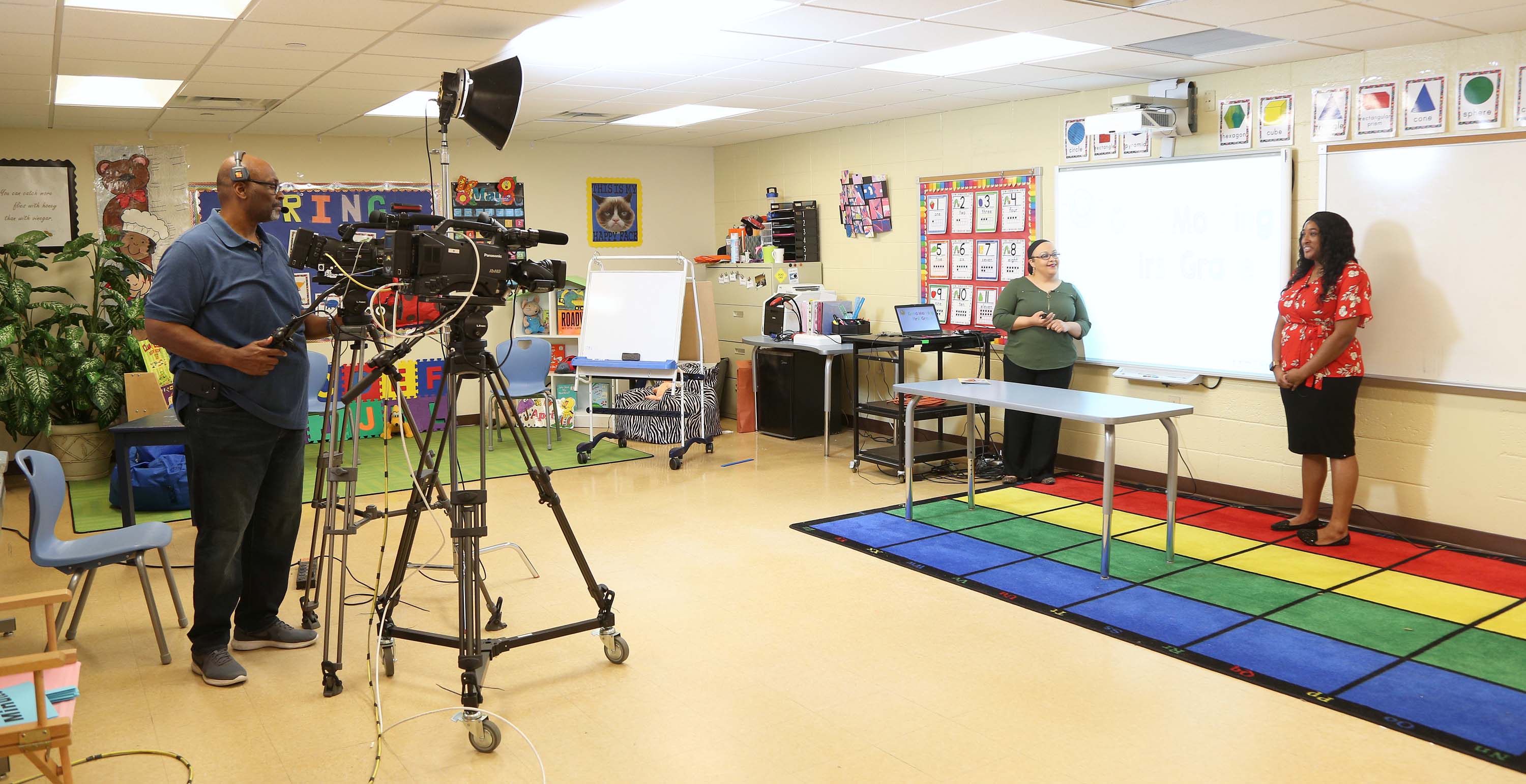 Mobile County Public Schools recently partnered with the USA College of Education and Professional Studies to provide opportunities for four South student teachers to present lessons on live television.
---
COVID-19 has moved learning online for students both in college and grades K-12. This presented a challenge for University of South Alabama College of Education and Professional Studies graduating students, who typically partner with local K-12 teachers to complete hands-on teaching experiences in person as part of their degree requirements.
"The students at South have maintained composure and focus during this time," said Jennifer Simpson, director of the USA Office of Field Services. "Though there were challenges early on while determining the best course of action for continuing and completing their pre-service training, the vast majority of students have worked diligently to prepare and present lessons in tandem with their cooperating teachers."
USA student teachers have learned to incorporate varied student engagement platforms such as Nearpod and Pear Deck into their online lesson design, and worked to gain familiarity with Google Classroom, Freckle and other organizational tools with which they could assist cooperating teachers and their students.
"USA student teachers have developed lessons through recorded and live presentations that could be shared with classroom teachers for dissemination to larger audiences or even to diverse small groups of children," Simpson said. "To replicate the classroom setting, pre-service teachers have hung anchor charts around their apartments, collected manipulatives from items around their homes and utilized the toys and collectibles of their own children as teaching tools. When all is said and done, even though the situation was not ideal, our students will be better prepared to understand and deal with many different types of learning environments and will appreciate the opportunities and possibilities to reach every child, wherever they may be."
Mobile County Public Schools recently partnered with the USA College of Education and Professional Studies to provide an opportunity for four South student teachers to present lessons on live television. The students featured earned their bachelor's degrees this month and include Adriana Gregory (K-6 Teacher Education), Gilliane Sharpe (K-6 Teacher Education), Jimmerlee Williams (K-6 Teacher Education), and Kelsea Kyser (Secondary Education).
"We are excited about this partnership between Mobile County Public School System and the University of South Alabama," said MCPSS Superintendent Chresal D. Threadgill. "We feel this opportunity allowed USA teacher interns to have real-life experience during this unprecedented time in education. We are proud as a school district to be able to offer our students this unique and innovative approach to instruction on television, in addition to the online learning options we are offering to our students."
In April, USA College of Education and Professional Studies Dean Dr. Andi Kent met with Threadgill to discuss ways the two could work together to allow USA student teachers access to technology and virtual instruction opportunities to complete the school year.
"Our partnership with MCPSS goes back decades," Kent said. "As the years go by, we continue to collaborate to find new and innovative ways to deepen our relationship. I reached out to Mr. Threadgill and Dr. Brackins to see if there were ways to allow our students the opportunity to complete their education degrees while working alongside the classroom teacher in a virtual environment."
During the conversation, Threadgill mentioned mcpssTV, an opportunity for local students in grades Pre-K through 11 to watch lessons taught by master teachers online and on TV. Threadgill invited Kent to submit names of a few USA student teachers that would be willing to team-teach a lesson with their cooperating teacher on mcpssTV.
"I am absolutely elated for our student teachers as I believe the experience will contribute greatly to their professional growth," Kent said. "I am also thankful for the partnership we share. When it comes to educating the students in Mobile County Public Schools, we are a team committed to collaborating to positively impact student achievement, beginning with Pre-K through educator preparation."
The lessons were broadcast on Comcast (channel 15), AT&T U-verse (on-demand channel 99), Mediacom (channel 81), Roku boxes, Fox 10's channel 10.6, WJTC's UTV 44, and MCPSS Facebook Live.
"I am thankful for this experience because, even though it was not under the best circumstances, it shows the county's willingness to reach as many students as possible by televising the lessons for students who may not be getting them otherwise," said Gregory, who worked Kristin Mahtani, a curriculum specialist with MCPSS.
Gregory prepared for her presentation by virtually meeting and planning with Mahtani the week prior to going live. Gregory presented a math lesson to fifth graders based on adding and subtracting fractions with unlike denominators.
"Mrs. Mahtani suggested that I show two different strategies to solve these problems," Gregory said. "For this reason, I included both the number line strategy as well as the standard algorithm for solving addition or subtraction equations with unlike denominators. I started with a little brain teaser to help refresh and challenge the students' minds. Although they have done fraction work in the past, I'm sure it has been a while since they've done what we did during our lesson."
Sharpe worked with Ashley Nolan, a South alumna that serves as a second grade at Griggs Elementary.
"I enjoyed having the opportunity to collaborate with Gilliane Sharpe on a 2nd grade reading lesson," Howell said. "There is nothing like being thrown in front of a camera to make you step outside of your comfort zone as an educator, and Gilliane did a phenomenal job. When I teach, I always make sure to bring all the energy I can into the lesson to make it more engaging and Gilliane really helped me with that. I am grateful for the way this experience has helped me grow as a mentor and educator. We are living in such a unique time, and I think it's amazing that we are still doing everything we can to make sure our students still receive instruction."
Sharp co-taught a 2nd grade reading lesson, which included reading the book "Peanut Butter and Cupcake."
"Mrs. Nolan and I talked about friendship to launch our lesson," Sharp said. "We thought about what good friends can do and what good friends are. Next, we read the book, questioning students in order to prepare them for the 'game' following the book. Upon completing the book, we focused our attention to the board where we had a Candyland board set up. As we took turns moving through the game, each stop had a comprehension question. These questions allowed us to recount the story and finally, determine the lesson of the book. After the lesson, Mrs. Nolan and I did cupcake cheers to friendship. This was the lesson that Peanut Butter, the main character in the book, learned in the story."
USA student teachers have been challenged during the national pandemic, and MCPSS teachers have helped to give South students the opportunity to learn and gain hands-on experience in many ways.
"Working with teachers who are seasoned professionals has allowed them to explore engaging and exciting lessons presented for a simulated audience, and given them the added responsibility of brainstorming new ways to present lessons that would keep students engaged in an environment where there is no physical connection to a classroom," Simpson said. "During most student teaching experiences, students work with one or maybe two teachers; however, planning the television lessons gave our students the chance to work with other individuals and learn valuable and varied instructional strategies from them as well."
The future of online and virtual learning is unknown, but South graduates are prepared for many situations.
"This partnership has allowed students to venture into planning that could benefit their future students, as well as those of other teachers," Simpson said. "The potential of online and virtual presentations is limitless. Our students can feel confident streaming lessons to groups of students who may be unable to physically attend school, supporting the education of those homebound or hospitalized through cooperative efforts with a homebound educator. Certainly, nothing can take the place of face-to-face connections with students, but our students were able to see teachers who make students feel as if they are right there with them, all while maintaining relationships and encountering classroom activities with the praise and affirmation needed to ensure students succeed."
To view the footage from the four student teacher lessons, click the links below:


Monday, May 4


Adriana Gregory (5th Grade Math Lesson)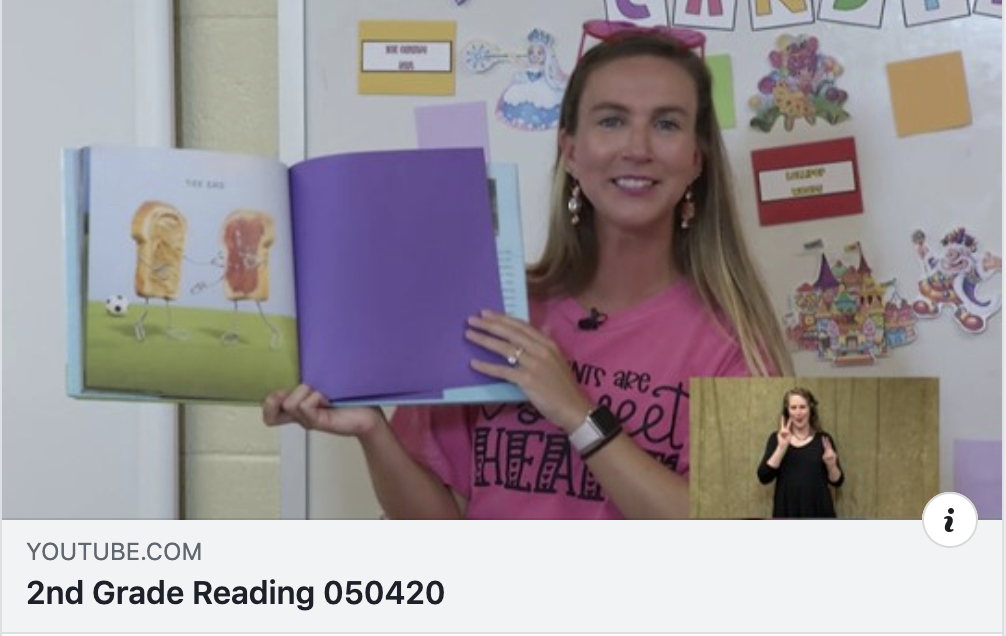 Gilliane Sharpe (2nd Grade Reading Lesson)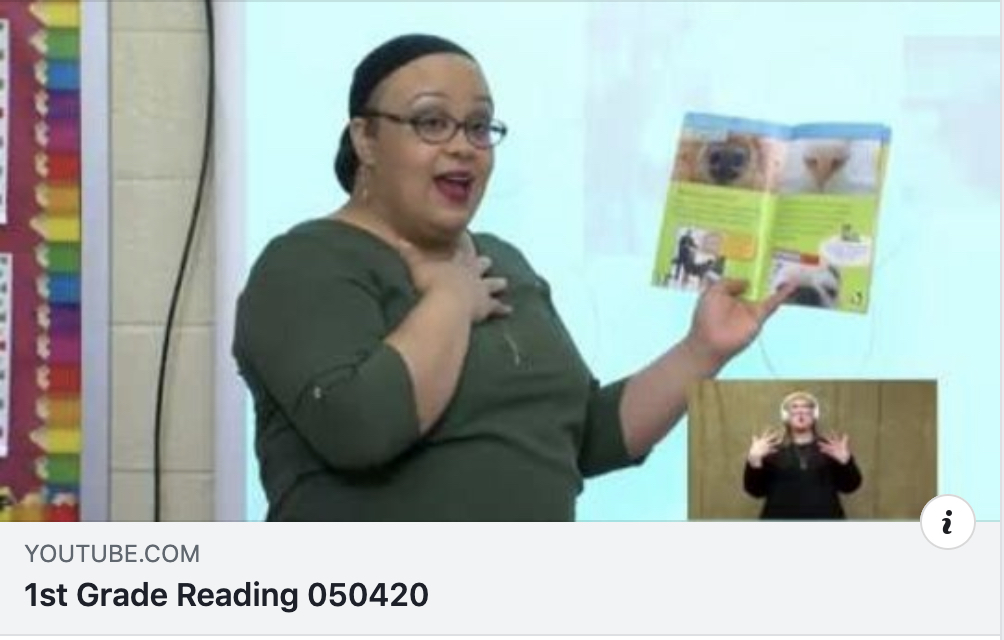 Jimmerlee Williams (1st Grade Reading Lesson)
Tuesday, May 5


Kelsea Kyser (8th Grade Reading Lesson)
---
---