---
Posted on March 1, 2023 by Thomas Becnel
Thomas Becnel
---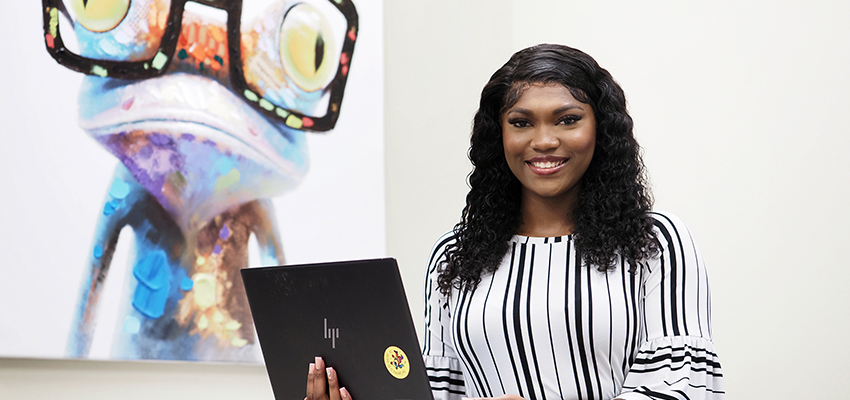 Elizabeth Southern, a mental health counselor with a master's degree from South, hits the road for home visits with Health Connect America.
---
After a year-long internship and six months at her first job, counseling foster children for Health Connect America, Elizabeth Southern feels confident enough to start doing things her own way.
Instead of dressing more formally, because she's just 24 years old, she tries to keep things casual.
"I don't want kids to see me as an authority figure," said Southern, who earned a master's degree in clinical mental health counseling from the University of South Alabama. "I try to let them know I'm on their side. I'm there to advocate for their needs."
Instead of remaining aloof, she doesn't mind sharing stories from her own life.
"In school, they teach you not to self-disclose, but I probably do more than most," Southern said. "It helps me build rapport with them."
Instead of sitting down for formal interviews, Southern takes walks, plays games or listens to music with her children. She wants to make weekly sessions more relaxed and less stressful.
"A lot of kids don't like therapy," Southern said. "I don't want them to feel like, 'Oh, my god, I have therapy today at 1 p.m.'"
At Health Connect, all of her clients are foster children. They range in age from 5 to 19. They live from Mobile to Grand Bay, or all the way out to Atmore, Alabama.
Southern has an office in West Mobile, but spends most of her time traveling to home visits.
"It's OK," she said. "My schedule is flexible, which is good. But it's a lot of wear and tear on my car."
On drives around Mobile, Southern listens to music or a Christian business podcast called "Blessed + Bossed Up."
Six years at South
Southern grew up in Birmingham, where her mother was a teacher. She has an older sister and a younger brother.
"Being a middle child, I've always been the mediator," she said. "It comes naturally."
Southern was always interested in studying psychology. After graduating from Gardendale High School, she chose to go to college at South.
"No deep meaning," she said, laughing. "I just wanted to get far away, without leaving the state of Alabama. I got to go to the beach a lot. I got to go to New Orleans, Mardi Gras, all that. In Birmingham, I had a choir teacher from Mobile, and she gave us beads, but I had never seen Mardi Gras for myself."
At South, Southern lived on campus for all four of her undergraduate years. She enjoyed studying at the Marx Library and exercising at the Student Recreation Center. She joined the Psychology Club and founded a campus chapter of the National Alliance on Mental Illness.
"When people hear mental illness, they think, oh, no, but I want people to be able to talk about it," she said. "I'm focused on breaking the stigma."
During college, she was a teaching assistant at Woody's Song, an autism school, and volunteered to answer calls for a suicide hotline. Both offered valuable experience.
Southern belongs to the Delta Sigma Theta sorority and remains close friends with her "line sisters" who joined at the same time. They like to meet for brunch in Mobile. She has a side business in makeup and fashion, posting "Just Liz" videos on TikTok and YouTube.
"That was a big thing at South," she said. "I met a lot of people who do so many different things. A very diverse group."
Playful and animated
During graduate school, Southern went to class, did an internship and worked part-time. Now she works just one job, with the rest of her time to herself.
"I'm not used to that," she said. "It's refreshing."
After graduation, Southern thought about moving to Dallas, but decided to stay in Mobile. She accepted a position at Health Connect, where she was an intern.
She often works with children who have been abused or neglected.
"It's tough, sometimes, to see what they've gone through," she said, "but that's why I'm here, to help them."
Many of her favorite clients are middle-school students and young teen-agers.
"I have found that I enjoy working with children 11 to 15," she said. "They're at an age where they can share their emotions, but don't have the vocabulary to express them, so I can help them with that. Our sessions are way more productive. And I feel like that's a really critical age."
Southern works with foster parents as well as foster children. She tells them that each child is different. Some require different parenting strategies, or a change from the way things were always done.
"You've got to meet me halfway," is one of her sayings.
As she gains experience, southern is becoming more comfortable in her role as counselor and advocate. She's always been confident in her ability to relate and communicate with youngsters.
"All my life, I've been working with children," Southern said. "I'm naturally playful and animated. Kids like that."
---
---