Army Veteran Completes Degree at South Decades Later
---
Posted on November 8, 2023 by Acacia Stanley
Acacia Stanley
---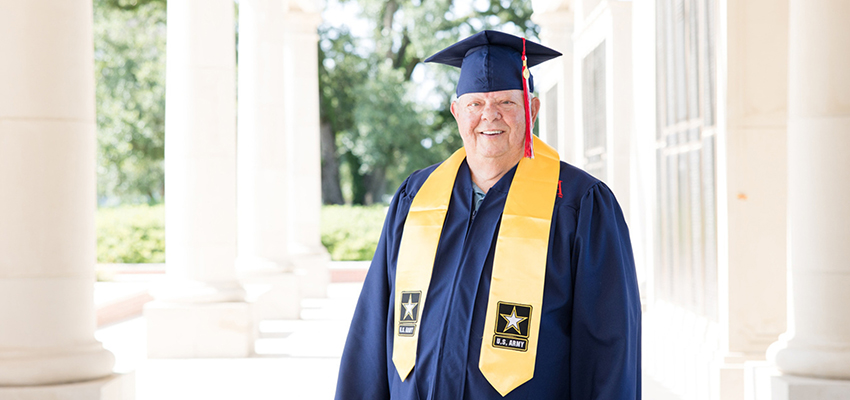 ---
Jerry Hatfield, age 74, is a retired Alabama state trooper and U.S. Army veteran who earned a bachelor's degree in interdisciplinary studies in May 2023. However, he began his journey at the University in 1971.
"I grew up in Huxford, a small community just outside of Atmore," Hatfield said. "I graduated high school in 1966 and came to Mobile to become a state trooper cadet when I turned 18."
He met Terry Carter, who became a life-long friend.
"We went through basic training together at Fort Jackson, but after we came back to Mobile, I went into the Army where I was accepted into flight school to become an Army aviator."
Hatfield was then sent to Vietnam as a helicopter pilot. While there, he was wounded in action.
"I was in Vietnam for about eight months, and I received letters from the chief of the highway patrol asking how I was doing and letting me know that he was going to buy a helicopter when I came back to work, and I was going to fly it," Hatfield said. "That was the path I foresaw at the time. But a couple of months later, while we were engaged with the enemy in a battle in the Mekong Delta, I received a gunshot wound to my leg. We then broke off contact and flew to the Navy hospital at Binh Thuey. I was medevaced out of Vietnam, and I spent about three months recovering from my wounds at a hospital in Fort Rucker."
After Hatfield's recovery, he stayed at Fort Rucker as an instructor pilot and taught combat skills to students.
"At the end of 1970, the Army decided to start releasing people from active duty," Hatfield said. "When I came back, I rejoined the troopers, and I joined the National Guard as a pilot. At that time, we didn't have a helicopter, and during the 1970s, there was a moratorium on promoting to any new ranks among the troopers. So, I was asked what I would want to do, and I said I wanted to go to school."
Hatfield took an educational leave as a cadet, and moved back to Mobile in 1971 to further his education as a student at the University of South Alabama.
"When I came to South, I immediately felt at home because the first person I saw when I stepped on campus was my old friend Terry Carter," Hatfield said. "We went through basic training together, and we both studied at South together. Terry and I decided to get an apartment, and we roomed together the whole time I was there."
Crossroads
Hatfield attended South until the first semester of his senior year. He was faced with a decision between a career as a trooper or to finish his last year at South.
"The troopers called to let me know they would promote me if I went to rookie school in Montgomery," Hatfield said. "I had to make a decision to leave South or go to the highway patrol. I withdrew and went to Montgomery because it was where I wanted to be."
Hatfield then met his wife, Linda, and continued his career with the Alabama Department of Public Safety.
"After I got out of rookie school, I got married, and the troopers ordered a helicopter," Hatfield said. "I got my helicopter, I was in Montgomery, and I flew for the highway patrol and the National Guard. I wound up transferring to Troy University in Montgomery and earned a bachelor's degree in criminal justice administration from there."
After earning his first degree, Hatfield went on to assist with the establishment of the Aviation Unit of the Alabama Highway Patrol.
"My job as a trooper pilot was to establish the aviation unit, and that's what I wound up doing for the rest of my career. I had come through the ranks from corporal to sergeant, but then I was just designated as chief trooper pilot. That is the position I held until I retired."
After retiring from the state troopers in 1996, Hatfield went back to active duty with the National Guard flying cargo planes for four years and then retired from the military altogether. Hatfield went on to fly privately for the Southern Company.
"A friend of mine that I flew with in the National Guard was flying for the Southern Company, and they wanted to know if I would like to be a jet pilot," Hatfield said. "I went to work with them and became a corporate pilot."
The last airplane that Hatfield flew was a Learjet 45 to Alaska in 2007.
"I took my wife, Linda, with me. It was a business trip, so I only had one passenger," Hatfield said. "We stayed in Alaska for about five days, and then we flew back. When I got out of the airplane, I retired from flying."
Return to South
For the next few years, Hatfield spent time with his kids and grandkids and traveled with his wife. However, he felt like something was missing.
"I always wanted and felt like I needed to become a graduate of the University of South Alabama," Hatfield said. "People always asked me where I went to school, and I said that I got my degree from Troy, and this degree served me well in my career. However, I always felt that I had unfinished business at South, and I really wanted a degree from there.
After talking to his wife and representatives from the University, Hatfield decided to return to South to pursue a bachelor's degree in interdisciplinary studies. He was able to apply all the credits that he left behind in 1973.
"When I was at South before, I pursued a degree in criminal justice administration," Hatfield said. "However, I came back to interdisciplinary studies because I had become more interested in research and history."
While traveling around the globe, Hatfield developed a love for journaling. His first journal was written when he and his wife drove from Alabama to Alaska.
"I wanted our parents to know what we did and saw," Hatfield said. "After we left Wetumpka, I would make an entry every day we were gone and every day on the way back. Our kids would print the journal pages off and give them to our parents so they would know what we did."
Hatfield is also proud to have passed this tradition down to the younger members of his family.
"Last year, we took our grandkids on a driving trip out to the Grand Canyon," Hatfield said. "When we left, I gave each of them a notebook and told them that I wanted something every day of what you did, what you saw, what you liked, anything, and we would take pictures to include that they could write about. Every day I would take what they wrote, and I put that in a larger journal. When we got back, Linda made a book for each of the kids. Years from now, they can look back and see how far they've come."
Opportunities and Challenges
Everything wasn't easy when Hatfield returned to South. However, he worked hard and made the best of all opportunities.
"One of my biggest challenges was when I found out I have to do everything by APA format and guidelines," Hatfield said. "I had to look up what APA was, and it really made me doubt if I had made the right decision. Thankfully, our two daughters were familiar with APA, and they helped me learn this new writing process. My girls and my wife were my lifeline when I had to ask questions."
The required capstone course in the interdisciplinary studies degree program provided an opportunity for Hatfield to intern at the Alabama Archives in Montgomery.
"I went there because I was interested in history, but I'm still working with the Archives even though I graduated in May."
At the Alabama Archives, Hatfield transcribes Alabama Supreme Court cases from the 1850s. They are written in Old English cursive. He also assists with the provenance of artifacts acquired by the Archives from the Department of Public Safety.
Continuous Adventures
"I have always been a South Alabama student at heart," Hatfield said. "My life was flying airplanes, and I ended up flying for almost 40 years from the time I was 19 until I was 60. I had about 18,000 hours flying, and I flew airplanes of all sorts throughout my career. Someone asked me one time, 'How would you describe your life?' I would have to say, my life is one of adventure, and the adventures are not over because they are still going."
No amount of time has stood in the way of Hatfield doing what he is passionate about, and he has utilized his support systems to help achieve his goals.
"I am 74 years old, but there was an old idea when I was growing up of people thinking: 'I'm just going to go do what I want to do and things will work out.' I think, now, you need to know and have an idea about what you want to do. And just because you leave one position, life doesn't end there. Life continues, and I think you need to have a project and have a direction. Going back to school gave me that direction."
"I grew up flying Hueys in Vietnam. I am proud to be an Army Aviator, an Alabama State Trooper and a graduate of the University of South Alabama."
---
---