College of Nursing Celebrates 50 Years of Excellence
---
Posted on April 21, 2023 by Joy Washington
Joy Washington
---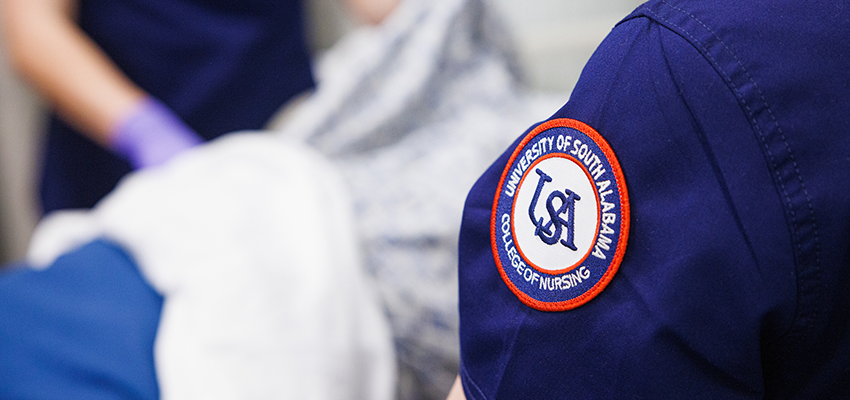 The University of South Alabama College of Nursing, the largest in Alabama with nearly 4,000 students enrolled, celebrates 50 years of nursing excellence.
---
Since 1973, the University of South Alabama's College of Nursing has educated more than 21,000 nursing professionals who have provided quality healthcare around the world. The College is commemorating its 50th anniversary with multiple recognition events.
"Despite being the largest College of Nursing in the state, we are in a good place to expand," said Heather Hall, Ph.D., RN, NNP-BC, dean of the College. "Our relationships with the Frederick P. Whiddon College of Medicine, the Pat Capps Covey College of Allied Health Professions, USA Health and other resources are integral to the education we provide to our students."
USA's College of Nursing, which has nearly 4,000 enrolled students, started with an enrollment of 60 students and four faculty members. Founding director Earline McRae, MSN, RN, who served for three years and initiated the nursing program, introduced the RN to BSN program, among other successes.
In 1976, Nursing graduated 23 graduates who earned a Bachelor of Science in Nursing. In addition, that same year the University's nursing programs were accredited by the National League for Nursing for eight years, which was the maximum at that time.
Dr. Dora Eldridge Blackmon, Ed.D, RN, was named the first dean of what was then the School of Nursing in 1977. Under the 12 years of her leadership, in 1978, the College added a special track for RNs wishing to earn a Bachelor of Science in Nursing degree, and in 1981, a similar program for RNs wishing to complete a Master of Science degree was approved. And, later during her tenure as dean in 1985, the School of Nursing was designated, the USA College of Nursing.
Dr. Amanda Baker, Ph.D. RN., would serve as the next dean for nine years. During her administration, Nursing added clinical specialist and nurse practitioner programs. And, during Baker's leadership, the College began a long-standing tradition of successfully earning federal funding through the Division of Nursing at the Department of Health and Human Services.
"Nursing is very different than it was 50 years ago. But, what remains the same is how passionate we remain about caring for our patients," Baker noted. "It's still about caring for people, and trying to help them have a better life."
In 1998, Dr. Debra Davis, Ph.D. RN, was named dean and served in the College of Nursing as dean for 19 years. Under her leadership, online teaching and learning for nursing programs was introduced and Nursing returned to campus in the Health Sciences Building, which opened in 2008. The College also experienced significant growth during her tenure.
"During my time as dean, we spent a great deal of time growing our enrollment and clinical programs, and we also educated and prepared nurses to serve in rural and underserved communities," Davis said. "I am also pleased to see the research success under the leadership of Dr. Hall. She is moving the College forward. The USA College of Nursing has a lot of checkpoints in place to ensure the students are getting the best education they can get."
Since Dr. Hall was appointed dean, the College has received more than $16 million in grant funding.
"We are proud of the work we are doing to secure grant funding, which provides an opportunity for our faculty and students to expand this effort to include other projects where we have built great interprofessional relationships on the USA campus," Hall explained. "The undergraduate students are also immersed in the clinical settings along with USA Health and other hospitals along the Gulf Coast. We give assurance to our students that they will be confident and ready to serve patients when they complete their degree at the University of South Alabama."
Nursing is also very proud of the recently built South Alabama Health Simulation Building, where students and professionals come for clinical training at the facility built in 2020 on the main campus. The facility houses high-tech equipment and computerized human-like simulators, which provides a real healthcare experience. This facility is also used by USA's Colleges of Allied Health Professions and Medicine.
"This simulation program was a vision of Dr. Davis," Hall noted. "And, the current administration has been able to expand those efforts with simulation to provide more opportunities in both undergraduate and graduate students in all specialty areas. This also includes the Doctor of Nursing Practice program and 15 post-graduate advanced practice registered nurse programs."
Hall said South Alabama's Nursing program currently also offers 14 specialty areas in the master of science in Nursing program.
---
---