Traditional BSN Student Spotlight: Kalen Means
---
Posted on April 4, 2022 by College of Nursing
College of Nursing
---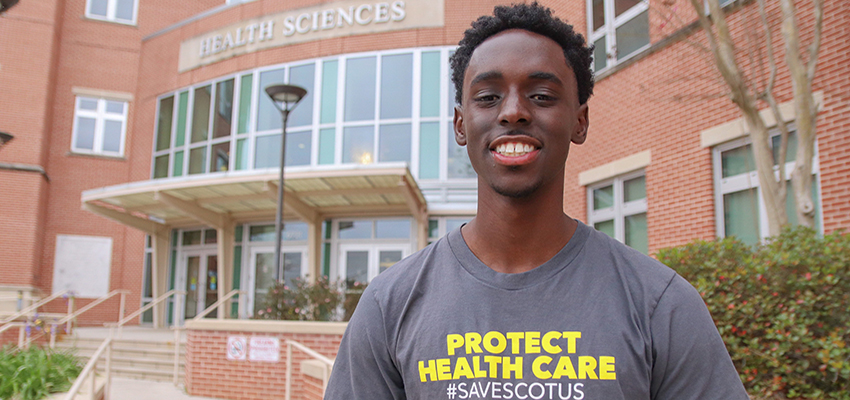 ---
Originally from Lorton, Virginia, nursing student Kalen Means spent much of his holidays and summer seasons as a child traveling with his family to visit relatives in Mississippi. By the time he reached high school, his family made the decision to move to Gulfport, Mississippi, where he attended Harrison Central High School and competed in several sports.
Growing up as the middle child of seven, Kalen knew what it was like to learn to work with and support others. Looking back he remembers how much he enjoyed taking care of his siblings when they were young, always being the first one to the first aid kit so he could clean up anyone's new bumps and scrapes after an afternoon of playing outside. A desire to help others and a strong sibling bond led him to where he is today, especially after one of his older brothers
chose to pursue a career in nursing.
Seeing his compassion and optimism firsthand, Kalen's mother was not surprised when he chose to study nursing, even after growing up with parents who both work in engineering. The connection with his family and a strong interest in healthcare motivated Kalen to look for a college near home where he could balance both his education and relationships. South's close proximity to Gulfport and the accessibility of in-state tuition eventually drew him to pursue an undergraduate degree through the Traditional BSN Pathway in the College of Nursing.
Nursing students are required to complete a series of tests, titers and immunizations before they can enter the nursing program at South. Kalen began this process the summer before his junior year. During that experience, he was introduced to an African American physician who took extra time to teach him about the process and encourage him as he began the pursuit of a nursing degree. Kalen shared, "I saw the impact I can have on people in general, but also my
African American patients. It strengthened my purpose and my will to finish out."
He describes his experience in the College of Nursing as both eye-opening and an opportunity for growth personally and professionally. "Learning how to think like a nurse and testing how to think like a nurse is not something you do before nursing school," said Kalen. Between tackling the learning curve of thinking like a nurse and his desire to maintain relationships with family and friends, he had to teach himself how to balance both through strong communication and establishing boundaries in his schedule.
As the end of nursing school approaches, Kalen shares an appreciation for the grind it took to get where he is while also maintaining a life outside of nursing. "I don't know that I would have learned that with a different major. Nursing was definitely right for me."
Kalen hopes to stay in Mobile after graduation and work at the USA Health University Hospital as a nurse in the medical intensive care unit.
The University of South Alabama's traditional Bachelor of Science in Nursing program is a four-year program designed for students with a high school diploma. Traditionally, the first two years are spent in meeting general university requirements with courses in science, math, arts and humanities, while the last two years are focused on the professional preparation in nursing. The BSN program provides the skills necessary for a rewarding career as a registered nurse. To learn more about the Traditional BSN Pathway, contact the College of Nursing at conbsn@southalabama.edu.
---
---