---
Posted on February 23, 2023 by Kasey Langley
Kasey Langley
---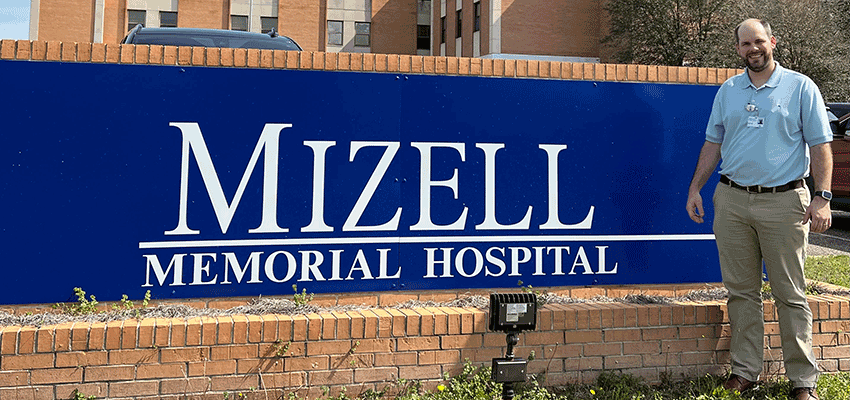 ---
As the new chief executive officer of Mizell Memorial Hospital in Opp, Alabama, Mitchell Myers appreciates everything he learned about nursing, leadership and accountability during his time in both the accelerated bachelor's in nursing program and the clinical nurse leader master's program at the USA College of Nursing.
In 2013, Mitchell entered the accelerated program with the goal of advancing his career in healthcare beyond his already completed general health degree. He and his wife, Heather, had just moved to Daphne from Andalusia so she could study speech-language pathology in the Pat Capps Covey College of Allied Health Professions, and South's accelerated nursing program offered in Fairhope was the perfect fit for him.
Mitchell completed his bachelor's degree in 2014 and began working at USA Health University Hospital while Heather continued through the speech-language pathology program. He quickly became interested in pursuing a master's degree, and then one day, a nurse manager encouraged him to pursue South's clinical nurse leader program.
"She brought me in and said, 'I know you're looking at nurse practitioner, but you should really look at this role. You do a great job and conduct yourself well,'" Mitchell shared.
He completed his master's degree in 2017 and returned home to Andalusia soon after with his family. His career at Mizell Memorial Hospital began five years ago with a nursing position in the senior behavioral care unit, and he has quickly climbed the ranks to assistant chief nursing officer, chief nursing officer, chief clinical officer and now, chief executive officer.
His time in the College of Nursing prepared him for each step of his career thus far. Faculty always kept he and his classmates motivated with encouraging words and clear communication.
"Their goal was our success, and you don't always see that," he shared.
At the age of 32, Mitchell is humbled and beyond grateful for the opportunity to lead a rural hospital with the support of its board of directors and the community. A couple things he plans to implement early are enhanced accountability at work, and increasing employee satisfaction through better work-life balance for all employees.
"When you have a happy employee, you have better patient service and better patient outcomes," he
said.
As a young CEO, husband and father of two, Mitchell thinks about all the possibilities ahead. The hospital has already started offering more specialties like podiatry and orthopedics, and he anticipates that growth continuing.
"In 10 years, I'm here, but here looks a lot different," he said.
When people pass Mitchell in the halls of Mizell Memorial Hospital, the first thing they may notice is not the small letters CEO on his employee badge, but instead, the letters RN stand out, bigger and bolder. He's often asked when he plans to update his badge, but he prefers it that way.
"The root of who I am is still in bold. At the foundation of it all, I am a nurse. Having that clinical experience in this role helps me have a better understanding of the whole realm of the organization."
---
---