Traditional BSN Spotlight: Nya Little
---
Posted on October 31, 2022 by College of Nursing
College of Nursing
---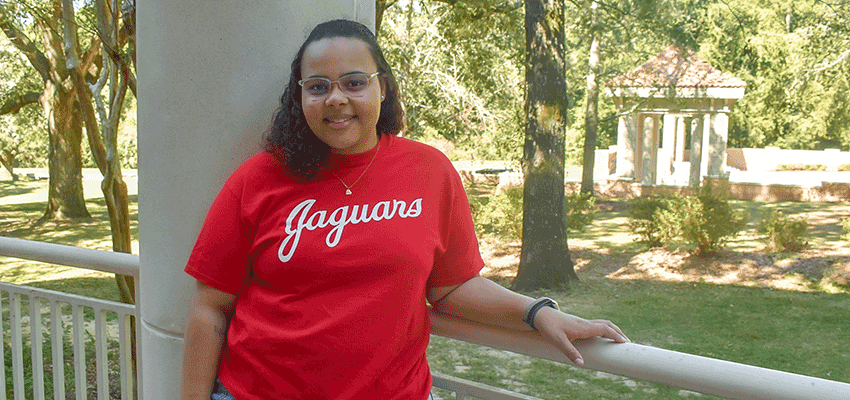 ---
Coming from Athens, Alabama, nursing student Nya Little set out on a mission to be the first in her family to complete a degree in the medical field. Nya's interest in nursing peaked in high school when she joined a health sciences program and became certified as a personal care assistant. As she shadowed doctors, nurses and everything in between, it became clear to her what her sights would be set on.
The University of South Alabama intrigued Nya because it was far enough away from home so that she could be her own person, but close enough to home if she ever became homesick. Her experience with staff and faculty have played a huge role in the positive experience she has had on South's campus.
"Dr. Scott was a big help. She is very kind and always encourages us by letting us know that we'll get through it and that it's going to be okay," Nya said. "When I first started nursing school, I talked a lot to Dr. Dixon. She really helped me out those first few semesters. There was just a lot of encouragement going on between these two people that I feel like really helped me out a lot."
Starting at the University of South Alabama in the fall semester of 2019, Nya had a college experience that many others who started during this time shared. Not being able to finish her second semester of freshman year on campus due to the COVID-19 pandemic kept Nya from being able to get a typical college experience.
"I didn't come back to campus until I started nursing school as a junior; I was gone for a year and a half, so I didn't get the whole freshman experience, so it was kind of weird," she said.
However, despite the unexpected setback of taking all prerequisite courses online, Nya did not let this slow her down. She is on track to graduate in May 2023 with her eyes set on becoming an emergency room nurse. As the oldest of five siblings, chaos is more of a comfort than a distraction for Nya and is an environment she seems to thrive in.
"I think it's because I like the chaos," Nya laughed. "I know that's insane, but I think it's because I like the fact that it's different people every day. There are so many different things constantly challenging your knowledge."
On top of being a senior in nursing school, Nya spends her free time working as a tutor for the Center for Academic Excellence and is involved with the College of Nursing EMPOWER program. The EMPOWER program is an academic and student success program focused on recruiting, retaining and graduating students of diverse and underrepresented backgrounds in nursing. With both of these, Nya finds a safe space on campus doing what she loves, helping others.
Nya attributes her confidence and motivation to the EMPOWER program as they helped her through her classes. Because of this, she strives to be able to give back to her peers in the same community and tutors in her spare time.
"I really enjoy seeing people succeed. I absolutely love it when the people I tutor come back and they're like 'you'll never believe it!' It's nice to see them come back and tell me that they did it and that they have this newfound confidence. The EMPOWER program told me that I could do it, so I want to give it back to them," Nya said.
With a passion for leading others towards success, Nya is nothing short of qualified for the task. Her self-proclaimed hidden talent is her ability to tell you the pathway of the heart in multiple different ways.
"I tutor on it every single week. I can tell you about it 17 different ways! I can draw it for you, I can write it out in words, we can talk and make a story about it. I'm all about the pathway of the heart."
While here at South, Nya's passion not only drives her love for what she does in school but throughout her personal life as well. Taking time to put into people that have put time into you is a core belief for Nya. She thanks her best friend and roommate Darian for being such a strong support system throughout their college careers. Although the two are in completely different majors, they both share a love for helping others and being there for each other.
The University of South Alabama's traditional Bachelor of Science in Nursing program is a four-year program designed for students with a high school diploma. Traditionally, the first two years are spent in meeting general university requirements with courses in science, math, arts and humanities, while the last two years are focused on the professional preparation in nursing. The BSN program provides the skills necessary for a rewarding career as a registered nurse. To learn more about the Traditional BSN Pathway, contact the College of Nursing at conbsn@southalabama.edu.
What mantra/motto inspires you each day?
It's hard, but it's doable.
What is a fun fact about yourself?
All of my tattoos match with one of my friends.
What is your best advice for incoming freshmen?
Go to class even if you think it's the easiest class possible, you never know what you might learn from it. Make time for yourself! Even I still struggle with making time for myself, but it's important to learn. Time management is your best friend.
What is your favorite student activity/event at South?
I went to the homecoming game this semester, it was actually my first football game ever here. I also went to the step show and I really enjoyed it, that was also my first time ever going to one. I don't get to go to a lot but I'm really trying to push myself to do some stuff as I lead up to graduation for the experience!
What is your favorite place to study on campus?
The Marx Library first floor in the commons. I grew up with four siblings. My mom is partially deaf in one ear, and my brother is fully deaf in one ear. I'm used to a lot of screaming and yelling and noise, so I prefer chaos. If I sit in complete silence it drives me insane.
---
---