RN to BSN, MSN Student Spotlight: Kim Feagin
---
Posted on May 3, 2022 by College of Nursing
College of Nursing
---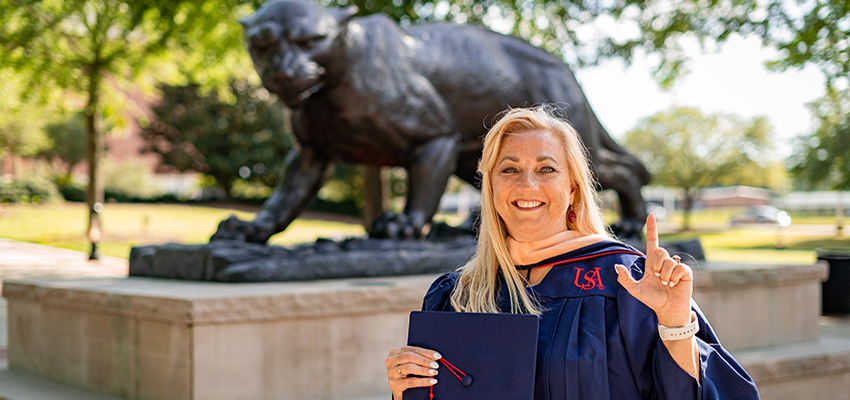 ---
In 2018, Kim Feagin completed her bachelor's degree in nursing through the RN to BSN Pathway at the University of South Alabama after working for 33 years with an associate degree in nursing at Mobile Infirmary. A deciding factor for Kim when choosing an RN to BSN program was whether or not she would still be able to balance work and a social life while in school.
South's RN to BSN Pathway is taught entirely online giving her the flexibility she needed to continue living a life she loves, and she was able to complete her BSN courses over a five-year period while continuing to work full time. Since then, Kim made the decision to continue her education and pursue a master's degree in nursing informatics at South, a specialty that she has grown to enjoy after years of working at Mobile Infirmary.
At the start of her nursing career, Kim spent four and a half years working in the medical intensive care unit at Mobile Infirmary. She later moved to the hospital's education department and acted as a liaison between the IT department and nurses throughout the facility. After the digital world expanded into health care in the late 1990s, Kim quickly became the first registered nurse in the IT department, hence the decision to study nursing informatics. Now, she works
with the hospital's legal defense department managing metadata within patient records and plans to continue in this role after completing her master's degree.
Between the proximity of the University to her home and a love for South Alabama Jaguar Athletics, choosing to attend South for her bachelor's and master's degrees was an easy decision. Kim said, "We had gotten really involved with South athletics, and I knew I wanted that as my college too." Her husband calls her a South superfan, and her love for the Jaguars is evident through the smile on her face when she talks about the teams, her frequent athletics attendance, jaguar print cellphone case, personalized South license plate and her commitment to the Jag-Gals.
When Homecoming 2021 came around, Kim was encouraged to campaign for the position as graduate maid in the homecoming court. "It was so much fun! I made my 'Vote Kim Feagin' sheet with spray paint, and I came out one Friday afternoon to ask graduate students to vote," she said. It is no secret that she has a positive energy and passion for South that is simply infectious, so when the votes were collected, it made sense that she was announced as the year's graduate homecoming maid. Like the undergraduate maids, Kim rode in the homecoming parade, participated in pep rallies and was escorted onto the football field at Hancock Whitney Stadium at halftime of the football game.
The desire for career advancement and a love for South is what first brought Kim to the College of Nursing's RN to BSN Pathway, and a visible opportunity for personal growth and community brought her back a few years later for a master's degree that she will complete in 2022. When asked what advice she would offer future RN to BSN students, she said, "Don't wait, just go for it."
The RN to BSN Pathway at the University of South Alabama is specifically designed to meet the needs of registered nurses with a current RN license seeking a Bachelor of Science in Nursing degree. This program is taught entirely online and is a flexible option for working students who are managing work and family responsibilities as well as educational assignments. Graduates will have the skills to provide enhanced patient care, critique and apply research to clinical practice. To learn more about the RN to BSN Pathway, contact the College of Nursing at conRN2bsn@southalabama.edu.
What do you like to do outside of class?
"I like to go to South athletic events, especially softball. I enjoy spending time with my family and going out on the pontoon near Dauphin Island. I am also the choir director at South Brookley United Methodist Church."
What's your favorite place to study?
"At home on the couch with my computer in my lap and my dog Chloe next to me."
What is your favorite student activity/event at South?
"I love going to softball, football and basketball games and planning Jag-Gal events benefitting the student athletes. I also love hearing and watching the Jaguar Marching Band perform."
What other areas are you involved in on campus?
"I started working with the Jag-Gals in 2012 and have had various positions on the leadership team. I have also been a part of the USA Wesley Foundation Board."
What is a fun fact about you?
"I am a South superfan. I I love to see the student athletes succeed not only as athletes but as people. I want them to know that I care about them."
Do you have any hidden talents or skills?
"A few things I really enjoy are singing, scrapbooking, woodcrafting and collecting shells for crafts in Navarre Beach. The shells are better there than they are in Orange Beach."
---
---