Traditional BSN Spotlight: Austin Nguyen
---
Posted on April 26, 2023 by College of Nursing
College of Nursing
---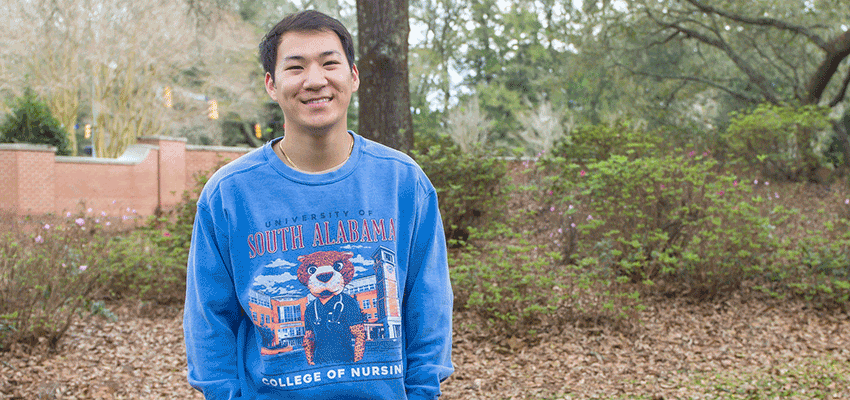 ---
From a former Starbucks barista, sneaker collector and serving others mindset, Austin Nguyen made the decision to come to the University of South Alabama to complete his bachelor's in nursing. On track to graduate in May of 2023, Austin picked South based on the close proximity to his hometown, Biloxi, Mississippi, and the nursing program. His brother previously received his bachelor's in nursing at South, so Austin knew he had support from not only his friends but his family as he entered college.
Throughout the past few years at South, he has not only grown his interest for nursing but has also found a love for campus involvement. He is a member of the Student Nurses Association, a student organization designed to support and bring together students pursuing a bachelor's in nursing and help them build professional relationships with peers.
While many first-time nurses would not typically pick trauma and ICU care as their future career path, Austin hopes to continue into nursing within this specialty because of the relief and success he feels after helping a patient. The satisfaction that he receives after properly assessing and caring for his patient each day during clinicals has been rewarding more than anything.
"Honestly, after I found out I was placed there I was really happy. Going into it, I was really scared since I had never done anything with trauma like this," he said. "I didn't know how it was going to be. But you learn so much and there is a lot more than you think you know and remember to be able to do it. Everyone there will help you out."
After working for two years at Starbucks, Austin left his job to go into nursing school at South and ended up finding more comparisons between the two than he thought he would.
Being a barista has helped Austin unknowingly train for his bedside manner and overall helpful attitude while interacting with patients. Most nursing students can relate to the fact that coffee is usually a driving factor in all of those late-night study sessions and early morning shifts.
Working as a team is a large part of what helps nursing students stick together. Austin believes that having support from his group of friends, faculty and staff has helped him get to where he is in the program today. While going through clinicals, Austin has learned that there is more to learn than he ever could have imagined and would not have been able to get through it all without the support from everyone.
"Even in class there's not many guys but somehow all the guys ended up together and hang out together a lot. You definitely do need a group and your friends who you can just rant to and be able to talk about random things that aren't school," Austin said.
Aside from the high stress that nursing students inevitably experience in their day-to-day lives, Austin tries his best to find a healthy balance between his hobbies and his personal life any chance he can. He considers himself to be at the beginning of his sneakerhead lifestyle with around 20 pairs of shoes already in his collection. On top of this, he makes time for himself by going to a football game with friends on the weekends, breaking out his custom bowling ball for a trip to the lanes, hitting the gym or even taking a walk around campus to clear his head.
The University of South Alabama's traditional Bachelor of Science in Nursing program is a four-year program designed for students with a high school diploma. Traditionally, the first two years are spent in meeting general university requirements with courses in science, math, arts and humanities, while the last two years are focused on the professional preparation in nursing. The BSN program provides the skills necessary for a rewarding career as a registered nurse. To learn more about the Traditional BSN Pathway, contact the College of Nursing at conbsn@southalabama.edu.
---
---