Traditional BSN Spotlight: Emily Sims
---
Posted on November 29, 2022 by College of Nursing
College of Nursing
---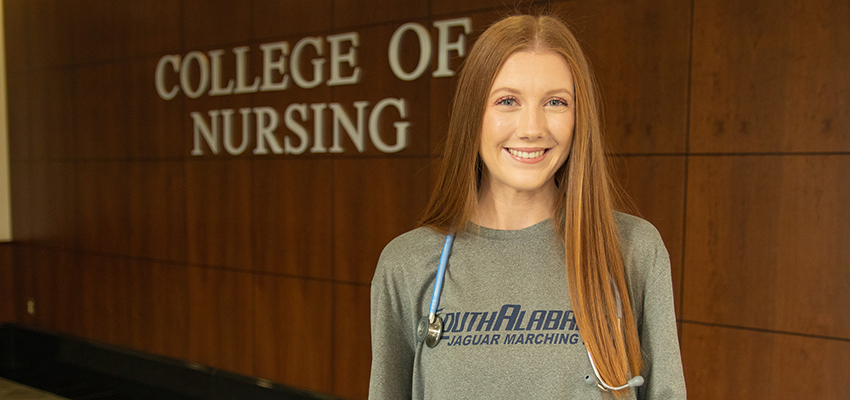 ---
Starting out in the small town of Gulf Breeze, Florida, Emily Sims made her move to the University of South Alabama with sights set on a major in psychology and a goal to go into occupational therapy. Initially, psychology was more of an interest than a long term professional goal, and it was not until she took a class on childhood growth and development with Dr. Kimberly Zlomke, associate professor of psychology, that she realized her heart was set on nursing.
She learned a lot about South from her cousin and his wife who are alums and met in the Jaguar Marching Band. As a musician herself, Emily decided she wanted to make her own mark doing something she loved.
Emily's college experience can best be described as unpredictable due to the COVID-19 pandemic. She started at South in the fall semester of 2019 and has experienced the different sides of campus before, during and after the pandemic.
Like most college students starting out, Emily struggled with the balance of campus involvement and classes. However, with determination and support from her friends and faculty, she became more comfortable with reaching for the stars.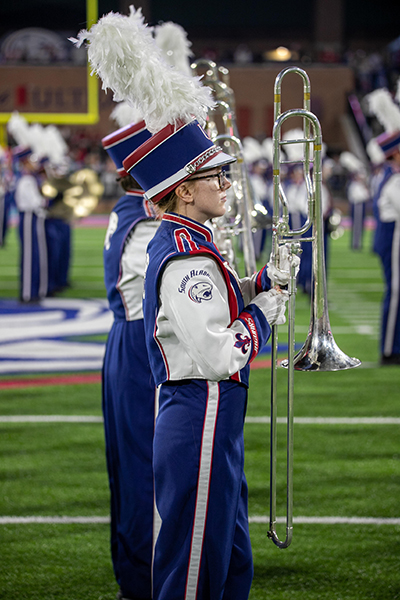 During her freshman year, Emily joined the Jaguar Marching Band to play trombone, an instrument she had already been playing for nearly ten years. She has continued performing with the band throughout school while also being in Sigma Alpha Iota, a women's music fraternity on campus.
With a scholarship from the Jaguar Marching Band helping out along the way, Emily looks back on her time at South and is thankful that she was able to continue with a hobby she has loved and devoted time to for years while also pursuing a nursing degree.
"Starting off, I had no faith in myself. So I believe especially if I can do it, anyone can!" Sims laughed.
Emily appreciates her experiences in the band and in the College of Nursing as well. She found a passion at Thomas Hospital in Fairhope, Alabama, where she previously completed her obstetrics rotation. She grew to love this specific hospital because of her instructor, Kelly Carlquist, and the two different aspects of care offered in the neonatal intensive care unit. This specific unit is where Emily hopes to end up after graduation in May 2023.
Although there are many people on campus that have helped Emily get to where she is today, Dr. Leigh Minchew, associate dean of academic affairs, always helped her feel comfortable throughout the past two years as she has progressed through the nursing program. Emily has managed to stay on top of things both in school and in the stands, and she greatly appreciates her band director, Dr. Will Peterson, as he continues to work with her busy schedule and make time for her to do what she loves.
"Looking back on it, I'm just like 'How did I make all of this stuff work? How did I meet all my requirements?' It's crazy," Sims stated.
Emily currently holds a place on the executive board with Sigma Alpha Iota. She also runs the social media accounts for the Jaguar Marching Band. Because nursing is an essential priority, she ran across a tight schedule as she got closer to finishing the program. Although this caused her to miss being a part of band practices, managing the band's social media has provided Emily a happy medium of being a part of the band and being able to take pictures of her peers all while still being a part of the excitement.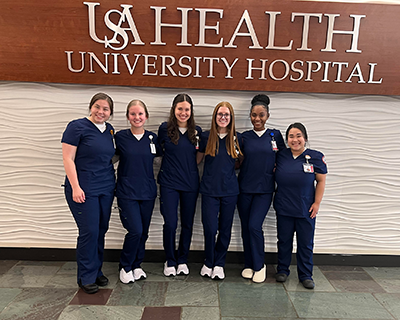 Emily believes that you can do anything that you put your mind to as long as you follow a set schedule and keep up with your school work. Her friends would tell you that she is a hard worker and proof that even with a full schedule of nursing classes and clinicals, it is doable to make time for a hobby that you enjoy.
"I thought that when you go into nursing, all you can do is attend nursing school. I definitely believe that nursing should come first because if you want to graduate you have got to be there, show up, study and make good grades on the test. Prioritization and time management are huge. If you fall behind, it is really hard to catch up." Sims said.
The University of South Alabama's traditional Bachelor of Science in Nursing program is a four-year program designed for students with a high school diploma. Traditionally, the first two years are spent in meeting general university requirements with courses in science, math, arts and humanities, while the last two years are focused on the professional preparation in nursing. The BSN program provides the skills necessary for a rewarding career as a registered nurse. To learn more about the Traditional BSN Pathway, contact the College of Nursing at conbsn@southalabama.edu.
What is your favorite place to study on campus?
"It used to be the Marx Library just because I have to write everything down. If I don't write it down, I'm not gonna remember it. But, now it's my room. My little sister got me whiteboard wallpaper as a gift for Christmas, so I have a giant whiteboard in my whole room! It is probably the best gift I have ever received."
What mantra/motto inspires you each day?
"Work hard and be kind."
What is a fun fact about yourself?
"I have a tattoo of coordinates that lead back to my grandparents house."
What is your favorite student activity/event at South?
"Performing at the football games and just being at them in general."
What do you like to do in your spare time?
"I'm so busy this is always the hardest question! I would say just hang out with my friends and not have to do anything - just getting that outside interaction. I see the same group of people every single day either in class or in JMB. Seeing my friends outside of the normal setting that we always see each other in is really refreshing."
---
---