About the Mitchell College of Business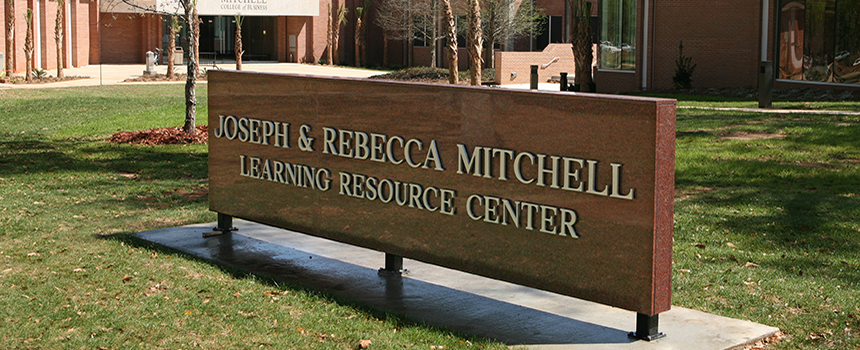 Student centered and quality focused!
We are the only business school in the greater Mobile area accredited by the Association to Advance Collegiate Schools of Business (AACSB), 5% of business programs worldwide are AACSB accredited. The Mitchell College of Business affirms its commitment to the University's focus on excellence, lifelong learning, and the education of the whole person. The College offers the Bachelor of Science in Business Administration degree for undergraduates and the Master of Business Administration (MBA), Master of Accounting (MACC), and Ph.D. in Business Administration degrees at the graduate level.
▼ Engagement
Students
- The faculty and staff in the Mitchell College of Business strive to engage students in an unparalleled educational experience. Your education is our first priority.
We engage students in the classroom with hands-on learning experiences in small classes. All classes are taught by professors with doctoral degrees and experienced business professionals.
We provide opportunities to engage with representatives from leading businesses and organization every week in our

2nd Story Business

initiative.
Students study abroad in a variety of international exchange programs and travel excursions in Europe, South America, and Asia.
All students are encouraged to participate in internships and co-op experiences.
Every major has a student organization engaging students in professional development activities.
Businesses - The MCOB Executive Advisory Board, representing the top employers in the region, engages with faculty and students and supports our programs and initiatives. Each department has an advisory board, comprised of leaders in their respective disciplines, to advise on curriculum issues, ensuring our students are prepared to be valued business partners. Advisory board members facilitate experiential learning opportunities and support other student engagement activities, such as guest lecturing, field trips, and mentoring.
▼ Innovation
In the Mitchell College of Business we take pride in our many innovative programs and initiatives to improve student learning outcomes:
We are the only business school in the state with the highly acclaimed

Mitchell Scholars Program

($12,500 per year) for high achievers and we provide more than 75 scholarships ($500 to $5000) and awards in various programs.
The

Professional Readiness Engagement Program

office is a one-of-a-kind resource preparing students for transition into and success in the global economy by assisting with major and career exploration, and providing professional skills development, and job and internship searches including resume writing, interviewing skills. This office works closely with employers in the region and around the world.
Our facility is a

first-class facility

to provide the right environment conducive to learning. We have the only business school library in the region, the

Mitchell Learning Resource Center

and the

John B. Saint Financial Analysis Center

with real-time Wall Street stock quotes and data. Our building has four state-of-the-art computer classroom laboratories, and two flexible classrooms.
The

Jaguar Investment Fund

allows a select group of students to manage an investment portfolio with a starting value of $250,000.
Faculty are incorporating

SAP

instruction into undergraduate courses and are working toward offering certificates demonstrating students have a fundamental knowledge of SAP.
We ensure our freshman success rate is higher than the national average by engaging students in Freshmen Learning Communities and participating in the early warning system for freshmen and sophomores, Jag Success.
▼ Impact
Our motto is "Making a Difference." Through the efforts of our faculty, students, and staff the MCOB is positively impacting the Gulf Coast and beyond.
MCOB faculty members sustain a high level of scholarly productivity that increases knowledge in their respective business disciplines. Faculty publish in top tier journals and participate in national, international, and regional academic programs each year, sharing their research findings and contributing to the knowledge base across business disciplines.
The

Center for Economic Engagement

provides reports on real estate transactions and trends and economic development. Each year the office produces over 100 hours of professional development programming for real estate professionals and offers the annual Real Estate Summit and the Economic Development Conference.
The

Melton Center for Entrepreneurship and Innovation

worked with the Office of Research and Economic Development to establish the

Innovation Hub. This program provides assistance for technology based start-up operations.