Alabama Banking School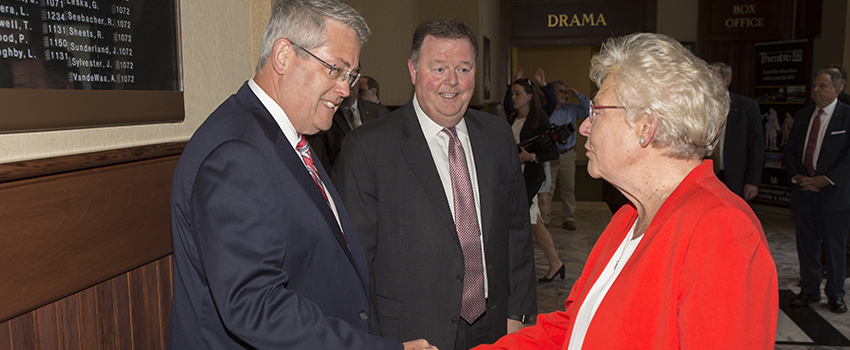 This summer the Mitchell College of Business was honored to host the Alabama Banking School's 40th graduating class where Governor Kay Ivey served as the keynote speaker. Her presence was fitting; she was instrumental in the design and implementation of the school. We thought a review of the history would be appropriate.
It was November 1975 and the U.S. economy was in the midst of a recession. In efforts to help the state of Alabama, The Alabama Bankers Association's (ABA) Executive Council adopted a proposal, presented by the Association's Banking Education Committee, to form the state's first banking school. This school's emphasis is management, economics, accounting, legal matters, personnel and marketing.
Early in 1976, representatives from the ABA visited the then USA College of Business to meet with its dean, Dr. Don Mosley, Business Resources Director, Dr. Carl Moore, Director of Management Development, and Dr. Paul Pietri to discuss the University's Brookley Field Campus as host site for the inaugural session, which was ultimately selected. The first session of the school began in the summer of 1976 with its first graduating class expected in the summer of 1978. The original structure of the school remains today, a three-year program with a week of lecture each year accompanied by corresponding home-study problems between sessions. Dr. Pietri took the duties of Educational Director and held that position for 20 years until he secured his successor in 1995.
The school remained at the Brookley Campus for 34 years until the University sold the property in 2009, leaving Alabama Banking School's future uncertain. Mr. Wayne Lambert, who was a student in the inaugural class and served as the school's registrar since 1985, was able to keep the school in Mobile. The 35th session of the Alabama Banking School commenced in the summer of 2010 at its new home, the University of South Alabama's Mitchell College of Business.
The Mitchell College of Business continues to host the Alabama Banking School and its 171 students annually. Students come from all across the state of Alabama and even from neighboring states, such as Florida. John W. Naughton currently serves as the director of the Alabama Banking School and a commercial lender with First Community Bank in Mobile. Mr. Naughton recalled his experience working with the Mitchell College of Business, "Our experience has always been wonderful. The college is very accommodating, and Dr. Bob Wood has been fantastic from day one."
Dr. Wood agrees. "The Alabama Banking School/MCOB relationship is an excellent example of our emphasis on efforts to serve as the intersection between academics and practice. We look forward to maintaining our relationship for years to come."