Ambassador David O'Sullivan Spoke to the USA Community about Trade and EU-US Relations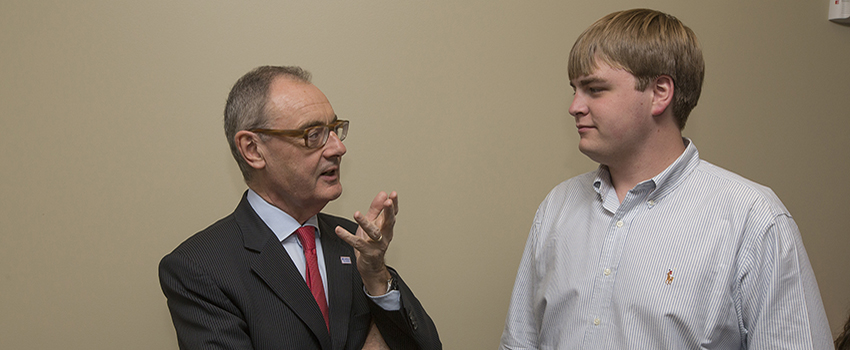 In the photo is Ambassador O'Sullivan speaking with Joshua Crownover, SGA President.
Ambassador David O'Sullivan, Ambassador of the European Union to the United States of America, spoke to USA Students and Faculty on April 25 ​in the Student Center Ballroom; the topic of his speech was "Transatlantic Trade & Investment Partnership Agreement (TTIP)," in addition he discussed transatlantic challenges and EU-US relations. The Ambassador was in Mobile to observe the delivery of the first Airbus airliner to JetBlue.
Prior to accepting the position as Ambassador, Dr. O'Sullivan served as the Chief Operating Officer of the European External Action Service. The EEAS supports the High Representative/Vice President of the European Commission, in fulfilling her mandate to ensure the consistency of the Union's external action. The EEAS also assists the President of the European Council and the President of the European Commission in the area of external relations.
Dr. O'Sullivan was Director General for Trade from 2005 to 2010, and he was Secretary General of the European Commission from June 2000 to November 2005, Head of Cabinet of Commission President Romano Prodi and Director General for Education and Training. He started his career in the Irish Foreign Ministry and spent four years in the Commission Delegation in Tokyo. He also has extensive experience in EU social and employment policy. David O'Sullivan has a background in economics, graduating from Trinity College, Dublin and having completed post graduate studies at the College of Europe, Bruges. He holds an Honorary Doctorate from the Dublin Institute of Technology. He is also a Member of the Consultative Board of the Institute for International Integration Studies at Trinity College, Dublin. He is a visiting Professor at the European College of Parma and was awarded Alumnus of the Year 2013 by the College of Europe, Bruges. In June 2014, David O'Sullivan was awarded the EU Transatlantic Business Award by the American Chamber of Commerce and he was awarded an Honorary Doctorate from his Alma mater Trinity College, Dublin in December, 2014.