2017 Scholars Banquet Honors MCOB Students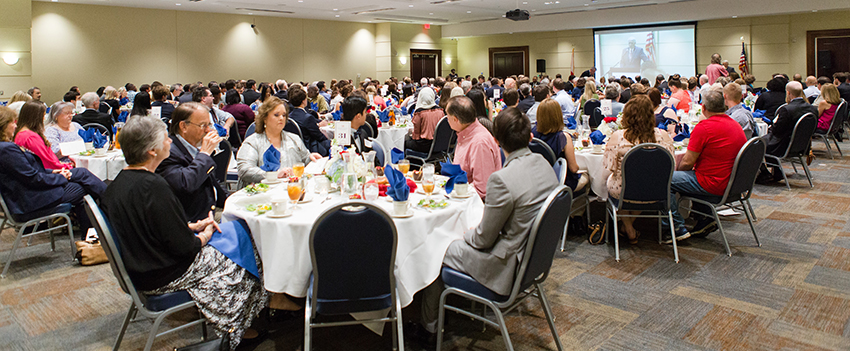 Dr. Tony Waldrop, President of the University, welcomed over 300 attendees to the second annual MCOB Scholars Banquet. This special event allowed scholarship recipients to connect with and thank their scholarship donors. The evening began with Dean Wood introducing the first class of MCOB Alumni Fellows. Josh Cogswell, Director of University Development, was the master of ceremonies for the scholarship awards. He recognized 76 scholarship recipients and acknowledged over 100 MCOB students for stellar academic performance. This year MCOB awarded just over $500,000 in scholarships, including 27 Mitchell Scholarships.
This year's event featured a live video feed so all in the ballroom had a clear view of the festivities, and after receiving their awards recipients posed for photos with their donors.
A highlight of the evening was the surprise presentation of the Alumni Fellow Award to Mr. Abraham Mitchell, whose contributions have made such a difference for the students and faculty in the College.
Special thanks are extended to all the MCOB administrative staff who planned and organized the event. Without their efforts, the event would not be possible: Cindy Martin, Assistant to the Dean, Cindy Nobles, Office of Student Services, Rachel Backlin, CREED Office, Amy Fleet, Department of Marketing, Cynthia Garey, Department of Management, Sharon Lanier, Department of Accounting, and Lissa Williams, Department of Economics and Finance.
Many faculty and scholarship donors generously contributed to the event to cover the cost of the students' dinners. Thank you for your support!
Stay tuned for next year's banquet, which promises to be even bigger and better!
How to Endow a Scholarship
Most of the scholarships awarded are due to the generous support of donors who have endowed scholarship accounts that provide annual scholarships in perpetuity. This is accomplished by making a one-time contribution or pledging contributions over a number of years.
An endowed scholarship can be funded with a contribution of $10,000 paid over 5 years. If your company has a matching gifts program, your contribution could be as low as $5,000. Currently, all scholarship donations are matched by the Mitchell-Moulton Scholarship Initiative. Many donors have named their scholarships in honor of family members or faculty who have significantly impacted their lives.
For information on how to create a scholarship endowment, please contact Ms. Ashley Adams, USA Development Office, aradams@southalabama.edu, (251) 460-7839.